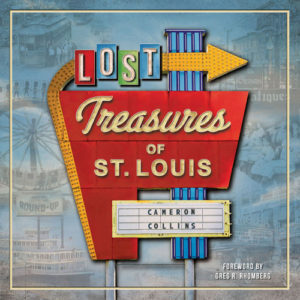 Since I started Distilled History, I've been shocked by the number of requests I get to stand up and share my love of St. Louis history in person. Fortunately, I also realized that I really enjoy it. And since Lost Treasures of St. Louis was published last year, I've had a blast roaming around St. Louis and telling stories about its wonderful past.
If you have a neighborhood organization, a club, a church, a retail store, a bar, or any sort of group that would enjoy a presentation, tour, or event filled with Lost Treasures of St. Louis, Distilled History (or a mix of both), please contact me. My presentations include full slide shows, great stories, and plenty of St. Louis memories. I can also customize presentations (time, subject matter) based on the group or event.
Best of all, I do not charge a speaking fee if can sell books at the event. I can even provide the projector and screen.
Please contact me to make a reservation: cameron@distilledhistory.com

Upcoming Events:
Nothing currently scheduled (I'm taking a break to work on book #2). Check back soon!

Most of my events these days are related to Lost Treasures of St. Louis, but you shouldn't miss my tour at the Campbell House Museum. The Campbell House is my favorite bit of history in St. Louis, and the inspiration for everything I do in Distilled History. I've been a volunteer there since 2012, and the place is an amazing source of great St. Louis history.
I don't have a set schedule, but I'm usually there one or two Saturdays a month. If you'd to like to take my tour, please send me and email and I'll let you know when I'll be there next. Or, feel free to call the Campbell House and they can let you know when I'm on the schedule.
I also lead tours of Lucas Place for the Campbell House, and a few of those are in the process of being scheduled. Both tours are very fun, and I often have special Campbell-themed homebrew on hand that I'll give you for free when the tour is over (no joke).

Media:

Past Events & Other Fun Stuff I've Participated In:
Lost Treasures of St. Louis Presentations & Book Signings:

St. Louis Central Library, St. Charles Public Library, The Welcome Club Gateway to Friendship, St. Albans Country Club, Carondelet Historical Society, Oasis Institute, St. Louis Rotary, Sunset Hills Rotary Club, Daughters of the American Revolution, Meramec Bluffs Retirement Community, Barnes & Noble, Christopher's Gifts, The Book House, Kirkwood Public Library, Historical Society of Affton, Sappington-Concord Historical Society, O'Fallon Historical Society, and many others

"St. Louis & Beer: A History" – November 30, 2017 at the Pat Connolly Tavern
"History of the Royale and Lost Treasures of St. Louis" – Presentation and book signing at The Royale – Thursday, August 17, 2017
Lemmon's Trivia at Copper Pig & Book Signing – May 22, 2017 at the Copper Pig. Sponsored by Jacobsmeyer Realty
"The Distilled History of Dogtown" – May 25, 2017 at 7:00pm at the Pat Connolly Tavern
Book signing and Lost Treasures of St. Louis/Distilled History Presentation at STL-Style  – Saturday, June 3, 2017
#drinkuptweetupSTL – Each year, I team up with the Campbell House Museum for a fun history happy hour in the Campbell garden. The third annual tweetup occurred on September 30, 2016
"The Best of Distilled History" – Presentation for the Daughters of the American Revolution – March 20, 2017
"The Best of Distilled History" – Presentation for the St. Louis chapter of Phi Kappa Psi – March 2017
A presentation of "Distilled History's Best of St. Louis" – Steris Corporation's Annual Meeting – September 22, 2016
"Prohibition in St. Louis" Bicycle Tour – September 5, 2015 & September 24, 2016 (Sponsored by Trailnet)
Tour leader for the "Ulysses S. Grant Walking Tour" – Sponsored by the Missouri Humanities Council – September 18, 2016
"The Story of Beer in St. Louis" – Missouri History Museum's "History on Tap" series – July 22, 2016
"Drinking Up Compton & Dry's St. Louis" at the Missouri History Museum as part of their exhibit celebrating Compton & Dry's 1875 Pictorial St. Louis – August 9, 2015
"The Germans and Beer in St. Louis" – Presentation for the Germans in St. Louis Discussion Group – October, 2015
Presenter at Pecha Kucha 12 (YouTube Link) – September 26, 2013
"Distilled History of Gin" A Workshop, Gin Tasting, and Trivia Session at Natasha's Gin Room – August 8, 2015
South St. Louis Brewing Heritage Tours for Landmarks Association of St. Louis
St. Louis Architecture Tours for Revitalize St. Louis
Emcee for RFT's 2013 Iron Fork Mixology Competition