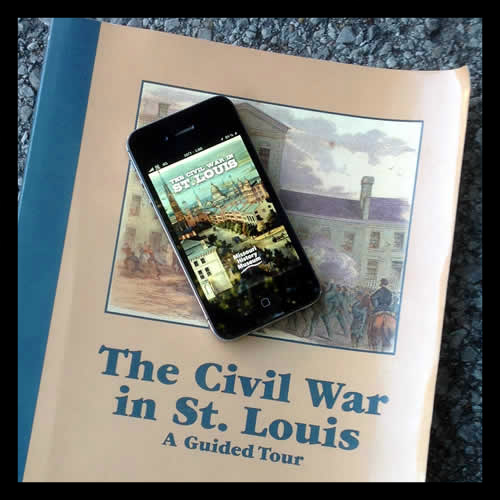 I am a big fan of travel writing. I like to read about the different perspectives and experiences offered by people who seek out hidden corners of the world. Travelogues often contain a great amount of historical discovery. Guys like Paul Theroux and Simon Winchester write great books that see back in time. A few years ago, a good friend told me that I should read A Walk in the Woods: Rediscovering America on the Appalachian Trail by Bill Bryson. The book tells the story of his attempt to hike the entire 2,000+ miles of the Appalachian Trail in one shot.
Bill Bryson is a great writer. He is brilliant and extremely funny. He's an American, but he lived in England for twenty years. His book about hiking the Appalachian Trail was an attempt to rediscover America after moving back to the states. Recently, Bryson has ventured into other areas of study such as science (A Short History of Nearly Everything) and history (At Home: A Short History of Private Life). I've read many of his books, and I've enjoyed all of them.
Well, except for A Walk in the Woods.
Actually, maybe I shouldn't go that far. I enjoyed much of the book. It's funny and insightful. Bryson has a great ability to describe his encounters with bears, bizarre characters (like the noteworthy "Chicken John"), and the trail itself. He provides history of the trail and he makes a strong plea for conservation while he's at it. His partner on the hike, a former drug addict named simply "Katz", is the perfect comedic sideshow to the story. But here's my issue (spoiler alert!): They didn't finish the hike. After months of bugs, bears, turmoil, and mayhem, the two decided to quit and go home. I can't deny that I had a bad taste in my mouth as I read the final pages.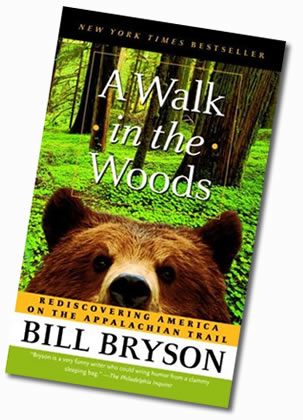 So, why am I even talking about Bill Bryson? Why mention him in a blog post titled "The (Almost) Civil War Bicycle Tour of St. Louis"? It's because on a far smaller scale, I may have found my reason to cut Bill Bryson a little slack.
Here's what I had in mind for this blog post. Recently, I discovered the Missouri History Museum released a mobile app named "The Civil War in St. Louis". It's free, and I highly recommend it to anyone who would like to get out and see some historical locations in St. Louis relating to the Civil War. The app focuses on a "primary" tour containing twenty sites. The app provides directions, maps, photographs, descriptions, and even an audio narrative to listen to at each stop. The app also contains several "secondary" locations that are notable, but not included in the main tour.
I haven't worked the Civil War into this blog so far, so I thought this would be a perfect opportunity to do so. Even better, I came up with a plan to do the entire tour by bicycle in one day. It'd be a perfect opportunity to get a long ride in, learn some Civil War history, and of course, get some drinks along the way (well, it is Distilled History, after all). Hitting all twenty sites in one shot would present me with a bike ride of about fifty-five miles. Throw in some history, and that's a fun day.
The app is based on a book I am already familiar with: The Civil War in St. Louis: A Guided Tour, by William C. Winter. St. Louis played a huge factor in the Civil War, so I was really excited to get this day going. Just glancing at the list of sites, I knew I was going to learn a few things. I know nothing about Brant Mansion, Berthold Mansion, or Myrtle Street Prison. Others I know well, like the Eugene Field House, Lyon Park, and Stifel's Brewery. A few of the sites will eventually get their own post in this blog, such as Camp Jackson and Lynch's Slave Pen.
So there's my plan. Follow along as I provide the commentary of my day. I realize I'm no travel writer, but I think it's about as close as I'll ever get to doing something like documenting a hike of the Appalachian Trail.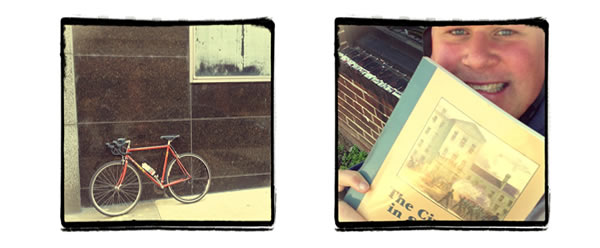 My plan was to park near the first stop (the Old Courthouse), but I quickly realized I picked the absolute wrong day to do this tour. There's a Cardinal playoff game going on at Busch Stadium. This means I'm kidding myself if I think I can park downtown. I'm also surrounded by a sea of red. It's about an hour before game time, so the sidewalks are packed with Cardinal fans milling around. As I begin my tour, I'm slightly annoyed.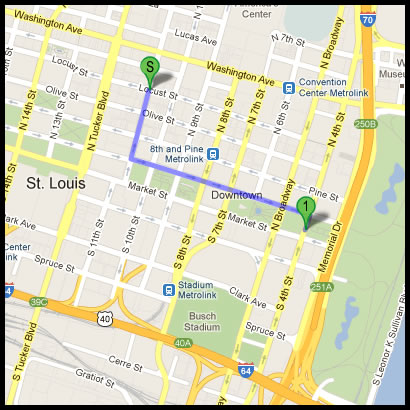 I find a parking spot several blocks away and I bike to the first stop of the tour. When I get to the "Stop #1" marker on the iPhone map, I'm facing the Old Courthouse on 4th and Market. I play the audio tour through the app and I hear the story of Dred and Harriet Scott.
Anyone who doesn't know about Dred Scott surely slept through history class. History is probably the only class I didn't sleep through, so I think it's great that I live in a town with ties to this guy. In 1846, it was in this courthouse that Dred and Harriet began the fight to get their freedom. After years of trials and appeals, the case would eventually reach the United States Supreme Court. The verdict would be a divisive moment in the years leading to the Civil War. Today, the Old Courthouse is one of the iconic structures in St. Louis and is currently going through some renovations. A nice statue of Dred and Harriet sits on 4th Street facing the Gateway Arch.
Dred Scott's story in St. Louis is definitely something I plan to write about in the future, so I won't say any more. Time to head to the second stop of the tour.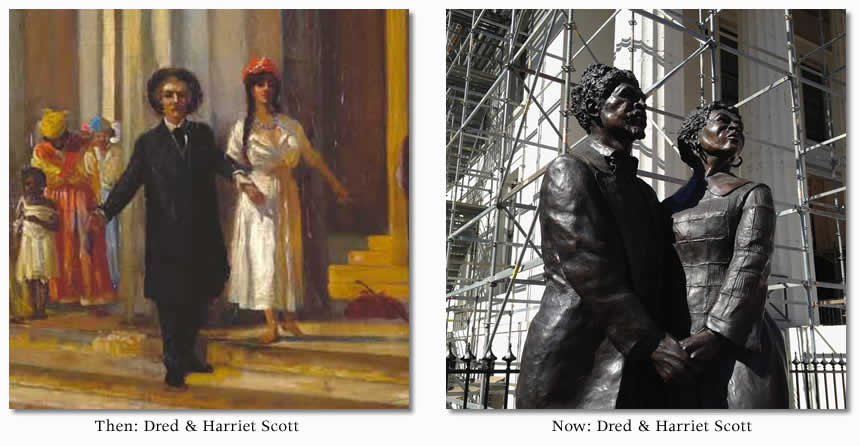 The second stop of the tour is on the other side of the Old Courthouse, so I simply just walk around the block. I'm facing the building from the Broadway side. There are tons of Cardinal fans here. I'm in full bike gear and scalpers are trying to sell me tickets. Really?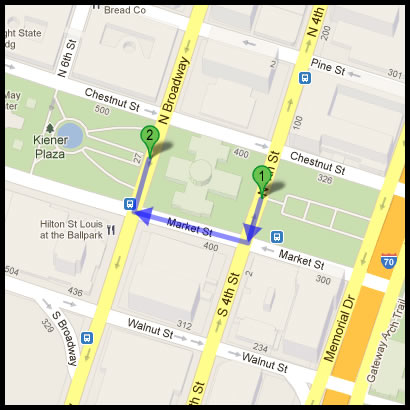 The app plays and tells another story of the Old Courthouse. The front steps of the Old Courthouse were once used for slave auctions in St. Louis. At the time of the Civil War, St. Louis was largely a pro-Union city in a slave state. The audio commentary tells the story of a slave auction that occurred here on January 1, 1861. At this sale, a group of anti-slavery protesters disrupted the proceedings by continuously making low-ball auction bids. Eventually, the slave dealers became frustrated and left. I think that's pretty great story and I'm happy to learn about it. Time to head to the third stop.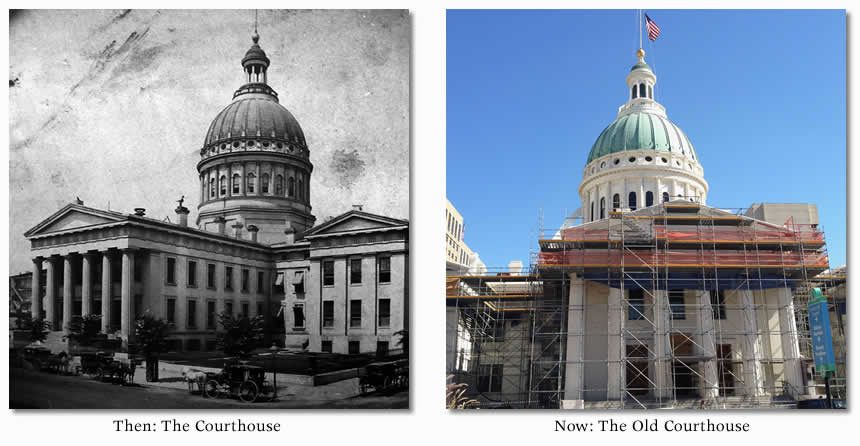 The app now directs me to another corner on the same block. I simply walk over and face the corner of northwest corner of 4th and Chestnut. Except for the short ride to the first stop, I haven't even gotten on the bike. This is pretty easy tour so far.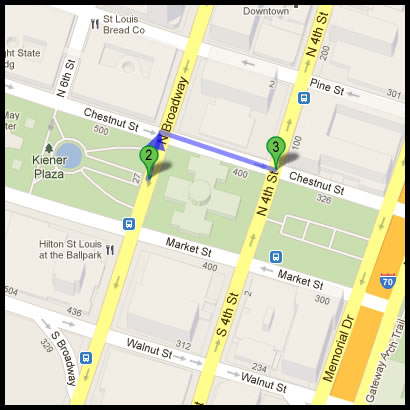 This is the former site of the grand Planters House Hotel. Nothing remains of it today, but it was once one of the most lavish and famous hotels in St. Louis. Celebrities, dignitaries and politicians were frequent guests. I'll also give a plug to the Campbell House Museum and mention it was also the home of Robert and Virginia Campbell after they were first married. I play the audio commentary, and it tells me a story I'm familiar with. In June 1861, this is where a famous meeting between the pro-Confederate Missouri Governor Claiborne Jackson and Union leader Nathaniel Lyon occurred. They met to discuss the fate of Missouri in the coming conflict.
History tells us that meeting didn't go very well. To sum it up, at one point Lyon famously stood up and proclaimed "This means war!" before storming out. Whew. That's not good.
Three stops down and seventeen to go.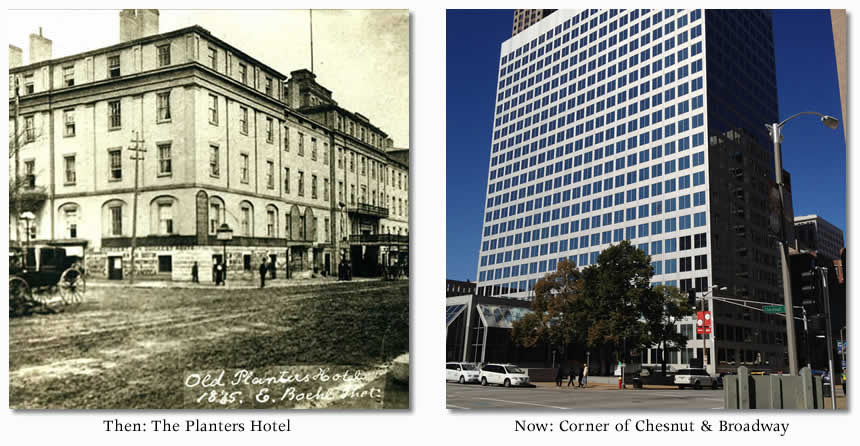 For stop four, I'm directed to the northwest corner of Pine and Broadway, just a couple blocks south of the Old Courthouse. It's the former site of the Berthold Mansion. I had to weave through several Cardinal fans, but I barely needed to clip into my pedals. One group of people liked the University of Dayton sweatshirt I had on (I'm an alum), so I received a series of fist-bumps. Strangely, that was about the only human interaction I had during the tour (other than the bartenders I'd soon be ordering from, of course).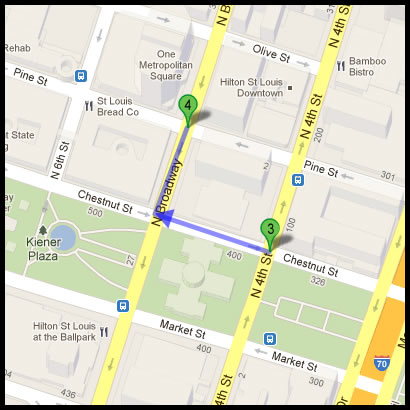 I'm actually not familiar with the Berthold Mansion. The app tells me that at one time, it was the stronghold of a group of pro-Confederate men in St. Louis who called themselves "The Minutemen" (hey, that's original). One day in early 1861, these guys raised a secessionist flag over the mansion, enraging Union supporters in St. Louis. The Confederate flag had yet to be designed, but this was actually one of the first southern flags to fly in Missouri. It an example of the deep rift that existed among certain groups of St. Louisans leading up to the war. Actually, I'm realizing that is the primary theme of the tour. St. Louis was a divided city during the Civil War, and it the atmosphere was tense.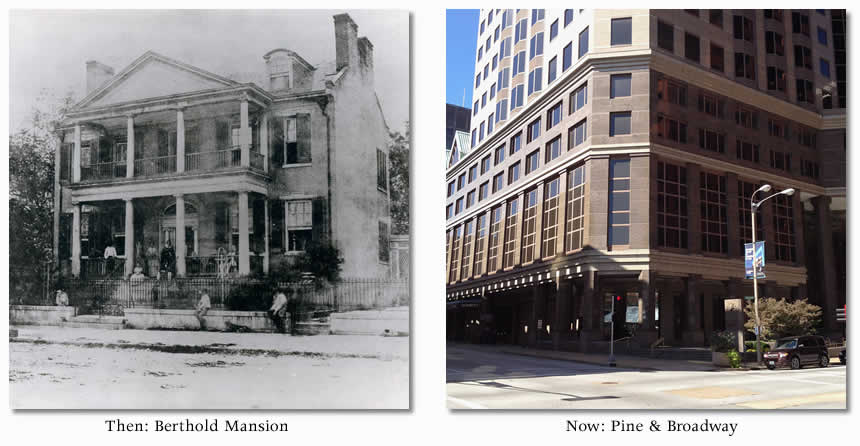 Next, I'm led about two blocks south 510 Locust Street. I'm now facing the current Mercantile Exchange Building. The app tells me it is the former location of the St. Louis Mercantile Library. According to Winter's Civil War book, the Mercantile Library is still open, but that's obviously not the case. The app sets me straight and tells me the library has recently moved to the University of Missouri-St. Louis.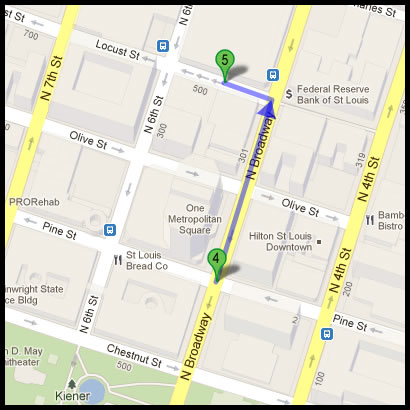 When I listened to the audio commentary, I had my first "No shit?" moment of the day. I learned the Mercantile Library first opened in 1854. The building was three stories tall, and the Grand Hall on the third floor was the largest assembly room in St. Louis at the time. In 1861, that hall was the location where a group of state delegates met and voted to keep Missouri in the Union. I never knew this was the location where that went down. I love learning history tidbits like that.
Even better, I then learned that the assembly hall is also where the Missouri Emancipation Ordination was adopted in 1865, officially freeing all slaves in the state. Again, I find myself saying "No shit?".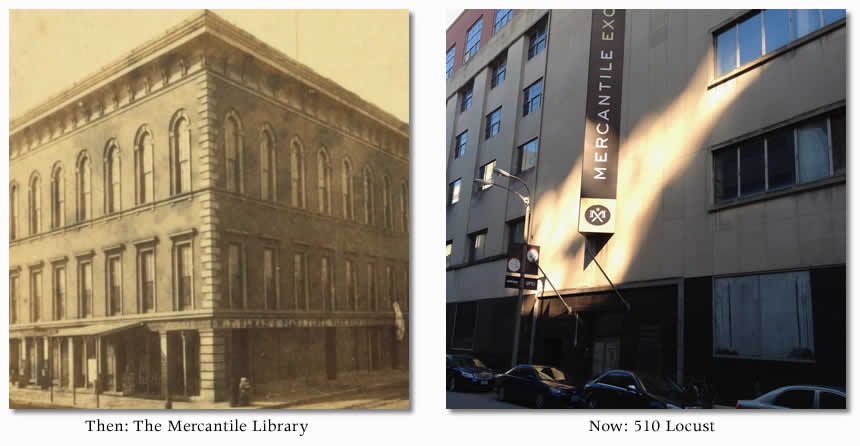 Finally, I get to ride for a few miles. Stop #6 is Lyon Park, a location I know well. It sits directly to the east of the Anhueser-Busch (ahem, InBev) Brewery on South Broadway. South Broadway is a great street to ride a bicycle on. It's wide, has bike lanes, and it goes through great neighborhoods. There is history all around.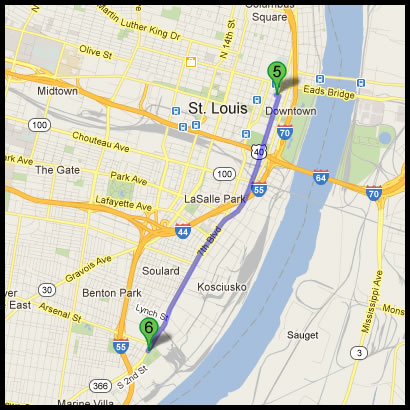 The park is named for Union General Nathaniel Lyon. A large statue of him sits at one corner of the park. It was also the site of the United States Arsenal during the time of the Civil War. It was here that Lyon organized his troops to march on the Confederates camped at Camp Jackson on the western edge of St. Louis. The result would be one of the most dramatic events in St. Louis history. As I mentioned earlier, Camp Jackson will definitely get its own post in Distilled History at some time, so I won't go into further detail here.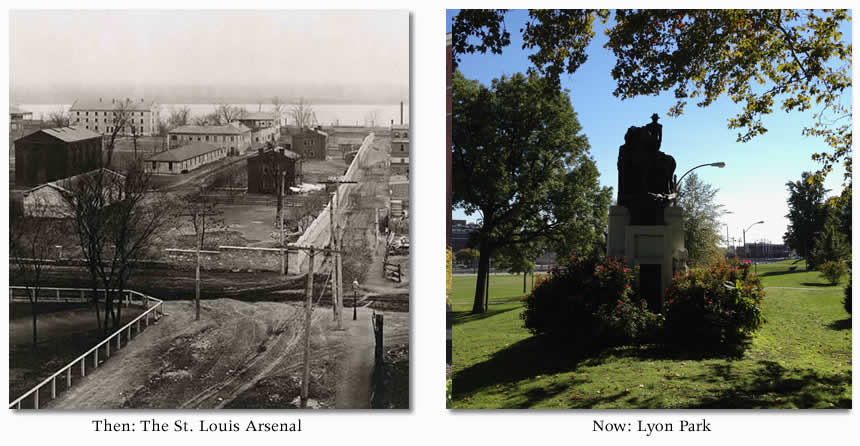 Time to get a drink. Heading back north on Broadway, I turn into Soulard and stop for a couple at 1860 Saloon. Obviously, I pick this place simply for the name.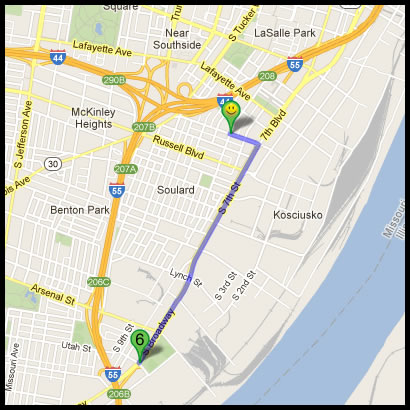 The next stop takes me back north. Here's my first indication that the Missouri History Museum didn't design this tour for bicyclists. Or maybe they didn't mean for it to be done all in one shot? Stop #7 brings me back to almost exactly where the tour started. In addition, I'm passing stops that I know I have to visit later on. Fortunately, I like bicycling.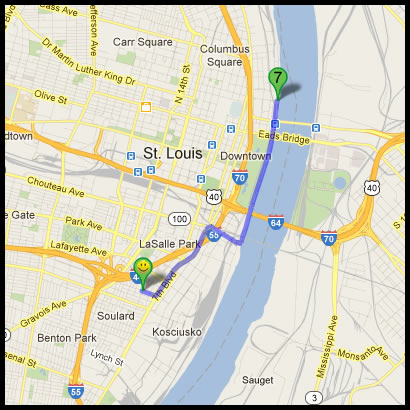 I'm on the riverfront just north of the Martin Luther King bridge. In the fall of 1863, a man named Frank Martin was fishing from a small boat here on the river. He witnessed several men lighting a nearby steamboat on fire. The fire spread to two other steamboats before being extinguished. According to the audio commentary, this became a common practice in the next few months. It seems lighting steamboats on fire became a common way for pro-Confederates and pro-Unionists to piss each other off. When arson starts happening, you know you are in a divided city.

The next stop sends me south to another point on the riverfront. I'm now directly in front of the Arch, but facing east, looking over the river. I passed right by this stop to get to the other riverfront stop. Sigh.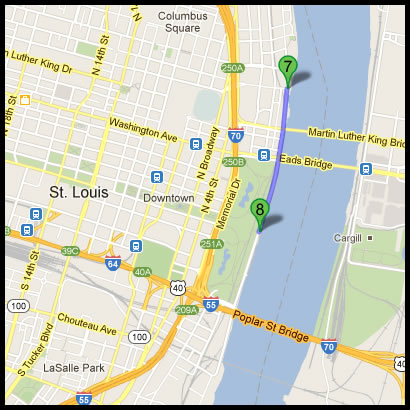 When I play the audio commentary, I hear a pretty cool story. At this location in 1863, twenty-one people were huddled aboard a ship named the "Belle Memphis". Accused of being southern sympathizers and spies, these men and women were being banished from St. Louis. The ship took these people down the river to a port in Tennessee and simply dumped them off. One woman was included in this group simply for writing a letter to her husband in the Confederate Army. They were forced to make their way in a new city. Most would never return to St. Louis.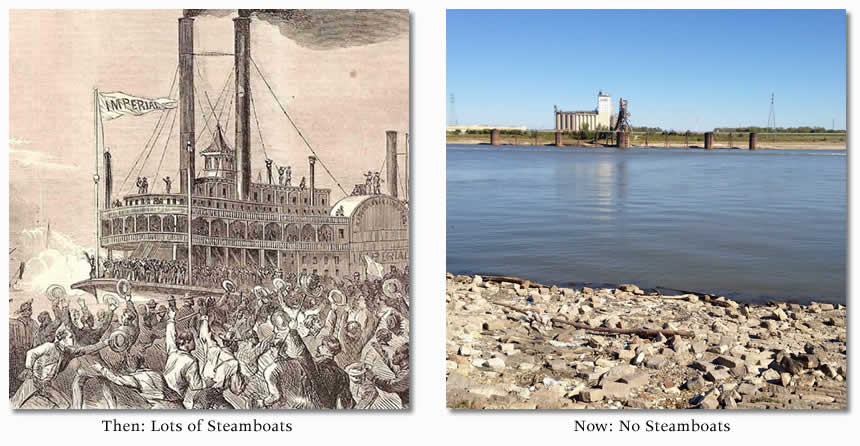 For the next stop, I head back north and west into downtown. I'm backtracking again. I pass by Lumière Casino, which makes me cringe. It's the biggest eyesore on the riverfront. It doesn't help that I'd rather be dragged over broken glass than spend time at a casino.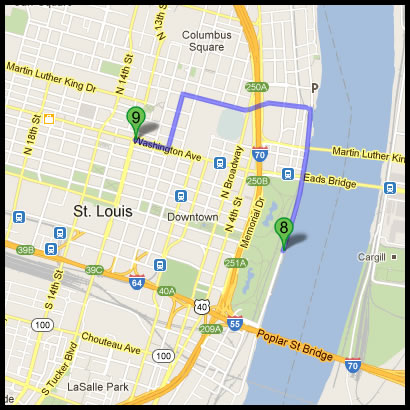 When I get to the next stop, I'm at the corner of Washington and Tucker. In 1864, this was the northernmost point of the Mississippi Valley Sanitary Fair. I have read about this event, but I don't know much about it. The app fills in some gaps. During the war, St. Louis was overcome with illness, severe injury, and death on a scale never before experienced. The fair was a fundraiser organized by Union supporters in order to raise money for U.S. soldiers and the families they left behind. It brought in a profit of $500,000, medical supplies, and much-needed relief to city that needed it. According to the app commentary, this fair attracted visitors from all over the country.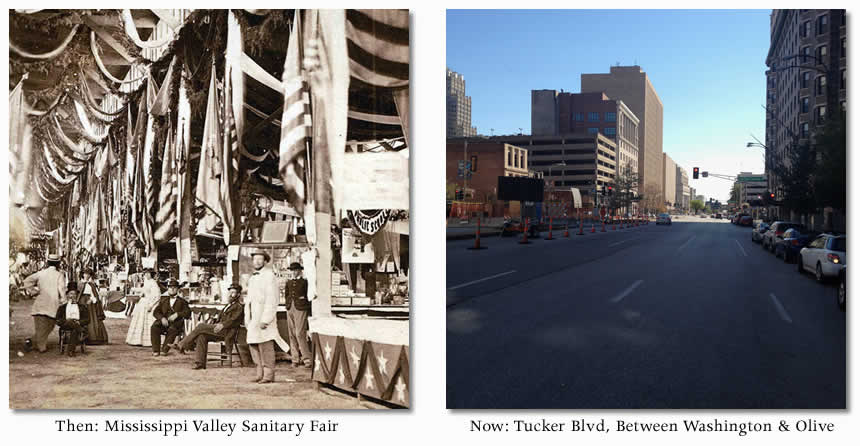 The next two stops are actually both at the same place. I'm directed south to the intersection of Broadway and Clark. It's located right next to Busch Stadium. The baseball game has started, but I still had to deal with traffic and tons of Cardinal fans as I make my way to the stop.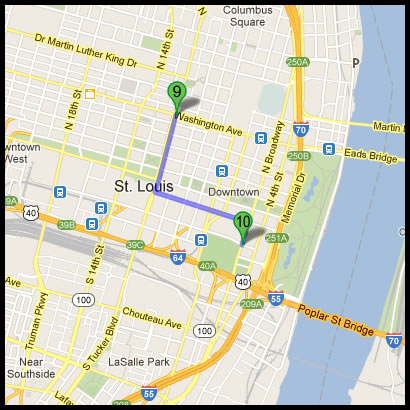 Back in the Civil War era, this was the corner of Myrtle and 5th. It was the site of business for Mr. Bernard Lynch, a successful slave dealer. At this corner, in the shadow of the present-day Busch Stadium, a large slave pen existed. Even worse, it was notable for containing children. At this site, children as young as five years old were held and auctioned off.
In 1861, Union soldiers seized Lynch's Slave Pen and converted it to Myrtle Street Prison. The audio commentary then tells me about one of the famous inmates of Myrtle Street Prison. During the 1850's Colonel "Doc" Jennison and his men (called "Jayhawks") terrorized and looted towns along the Missouri-Kansas border. His imprisonment sparked controversy in St. Louis because many in town considered him a faithful Unionist and proud supporter of abolition.
Today, the factory that makes Tums antacid tablets is located here. It's also filled with tons of ticket scalpers on game day.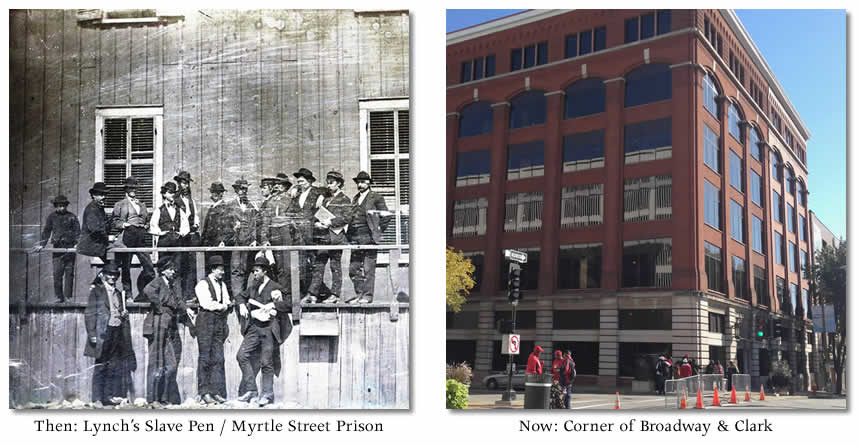 The app then directs me south to the Eugene Field House. I'm curious because Eugene Field really had nothing to do with the Civil War. It's a great historic home, but Eugene Field barely lived here. And what's the deal with the toy museum? He was a poet. My beloved Campbell House should be on this tour before Field House is. Also, why didn't the app stop me here when I passed it on the way to Lyon Park?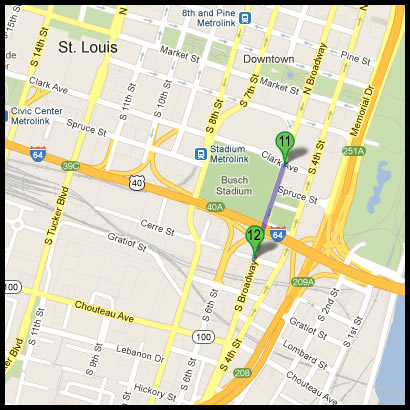 Anyway, the Eugene Field House is located at 634 South Broadway. It was part of "Walsh's Row", a series of brick houses built in 1845. The Eugene Field House is the only one that remains. Fortunately, I'm pleased that to hear that its inclusion in this tour is due to Eugene's father, Roswell Field. In 1853, it was Roswell Field who brought the Dred Scott case to the Supreme Court. His reputation and legacy would forever benefit from that case.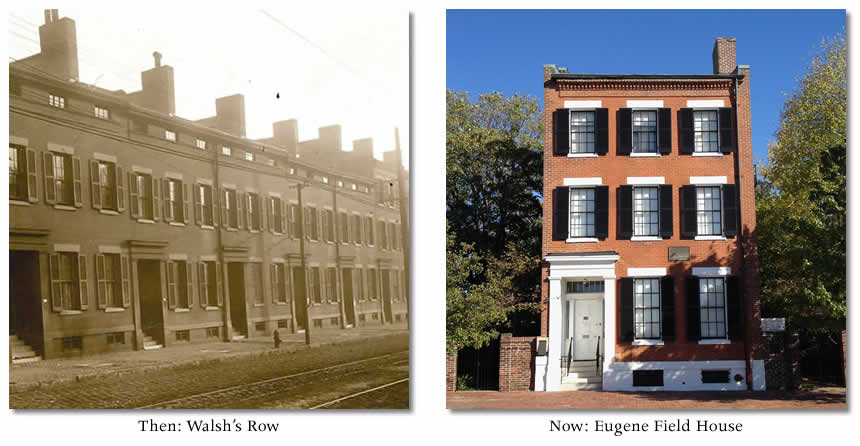 Time for another drink stop. This place has been mentioned before in my blog post about Compton & Dry. It's next to Field House and it's empty, so it's a good place to take a breather. All the Cardinal fans are at the game, so I have the outdoor garden to myself. The weather is great, so I sit outside and have a couple of beers.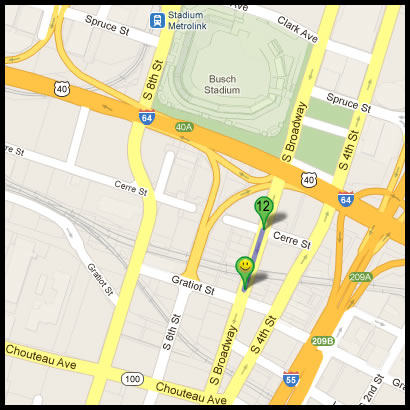 First of all, I finally learned how to pronounce this street. It's pronounced "Grash-ut". It's not a commonly referred to street in St. Louis, but I always assumed it was pronounced "Grat-ee-ot" or something odd like that. I could do an entire blog post about how St. Louisans pronounce their streets. Seriously. I think I may have to do that.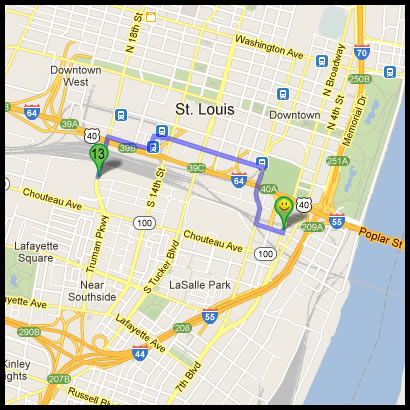 I'm now at the intersection of Chouteau and 8th. This was the location of the Union-run Gratiot Street Prison. It was smack in the middle of one of St. Louis's wealthiest neighborhoods at the time. Twelve-hundred prisoners were first incarcerated here on Christmas Eve in 1861. Prisoners included men, women, and children. If you broke the law in St. Louis, you were likely headed to this overcrowded and filthy prison.
Today, it's the entrance to Purina Corporation's parking lot.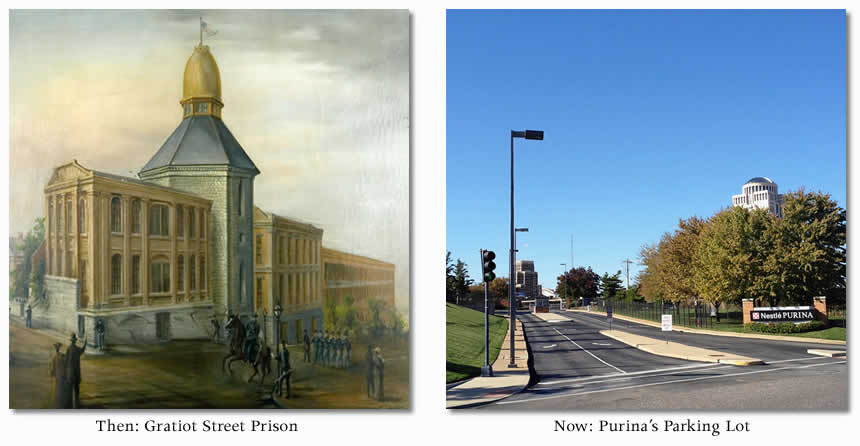 Here's where the bike riding starts. I know the location of Camp Jackson well, so I hop on the bike and head west towards St. Louis University. I get to the corner of Grand & Lindell and walk through campus.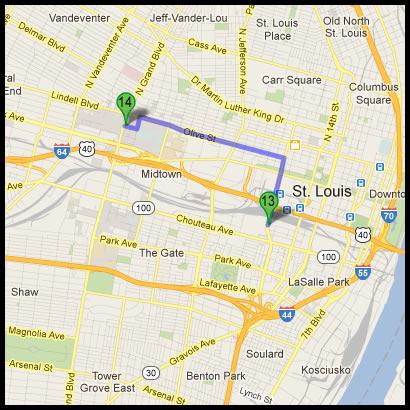 This area was once the outskirts of St. Louis. The area was called "Lindell Grove". The app tells the story of Camp Jackson, which is also discussed at the Lyon Park stop. Anyone who is interested in the Civil War in St. Louis needs to know about what went down during the Camp Jackson affair. Some even refer to the event as the "St. Louis Massacre". It's easily the most significant even in St. Louis during the Civil War. It's also too big of a deal to discuss here, so look for a future Distilled History post about it.
Surprisingly, there's a plaque here providing some historical information about Camp Jackson. Usually, if there's anything historically significant near St. Louis University, it gets ripped down. Father Biondi must have missed this.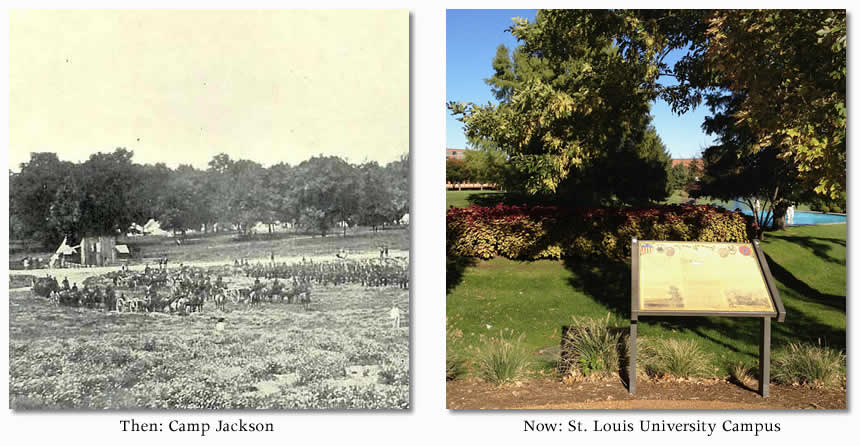 Here's a lengthy ride into north St. Louis. Unlike some people, I love biking in north St. Louis. I love to see the architecture and think about how things have changed in this city. Even better, Benton Barracks was where Fairground Park is now located. There is great history in this part of town. You can get worked over in this part of town if you aren't careful, but I've never had an issue.The app tells me to go to the western edge of the park at the corner of Natural Bridge and Fair.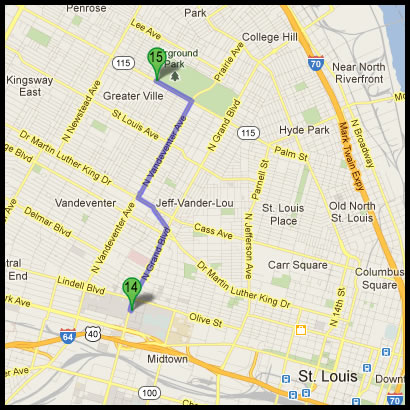 I don't know a ton about Benton Barracks, so I'm excited to hear what the app tells me. This is where Union soldiers encamped and trained in St. Louis during the Civil War. It was built on 150 acres of land owned by John O'Fallon, a prominent St. Louisan at that time. The app also tells a humorous story about a man who refused to move off the land to make room for the camp, so the army made him a chaplain. He was an atheist, but the new gig allowed him to stay put.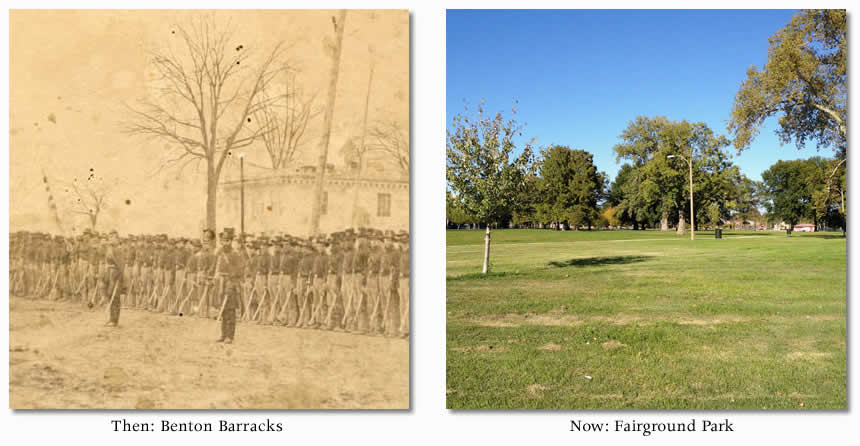 The tour is now sending me all the way back into south city. This is a perfect time to stop and get a drink. On my way south, I take a detour into Lafayette Square and get a beer at Square One Brewery. St. Louis has recently exploded with several great microbreweries, and Square One is a good example. They serve good craft beer here.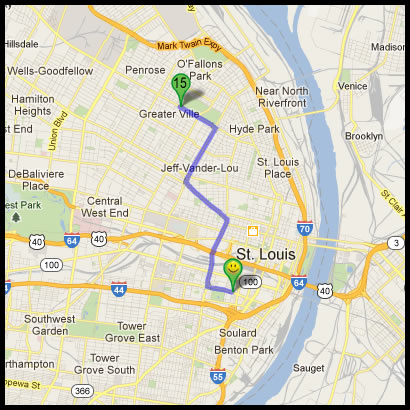 I'm now heading to the intersection of Indiana and Shenandoah in south city. This could have been placed right after the Gratiot Street Prison stop. There doesn't seem to be any timeline to the tour, so why are the tour stops spread out all over the place?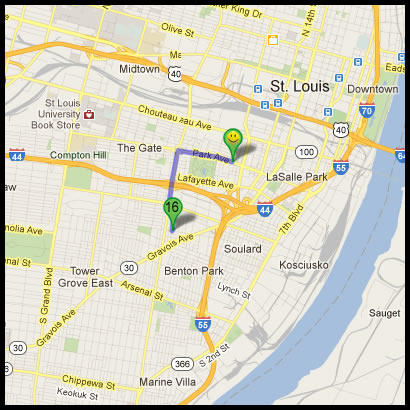 This area is the former location of Fort No. 4, one of a serious of fortifications that existed around St. Louis. The app then tells me the story about a pretty significant event that happened here. In 1864, a crowd of 3,000 people gathered here to watch the execution of six Confederate soldiers. The execution was part of a grizzly act of retribution ordered by Union command. Six Confederate captives were picked at random and shot. Today, their graves can be found in a single row at Jefferson Barracks.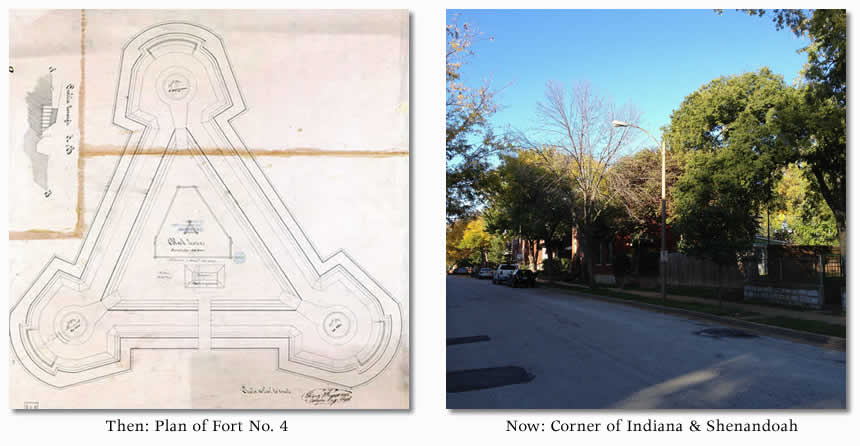 If you notice, I seem to have skipped stop #17. That's because this is my Bill Bryson moment. Stop #17 is supposed to send me to the U.S. Grant National Historic Site. Located west of the city, bicycling there and back would add about twenty-five miles to the tour. It's getting late and there is simply no way I'm doing that. I'm not even giving it a second thought. Maybe that's what went through Bill Bryson's head as he looked at his itinerary: "No way. I'm going home". Furthermore, it's not like I'm writing a book about this. It's a simple blog post. Grant is getting skipped.
Well played, Mr. Bryson. Well played.
Still, I have to head back into north city to get to stop #18. Why wasn't I directed there after Benton Barracks? I'm tired of riding through downtown St. Louis.
Eventually, I get to the corner of Howard and 14th just north of downtown. It's hard to believe a large brewery once stood here. At the time of the Civil War, this was the site of a brewery owned by Charles Gottfried Stifel, a German who came to St. Louis in 1849. In 1860, Stifel bought twenty-five muskets and began drilling other German Unionists in the malt house of his brewery. Pro-Unionist Germans in St. Louis signed up with Stifel's militia in large numbers. A year later, his force of 1,000 men were ambushed by secessionists in downtown St. Louis. The conflict would leave eight St. Louisans dead.
Stifel will definitely get his own place in Distilled History, so I won't say much more now. In addition, I'm antsy to close out this tour.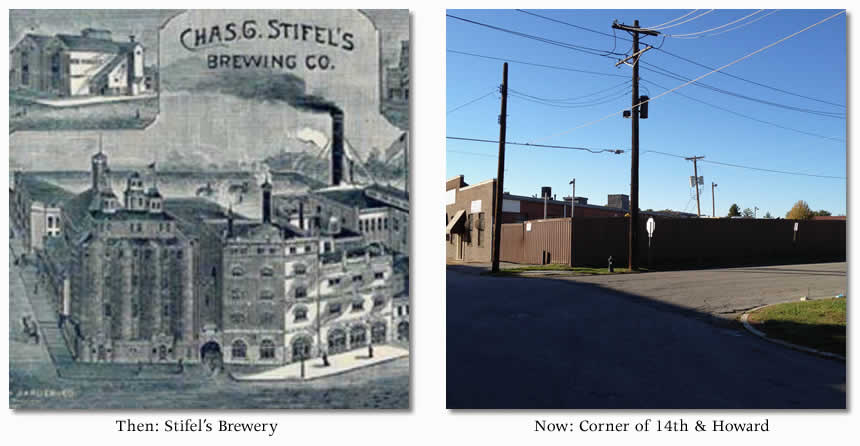 Stop #19 directs me back south. Of course, I'm heading right back to a part of town I've been to twice already. This is insane. I'm too tired to even stop for a beer. I need to get this thing over with.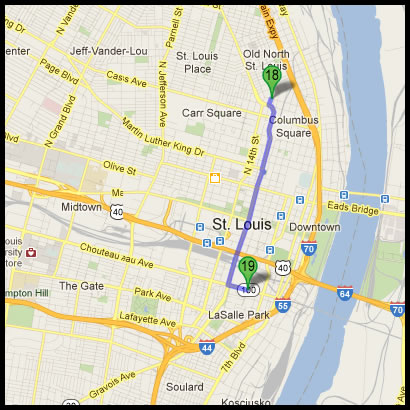 Still, I know nothing about Brant Mansion. I'm pleasantly surprised about what I hear from the audio commentary at this stop. For a few months in 1861, this house was the Union headquarters of John C. Frémont. I actually wrote a paper about John C. Frémont in college, so I'm kind of pissed at myself for not knowing about this house. The story of Frémont is good. He angered Abraham Lincoln early in the war when he put Missouri under martial law and then threatened to free Missouri slaves. When Lincoln overruled him, his wife even traveled to Washington to plead his case. In the end, Frémont learned you don't cross Abe. Soon after, he was looking for new work.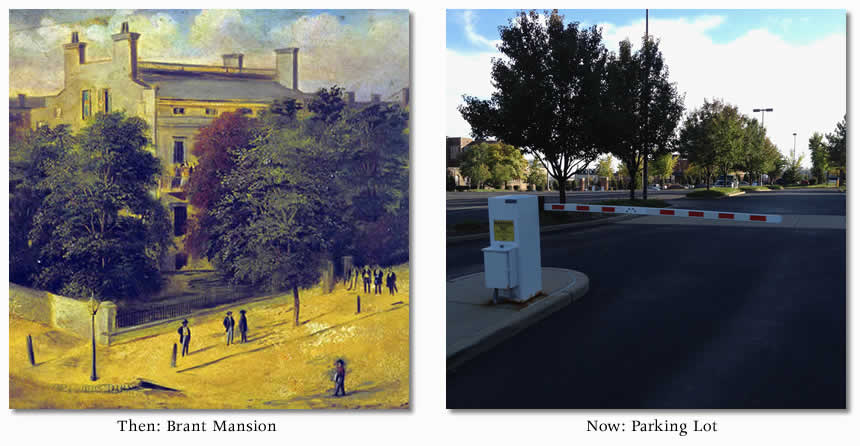 Finally, the final stop. It's sends me back into downtown. The final stop is St. John's Apostle and Evangelist Church located on Plaza Square. It's about a mile away.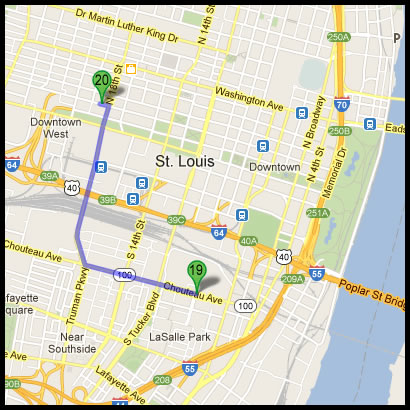 I often mention this church during tours at Campbell House Museum. It's one of the few remaining structures in that area that were built prior to the war and still exist. Interestingly, this church was funded by donations from a Confederate militia. The priest, John Bannon, was a Confederate soldier. As a result, he was targeted by Union supporters. He had to disguise himself in order to escape out the back of his church and find protection outside of St. Louis.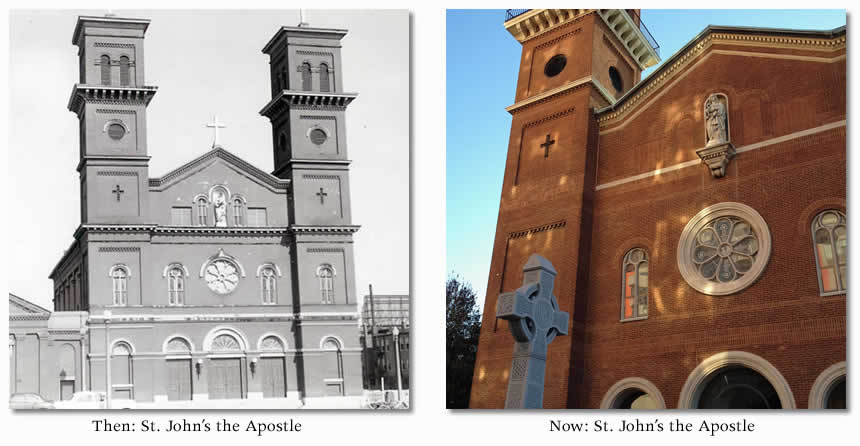 I skipped it, but I decided that I should at least drive out to White Haven and complete the tour. I bike back to the car and load it up. I then head to the U.S. Grant National Historic Site west of the city. When I get there, I'm confronted with big, white, closed metal gates. It's after 5 p.m. and I realize the place is closed. I'm elated! If I had biked twelve miles to find myself staring at a closed gate, I would have lost my mind.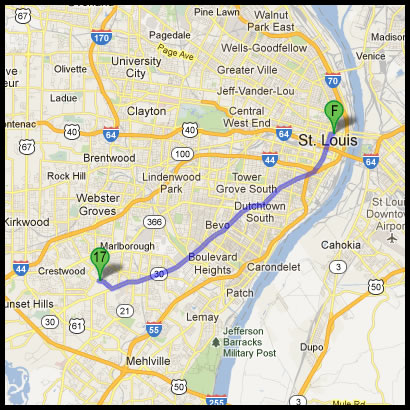 Most St. Louisans are familiar with White Haven. It's one of two structures still standing in St. Louis that Ulysses S. Grant lived in. Grant first visited White Haven after he graduated from West Point. He came to White Haven to visit the family of one of his fellow cadets, Fred Dent. While there, he'd meet Julia Dent, his future wife. What's even more interesting is that the Dents were slave owners. The man who would lead the Union Army and help free the slaves married into a family that had eighteen of them.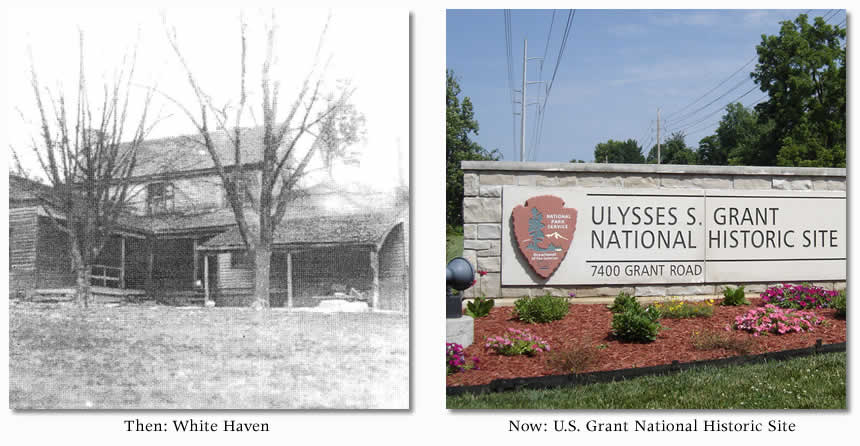 So there's the tour. Twenty sites and about twenty-nine miles on the bike. I headed back home and enjoyed a Hendrick's martini on my porch to close out the day.
In closing, I would like to add that the Missouri History Museum really put together a great mobile app. Even though I whined about the route, it was a fun day. Many of the "then" images used in this post are directly from that app, so they get the credit all around. I purposely skipped a bunch of information revealed in the app, so I recommend other St. Louis history nuts check it out and maybe visit a few sites. It's definitely a neat experience to stand at the same sites where history happened.
Last but not least, get over and see the Museum's exhibit about the Civil War in Missouri before it closes. It's very impressive.
Finally, during my route, I took a hand-held GPS with me that tracked my route. The crazy map below shows why I'm now ready to show a bit more appreciation for Bill Bryson and his desire to simply go home.