Back in the early 1870's, a man named Richard J. Compton came up with a pretty big idea.  Compton wanted to design and publish a new perspective map of St. Louis on a scale that had not been attempted before. The result would become the most important and significant map of any American city to date. Even by today's standards, this map stands out as a significant achievement in cartography.
Perspective maps (also called panoramic, pictorial, or birds-eye maps) had been popular since the 16th century. But in the 1800's, the industry really took off. Thousands of maps were drawn to present attractive views of cities in order to lure potential industry and people to a city. Being one of the largest American cities in the late 1800's, St. Louis was no exception.
One example is the Parsons & Atwater map, published by Currier & Ives in 1874: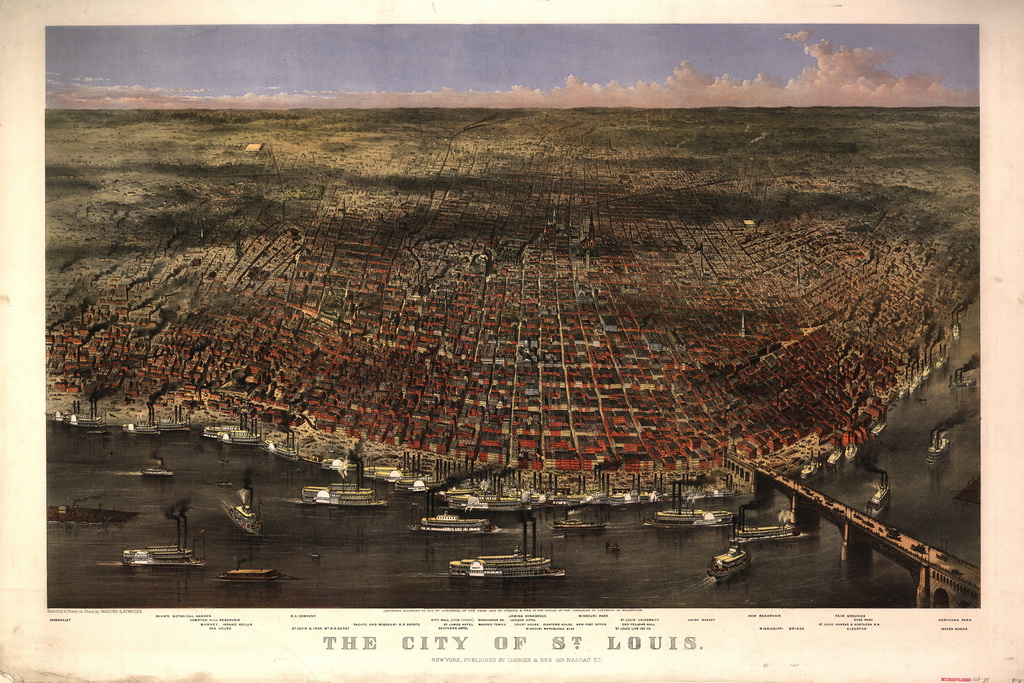 It's a beautiful map, but it is not an exact replica of the city.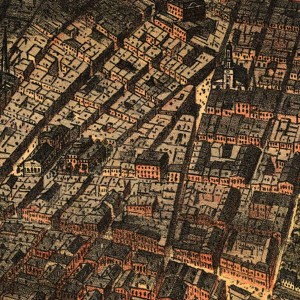 Look closely at the detail and the viewer will notice that buildings in certain sections of the map become haphazardly drawn and repetitious. The perspective is not correct, especially as the city spreads out to the west.
This is exactly what Compton sought to avoid. A printer by trade, his goal was to publish a fully detailed perspective drawing of St. Louis. In it, every building, street, park, landmark, business, church, and structure would be drawn in detailed precision.
Compton was from Alton, Illinois. He served as the manager of a lithography company in St. Louis and he owned his own business under the name of Richard J. Compton & Co. It was this firm that would publish his new map. To draw the map, he hired an artist by the name of Camille N. Dry. Not much is known about Dry, but he had a background of drawing perspective maps for several other cities. It's almost certain that Dry managed a team of artists to help with the massive project.
To make his drawing, many believe that Dry made initial sketches from a hot air balloon that was floated over the Illinois side of the Mississippi River.  However, no evidence exists to support this claim. Most notably, a hot air balloon hovering over the city for weeks or even months would have surely been reported in local newspapers at the time. No mention of one has ever been found.
Since a map of such detail would require an enormous surface area, the plan all along was to publish the map in book form.  When complete, it consisted of 110 individual drawings or "plates", each depicting a section of St. Louis.  Along with the plates, 112 pages of descriptions are included in the final publication. These descriptions give details about the thousands of businesses, buildings, and structures drawn in the map. At the time of its publication, no other American city could claim a map with such meticulous detail of its urban landscape.
It was published with the title Pictorial St. Louis: The Great Metropolis of the Mississippi Valley, a Topographical Survey Drawn in Perspective A.D. 1875.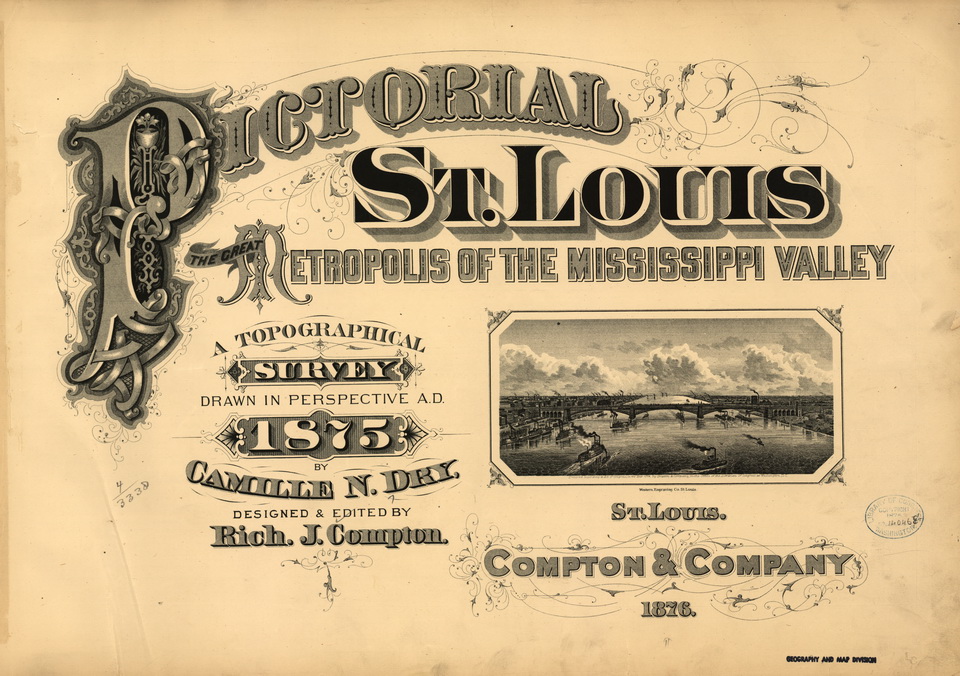 The title page credits Camille Dry as the artist and Rich. J. Compton as the designer and editor. It's believed the initial sketches took place in the spring of 1874. The final book was published in December 1875. It sold for $25.00.
I first saw this map in its full glory at the Missouri History Museum when I first moved to St. Louis. They had the entire map up on a wall as part of a St. Louis exhibit. It's since been taken down to make room for newer exhibits, but one can hope it will be put on display again in the future.
Since this map is so big, it's difficult to fully appreciate on a single webpage. The approximate size of each plate is 11×18 inches. If you were to assemble all the plates together to make one big map, you'd need a wall at least 24 feet long and 8 feet high.  Even Compton and Dry did not intend to have the map viewed in such a manner.  Since the map was published in book form, many buildings and map features are duplicated on adjoining plates.
Scale the plates down, and it could fit on your living room wall, which is where I put it (read more about that in this post).

However, just by looking at a few of the individual plates, it's easy to appreciate what Compton & Dry accomplished. This is plate 43, which shows the area around Washington Avenue and 14th Street.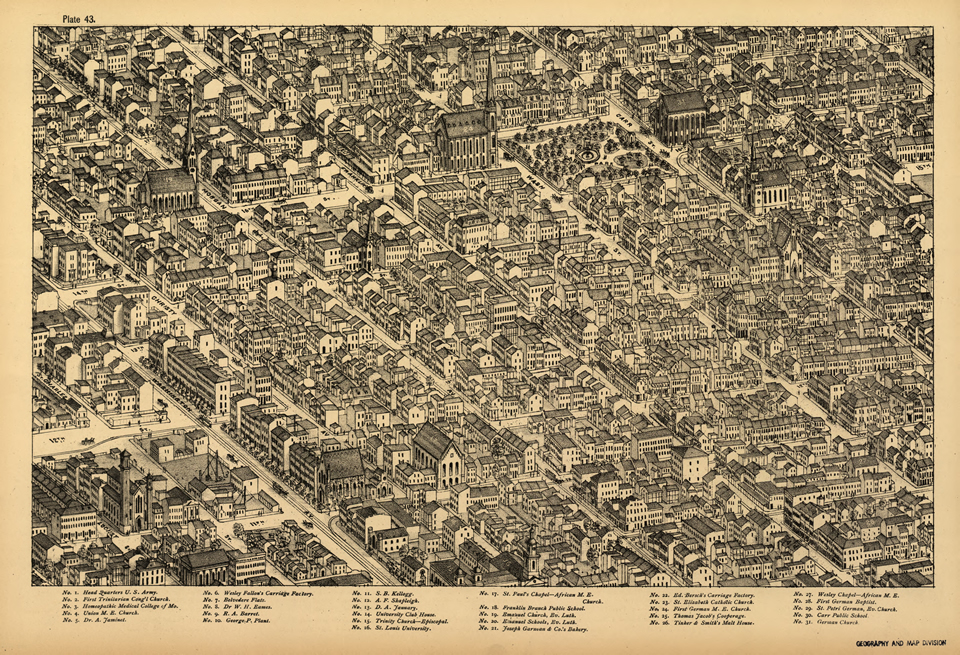 Compton funded the work by selling subscriptions. By detailing every structure in the city, he could identify buildings and businesses by numbers etched on a plate. A paying subscriber could then get a business identified on the map and in the key below the image. A description of the business would also be included.  It's assumed Compton charged more for longer descriptions that took up more space. For example, the description of the "Belcher Sugar Refining Company" fills an entire page, something that must have called for a higher subscription price.
Find a copy of the book and it's easy to get lost in it. I have spent hours examining the plates looking for landmarks and buildings that still stand. Here are six that can still be seen in St. Louis today:


It's also interesting to see what's not yet there. Plate 1 shows a congested city and riverfront where the Gateway Arch now stands.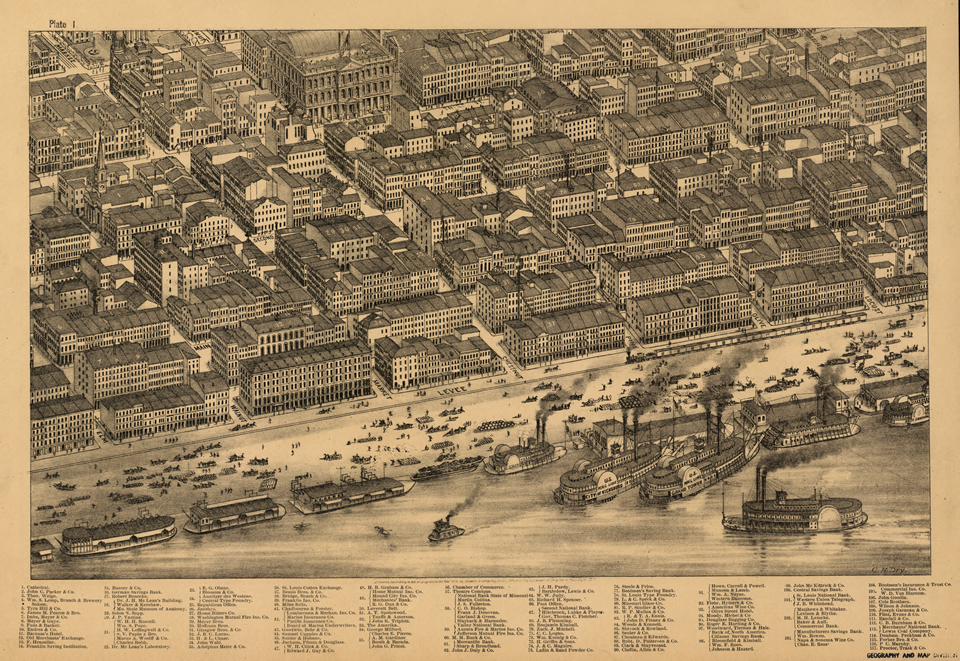 Plate 94 depicts a spacious Tower Grove Park in 1875. Henry Shaw's land sits barren to the north where the Missouri Botanical Garden would eventually be built.
Update 9/9/16: The curator of the Missouri Botanical Garden kindly emailed me and offered a correction to my description above. Here's what Mr. Harley Gard wrote: "the Missouri Botanical Garden was opened in the 1859, ten years after Tower Grove House was built. For further context, the land you mention in slide 94 is actually further east on Magnolia than where the Garden sits." (thanks, Mr. Gard!)
Plate 84 shows a small baseball diamond on the west side of Grand Avenue. This small ballpark would eventually evolve into Sportsman's Park, the future home of the St. Louis Browns and the St. Louis Cardinals.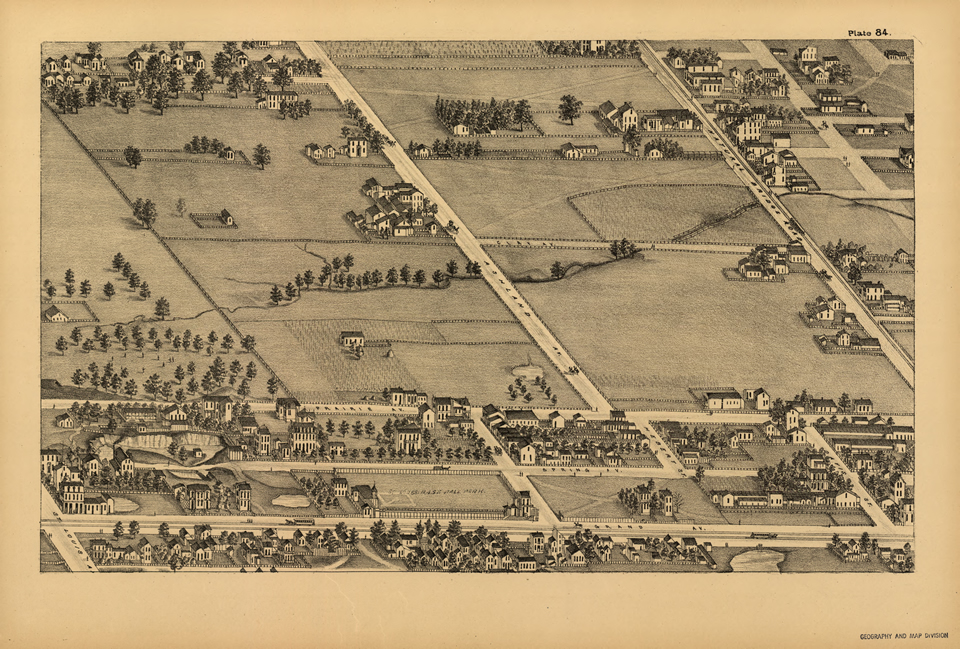 I strongly recommend seeing this book in person. It's a stunning achievement in cartography and art. It's also easy to find. It can be viewed on-line at the Library of Congress here. The St. Louis Public Library has copies at several of their branches. Recent republications are usually available for purchase on eBay.  But if you happen to stumble upon one of the original copies printed in 1875, you'll likely need to fork over about $10,000 to call it yours.

I thought heading out to get a drink for this post would be easy. Since my history topic literally deals with the ENTIRE city of St. Louis, I simply had to choose a bar and a drink. However, I figured I should try to find a place that can be found and identified on the Compton & Dry map.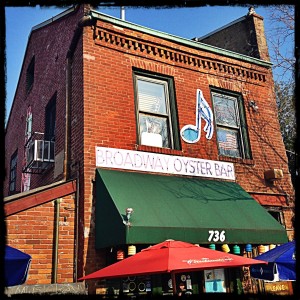 But I couldn't find one. It's sad to realize how many 1875 St. Louis buildings are gone. It seemed each old bar I looked up was located in a building that been built after 1890. Fortunately, all I had to do was call my pals over at the Campbell House Museum. The director, Andy Hahn, needed about four seconds to tell me of a place I should have known all along:  Broadway Oyster Bar. It's in one of the oldest buildings still standing in St. Louis.
Broadway Oyster Bar is a fun place. They have great food (it's where to go in St. Louis if you like to eat crawdads), music, and a very eclectic interior. It's not a place I'd go for a cocktail, but it's a great place to drink beer and listen to blues. It gets loud, which is tough for guys who are deaf in one ear (me). But, it's still a place I often take friends who are visiting St. Louis.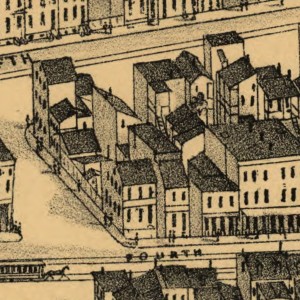 The building that houses Broadway Oyster Bar was constructed in 1845. The original hearth even still stands in the back dining room.  On plate 3 of the Compton & Dry map, a group of houses are drawn at the corner of 5th and Mulberry, which is now the corner of S. Broadway and Gratiot.  They aren't identified, but I believe one of those structures is where I ordered a Manhattan on a recent hot Saturday afternoon.
Since it was 102 degrees, I sat at their nice outdoor bar where it was empty (the inside was packed with people escaping the St. Louis heat). My bartender thought I was nuts biking in this weather, but she was very friendly and happy to make me a Manhattan. I ordered it without any special instructions, which means I expected to get it on the rocks (sigh).  She used a good 2:1 ratio of Maker's Mark Whiskey with Martini & Rossi Sweet Vermouth. She put three maraschino cherries in it and a a splash of maraschino juice. It was stirred, and no bitters were added.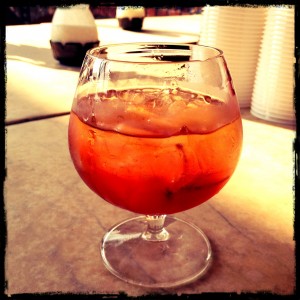 I'd send this drink back at some other establishments, but not here. I know better than to be a cocktail snob to a pretty girl who's being extra friendly. She could have topped off the Manhattan with Mad Dog and I would have simply smiled back. It was still a tasty drink. She poured a good ratio and the ice probably helped on a super hot day.
Normally, that's way too many cherries for a Manhattan. I don't use even one in my own recipe. Still, the maraschino cherry is the standard fruit complement to a Manhattan. I certainly will not complain when it's added.
Notes:
Much of my information about Compton & Dry came from a fantastic book titled St. Louis Illustrated Nineteenth-Century Engravings and Lithographs of a Mississippi River Metropolis by John W. Reps. The book is now out of print, but I was able to purchase a copy in great condition for only $6.00 from an online used bookseller.