Note: This was originally a Facebook history fact that I posted in April 2012. I wasn't writing this blog at the time, so I went back to get some more information and images to expand on the original post. I also found a good place to get a drink.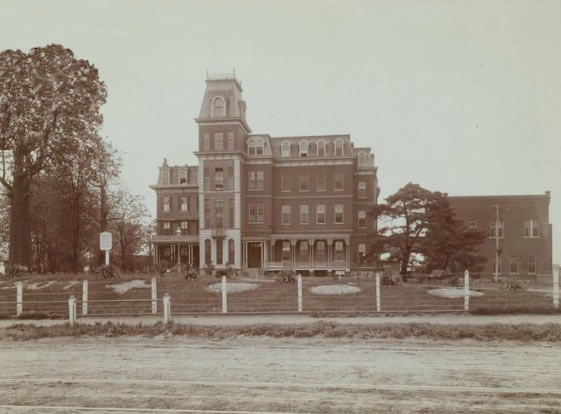 On July 5, 1870, the city of St. Louis passed an extraordinary new ordinance. Commonly referred to at the time as the "Social Evil Law", it made prostitution a legal activity in the city of St. Louis. As long as the practice occurred in a licensed establishment (brothel) staffed with licensed employees (hookers), you could score a trick in Mound City without any threat of legal repercussion. Imagine that for a moment. From 1870 until the law was repealed four years later, a brothel in St. Louis was a legitimate business enterprise. Modeled after similar legislation in Europe, St. Louis was the first American city to attempt such a groundbreaking experiment.
"If the evil cannot be suppressed," opined the Missouri Republic, "the wisest course is to regulate it with proper bounds." The majority of the all-male (of course) St. Louis city council shared this opinion. They believed that legalizing prostitution would contain illicit behavior and prevent the spread of venereal disease among the population.
Along with the new ordinance, the "Social Evil Hospital" was constructed in 1873. Located at the corner of Arsenal and Sublette, the hospital was built across the street from the Insane Asylum on the western edge of the city. Under provisions of the new law, all prostitutes and brothels had to register with the Board of Health and pay a monthly fee. The money from these fees was used to construct the hospital, maintain the facility, and pay the salaries of its employees. A companion "House of Industry" was built next door where reformers attempted to "save" the women and teach them skills needed in more respectable lines of work.
Here's the Social Evil Hospital depicted on Plate 95 of Compton & Dry's Pictorial St. Louis. The Insane Asylum, which still stands today, is located across the street.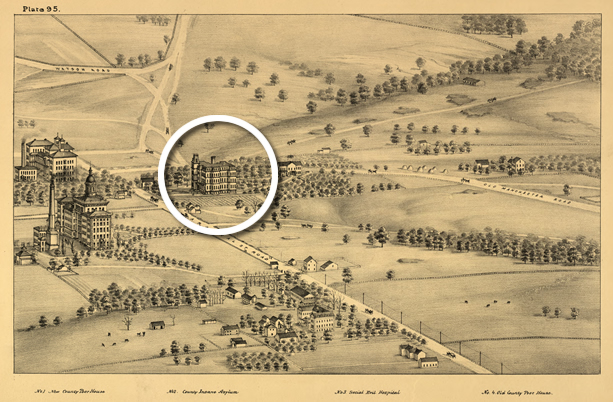 All registered prostitutes were also required to get a weekly medical examination. If they passed, they were given a licensed certificate to work. If they failed, they were expected to report to the Social Evil Hospital within twenty-four hours for treatment. It was likely not a very pleasant experience. Bunked several to a room, patients were kept under guard and forbidden to leave unless discharged by a physician. While there, they had to endure the condescending attitude of reformers attempting to change their lifestyle. In the first year of hospital operation, several escape attempts were reported.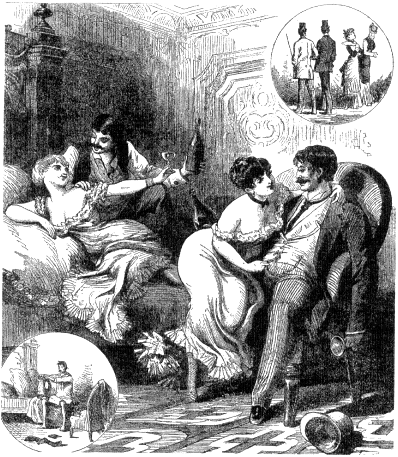 At first, the law had significant support. Over 800 prostitutes registered in the first three months. However, many found the strict regulations far less appealing than the back alley methods they were accustomed to. Many vigorously objected to the high fees and forced medical inspections. As for reform, few prostitutes showed any inclination to attempt a more "respectable line of work". The House of Industry closed shortly after it opened. Within a year, many prostitutes simply refused to pay the fee and went back to plying their trade under their own rules.
Opposition to the new law started to grow from community leaders. William Greenleaf Eliot (T.S. Eliot's grandfather) argued the law discriminated against women since male prostitutes were not required to register. Others started petitions for equal rights for women instead of simply giving them the freedom to sell their bodies.
Supporters continued to insist the law was working. The chief of police argued that the city's prostitutes exhibited better behavior and the sex trade had been removed from the public eye. In fact, prostitution was a big business that brought revenue to the city. One of the largest brothels paid an estimated $2,500 a month in fees (nearly $30,000 today).
By 1874, The number of registered prostitutes had plummeted. Corruption also invaded the system. In one example, a prostitute presented a medical certificate that had been dated three weeks in advance. Despite continued support from local politicians insisting the law worked, the city council voted to repeal the ordinance in April 1874.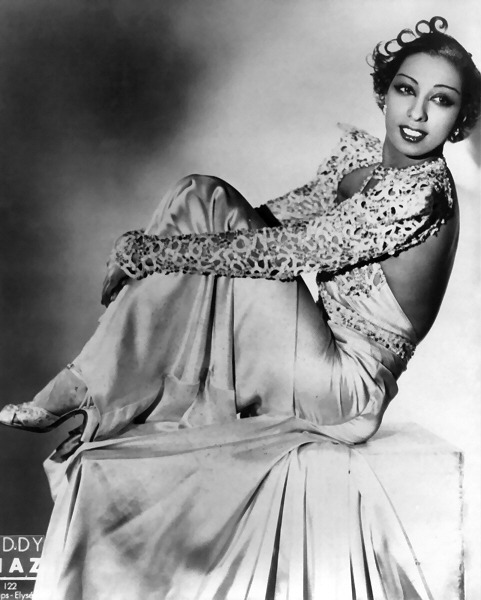 The Social Evil Hospital continued treating women and children for a few years under a new name, the Female Hospital. It operated for several years until patients were moved to the City Hospital near downtown. The building was razed in 1915.
However, the Female Hospital does hold an interesting footnote. On June 3, 1906, an African-American washerwoman named Carrie McDonald gave birth to a baby girl she named Freda Josephine. That young girl would grow up to become the famous dancer and political activist Josephine Baker.
The land where the Social Evil Hospital once stood is now called "Sublette Park". It's an attractive park with several tennis courts located in the Southwest Garden neighborhood of St. Louis. It's named after William Sublette, a prominent early St. Louisan who had a successful career as a fur trader. Sublette owned a large estate named "Sulphur Springs" just north of where this park stands today. William Sublette died July 23, 1845 and is buried in Bellefontaine Cemetery in north St. Louis.
Sublette's business partner for many years was Robert Campbell, owner of the home where I volunteer as a docent. Sublette's land is now occupied by a Holiday Inn, but Campbell's beautifully restored home still sits in downtown St. Louis (and this is a shameless plug, I know).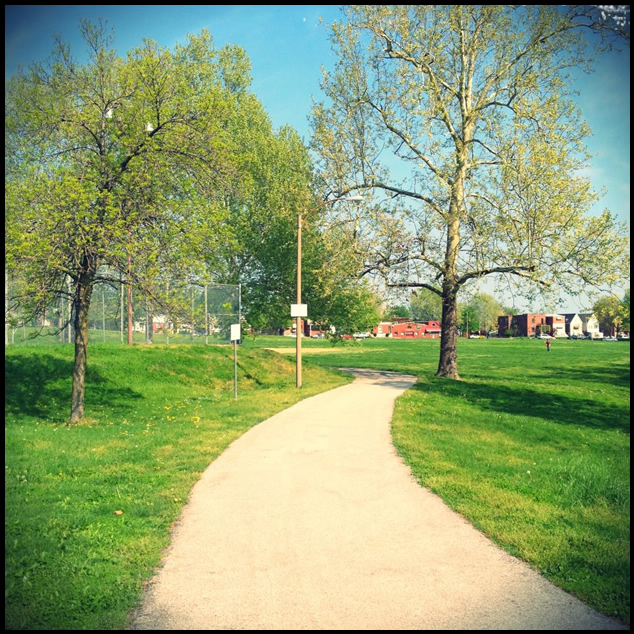 Note: There's a great deal of information out there about St. Louis's experiment with legalized prostitution. A definitive source is an article titled "Regulating Vice: Prostitution and the St. Louis Social Evil Ordinance, 1870-1874" by Duane Sneddeker.

To serious cocktail drinkers, the drink destination of this post may come as a bit of a surprise. Located not too far from Sublette Park is a well-known south St. Louis restaurant named Biggies. It's a regular family place with a big menu and all sorts of St. Louis memorabilia on the walls. Since it's close to my house, I've eaten there often. And believe it or not, Biggies serves a good Manhattan.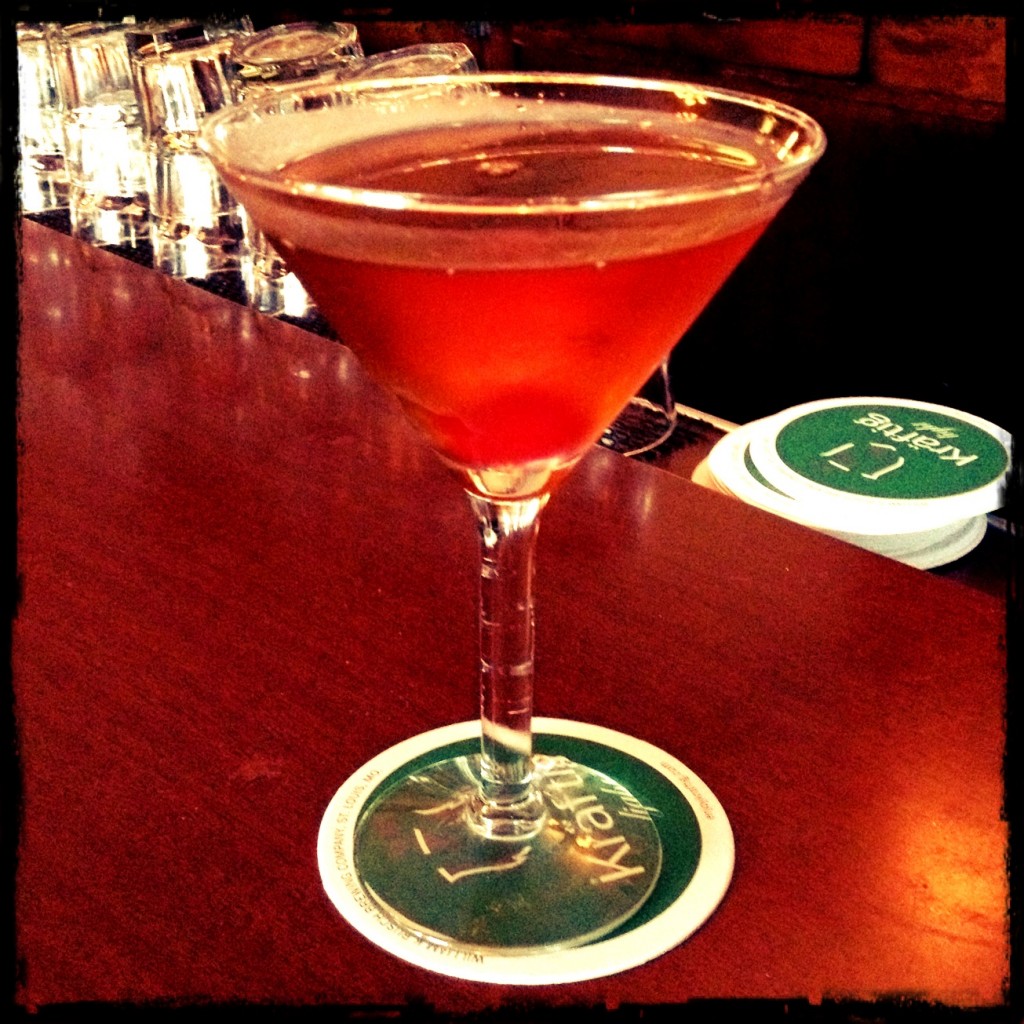 There are two reasons I love drinking Manhattans at Biggies. First, the bartenders are always extremely friendly. You always get a big smile and a friendly hello.
Second, special instructions to get a perfect Manhattan are never needed (at least in my experience). Order the drink and you get it how it should be made: Up, stirred, and served in a fancy cocktail glass. It comes with one cherry and a small splash of maraschino syrup.
Keep in mind that a "perfect" Manhattan specifies a specific recipe for the drink. It's served with a 1:1 ratio of whiskey and sweet vermouth. This is how my father liked his Manhattan and it's the recipe I was first exposed to.
These days, I normally use rye whiskey with a 2:1 ratio, but the perfect Manhattan brings back good memories. It reminds me of my good ol' Dad who died back in 2008.
It makes me happy to drink it as he did.
Update November 2015: A kind reader informed me that I had incorrectly placed Sublette Park in the Hill neighborhood. In fact, it's in the Southwest Garden neighborhood.