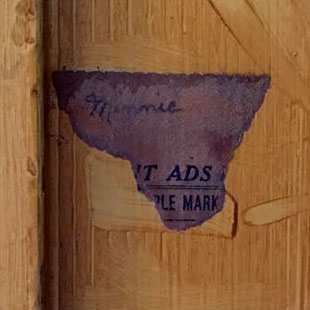 Sometimes even the littlest of things can make a tremendous impact.
I should know, because I watched it happen two years ago. And it all started with a little piece of paper with the name "Minnie" written on it.
To be more specific, this little piece of paper is glued to the inside of a kitchen cabinet at the Campbell House Museum, where I've been a volunteer since 2012.  The written name "Minnie" is short for "Philomena", as in Philomena Ann Kleeman, a cook who lived and worked in the Campbell family's home over eighty years ago.
But before I get to the great story about Minnie and that little piece of paper, allow me to provide a bit of background information.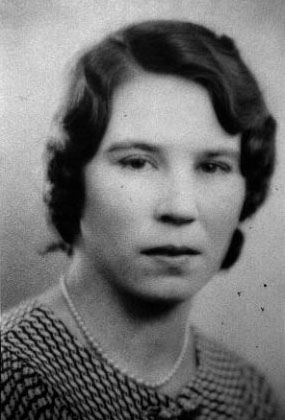 The Campbell House Museum has been open for more than seventy years. And while it's a great place for visitors to look at beautiful stuff and hear great stories, much more is happening behind the scenes. It's a place of constant research and learning, and that's a major reason I'm glad to be part of the Campbell family.
And it may surprise many that we are still just scratching the surface. Even after seventy-four years of operation, significant new information is constantly emerging. For example, we didn't know the name of the architects who designed the house until a few years ago (Joseph C. Edgar and Thomas Warying Walsh). We just learned where one of the Campbell children is buried (he's in Bellefontaine Cemetery with his brothers and sisters). And in an astounding 2012 discovery, it was proven that Robert Campbell once owned an enslaved woman named Eliza. All of these are important changes to the Campbell narrative, but even the littlest things like name pronunciations have thrown us for a loop. If you took my tour four years ago, you would have heard me pronounce Hazlett Campbell's name with a short "a" vowel sound (like "hat"). Take my tour today and you'll hear me say it with a long "a" (like "maze").
But if there's one aspect of the Campbell story that remains elusive, it's the story of the Campbell servants. These are the scores of men and women who lived and worked behind the scenes as domestic laborers. They are the cooks, housekeepers, maids, and coachmen who worked long hours keeping the Campbell House running smoothly. And other than a few notable exceptions, we know almost nothing about them. Several names can be found from family letters, official documents, and census records, but that's about it. Most of the Campbell servants simply showed up to work for a year or two and then left. And when they left, they took all of their stuff (letters, journals, photographs) with them. Little evidence of their time in the Campbell House was left behind.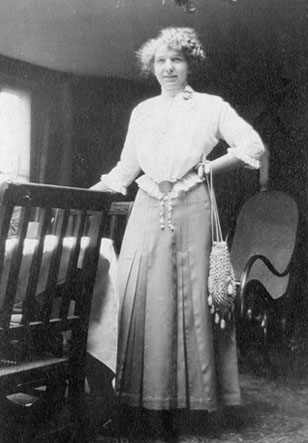 Servants are an important part of the Campbell story, but they also represent an aspect of private life that has all but disappeared. Hiring live-in domestic labor still happens today, but on an infinitesimally smaller scale. 150 years ago, it wasn't just commonplace for a wealthy family to utilize domestic labor, it was expected. And it would have been impossible for Robert and Virginia to live the lavish lifestyle they did without the aid of servants. In fact, the number of servants employed by a wealthy family even played a role in determining social status. With as many as nine or ten servants living at 20 Lucas Place during the peak years of the Campbell House, there's no doubt that the Campbell family found themselves near the very top of the 1875 St. Louis social ladder.
While servant names and faces continue to be elusive, what is known is that their days were filled with backbreaking work. Campbell servants worked an average of 78 hours a week. On-call at all hours, servants were hard at work before the family awoke, and were still at it long after the family went to bed. The Campbell servants were responsible for every household chore, including cooking, cleaning, doing laundry, emptying chamber pots, sewing garments, arranging ice delivery, pulling weeds, fetching coal, driving carriages, and much more. During a time when appliances like washing machines, gas stoves, and microwaves didn't exist, little time was available for anything but work.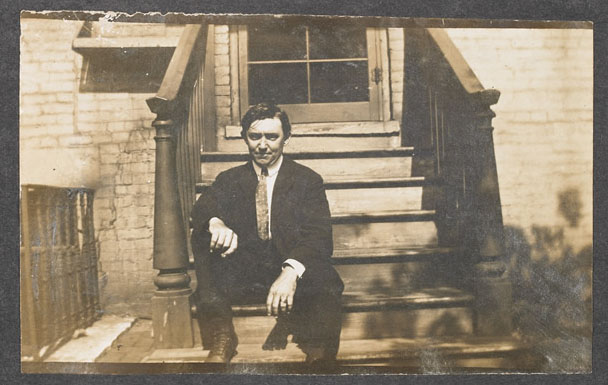 Andy Hahn, the Executive Director of the Campbell House, once offered up a perfect analogy. He told me the primary job responsibility of a servant in the late 1870's could be equated to the primary purpose of a household appliance today.  Take the vacuum cleaner, for example. In 2017, the time needed to vacuum a home can often be counted in minutes (maybe twenty in my little south city bungalow). But 125 years ago, cleaning carpets was an arduous, time-consuming task. In homes with wall-to-wall carpeting (known as "fitted carpets" back then), a servant would begin the process of cleaning a carpet by removing every piece of furniture from the room. And since Victorian-era homeowners loved filling their homes with as many chairs, tables, sofas, and pianos that could possibly fit inside, it was a major effort just to get the process going. After the room was cleared, a servant then had to get down on the floor and tear out the seams where each piece of carpet was stitched together. With the carpet separated into manageable pieces, each section was taken outside, hung on a line, and beaten with a carpet beater. After getting the dirt and dust swatted out, the maid had then had to put it all back together. After the pieces were perfectly aligned, re-sewn, and the furniture was moved back into place, it was time to move on to the next room. And since carpets were cleaned twice a year (on average), the process probably started again as soon as it was completed.

But being a domestic laborer in an elite, upper-class home did have its merits. It allowed young men and women to earn a decent wage along with free room and board. In some instances, even a servant's clothing was provided. With few expenses (and little free time to spend money), a young woman like Philomena Kleeman could save her money and prepare for a life ahead. And that's exactly what she did. Although her time at the Campbell House probably wasn't as labor-intensive as what was described above (only one Campbell was alive during her time there), she made the most of it. After working at the Campbell House as a cook from 1932 to 1936, she returned to her hometown of Tell City, Indiana with $3,000 in her pocket. After marrying her sweetheart William Emmett Miller, she used her savings to build the house in which they would spend the rest of their lives together.

But wait a minute… didn't I just get done explaining that very little is known about the Campbell servants? How could I possibly know how much Minnie Kleeman saved and what she did with it? And how do I know the name of the guy she married? Well, this is where this story gets even better. And it all started with that little piece of paper glued to a kitchen cabinet door.
It all started on a Saturday when I was at the house giving tours. A fellow docent named Dennis Rastert told me a story about a Christmas party held at the Campbell House back in 1922. The party was hosted by Hugh Campbell, the older of two surviving Campbell sons living in the home at the time. Hugh Campbell was a very generous man, and one way in which he showed his appreciation to those who worked for him was to throw lavish Christmas parties for his servants and their families.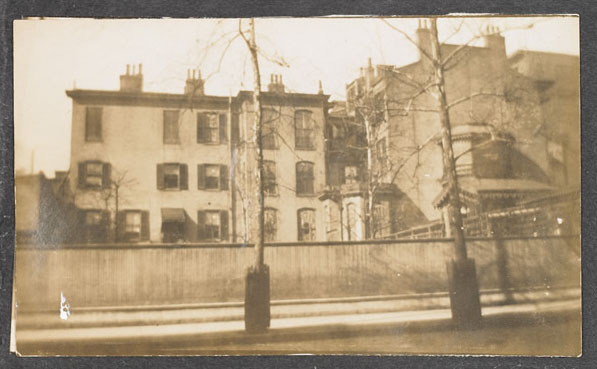 The 1922 party is special because we actually have a written account of the event by someone who was there. In his account, a man named Dewey Dauby details an extravagant affair that included a catered nine-course meal and dancing to a seven-piece orchestra. Among other indulgences, Dauby describes his plate surrounded by "six small glasses filled with wine and liquors of different kinds", and he goes on to say that it was impossible to empty one of the glasses without it being immediately refilled. As the festivities continued, Dauby admits to feeling a bit "dizzy" while making eye contact with another man "in a funny hat" on the other side of the room. After the two men raised their glasses to each other, Dauby hilariously realized that he'd been toasting to his own reflection in a mirror.
Dewey Dauby was at the Campbell House in 1922 as the guest of Mary Boerste, one of the few Campbell servants we know quite a bit about. Dauby had recently married Mary's niece, Polly (Pauline) Kleeman, and the couple attended the party as part of their honeymoon in St. Louis. Born in 1883, Mary Boerste came to St. Louis in 1904 to visit the World's Fair. Instead of returning home after her visit, Mary answered an ad in a newspaper for a housekeeping job at the Campbell home. And after being hired by Hugh Campbell, she remained there for the next thirty-two years, becoming one of the longest-tenured servants and a significant part of the Campbell story.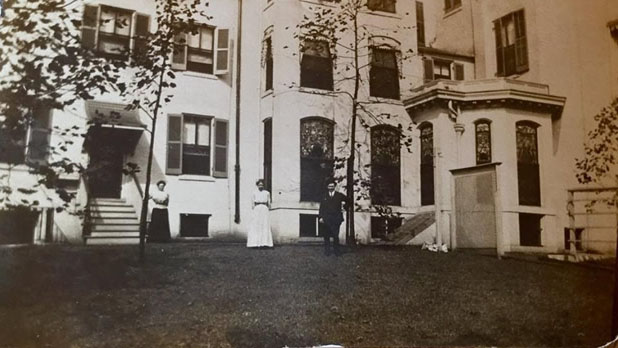 After telling me this story, Dennis showed me the small piece of paper  (that I had never paid much attention to) glued to the inside of the kitchen cabinet. Seeing "Minnie" written on it, I learned the name was short for Philomena Ann Kleeman, Mary Boerste's niece. Minnie also attended the epic 1922 Christmas party. She was eighteen at the time, and she'd return to the Campbell House ten years later when her aunt Mary helped secure her a job as the Campbell cook.
As for me (sufficiently envious of Dennis and his tale), I walked back into the kitchen and took a picture of Minnie's little piece of paper. Happy to add another story to my tours, I applied a shiny filter and posted it on the social media site Instagram. A few weeks later, my iPhone dinged and notified me that someone had commented on my post. And that's when the real fun began.
 (I'll let the image below speak for itself)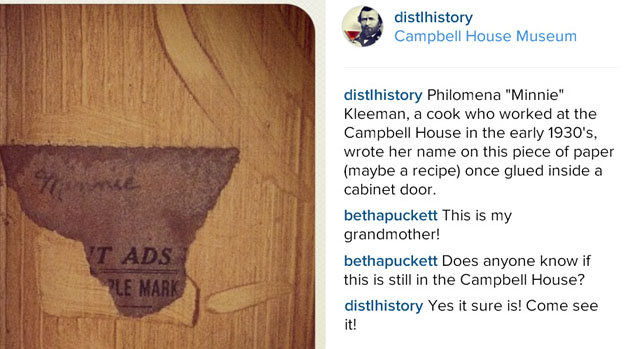 After a few back and forth messages on Instagram, I soon found myself in the midst of an amazing email correspondence with Beth Puckett, Minnie's oldest granddaughter. She explained the Instagram find was the result of a simple Google search by her cousin, Susan Kornreich Wolf, who was visiting her mother, Patricia Miller Kornreich, in Maine. The two were curious about Minnie's time in St. Louis working for a millionaire and discovered the above Instagram post, shared it with the rest of Minnie's family, and just like that, a new connection between the Campbell House and someone who lived and worked there came to be.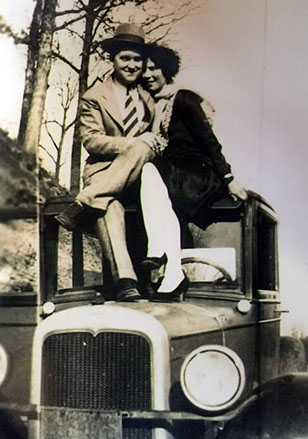 The excitement of this new connection quickly spread throughout the Campbell House and Minnie's family. Information began flowing back and forth, and both sides became excited about a rare opportunity to share information. And a couple of months later, four members of Minnie's family came to St. Louis to see the Campbell House in person. Along with Minnie's children Wilma and Cliff, Minnie's granddaughter Beth and great-granddaughter Emma spent an afternoon touring the house and talking with museum staff. Interestingly, it wasn't the first visit for Wilma and Cliff. In 1953, Minnie brought her entire family to St. Louis to see the place where she lived and worked for four years. At the time, Wilma was fourteen and Cliff was ten. Their visit is even recorded in the Campbell House guest book.
But the story gets even better. During their visit, Minnie's family donated two shirts that Minnie had taken with her back to Indiana in 1936. The shirts once belonged to Hazlett Campbell, and getting those shirts was a significant acquisition for the Campbell House. Prior to that donation, no clothing belonging to any of the Campbell children existed in the museum's collection. And for those wondering if Minnie Kleeman stole the shirts, she didn't. It's funny to consider, but Hazlett Campbell was beyond the need for such fancy attire when Minnie worked in the house. One plausible theory is that she simply held on to the shirts as a source of extra fabric.
I was unable to be there when Minnie's family came to visit the Campbell House, but I was fortunate to be part of a second donation that soon followed. A few weeks after their visit, Minnie's granddaughter Beth contacted me again to arrange a special delivery. A few days later, I hand-delivered a photo album to the museum that once belonged to Mary Boerste, Minnie's aunt who worked in the Campbell House for more than thirty years. Mary Boerste died in the Campbell House in 1936, and Minnie's family believes it was this event that stirred Minnie to return to her home in Indiana. Along with her own belongings (and a couple of Hazlett Campbell's shirts), Minnie also packed up her aunt's photo album and took it all with her. Nearly eighty years later, Minnie's family generously decided to hand it back to the Campbell House.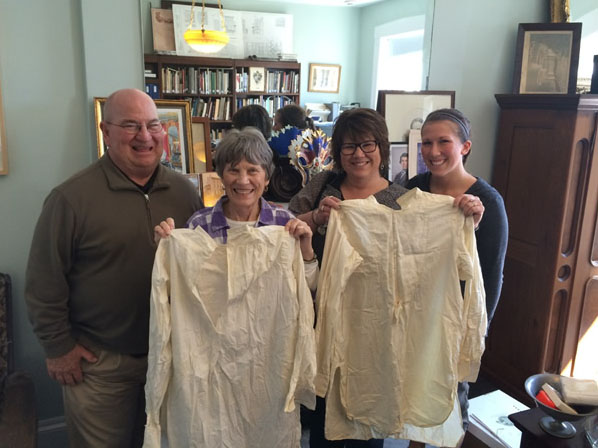 This special photo album contains nearly 200 photographs that had never been seen by anyone at the Campbell House before. Suddenly, after more than seventy years of operation, the Campbell House had new photographs of the home, new photographs of the garden, and best of all, new photographs of Mary Boerste and other servants. From these photographs, the museum learned the house once had awnings, that a unique screen once existed in the garden, and that the furniture in Mary Boerste's bedroom wasn't arranged as she had it during her time in the house.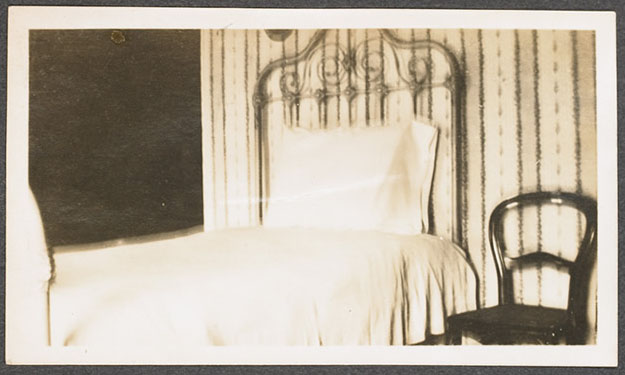 But perhaps the highlight of this experience is learning more about Philomena Kleeman herself. Through a freak social media connection, we now know that a woman who once  lived in the Campbell House lived a splendid life after she left. And we've learned more about how she lived it. We know she was a hard worker, but she was reluctant to come to St. Louis in 1932 because she'd be far from the man she loved. And we know that she married William Miller as soon as she returned to Tell City in 1936. We know that together Minnie and William raised five wonderful children, and that all of them came to St. Louis in 1953 to visit the museum where Minnie once lived and worked. We know that her fried chicken was everyone's favorite, along with mashed potatoes, milk gravy, and green beans. We even know that Minnie continued gluing recipes and housekeeping tips to her cabinet doors like she did at the Campbell House. And finally, along with so much more, we know that Minnie passed away in 1983.
Today, two years after the events in this post happened, I still look forward to telling visitors about my favorite items in the Campbell House collection. But now there's one I look forward to more than any other. Today, my favorite item in the Campbell collection is not a piece of furniture, a painting, or a stained glass window. It's not Virginia's Limoges china, Robert's straight razor, or the Schomacker piano in the parlor.
It's a little piece of paper glued to the inside of a cabinet with the name "Minnie" written on it.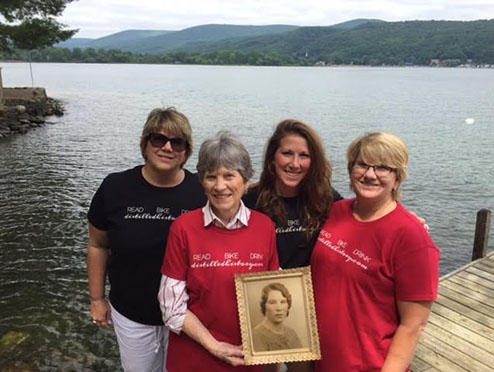 This is the most difficult Distilled History post I've ever written. Unlike posts about cholera epidemics in the 1840's and fires in the 1870's, people who care deeply about the subject matter of this post are still around. I wanted to make sure I got it right.
In trying to find a drink for this post, I asked Beth if Minnie liked to have a drink from time to time, and if she did, what was her beverage of choice? My grandmother was a sherry drinker, so I found it funny when Beth told me that her grandmother didn't go for that. Minnie was content with a cold beer or two on a hot summer day.
But Beth also sent me a fantastic photograph of Minnie taken sometime during the 1970's. In it, Minnie is holding a drink in her hand while smiling from ear to ear. Is it possible that Minnie is holding a Manhattan cocktail? Is it possible that she also enjoyed a drink that is also my personal favorite? Or maybe I'm trying to make this story even better than it needs to be. Either way, the photograph makes me think that Minnie Miller led a wonderful life after her time in St. Louis.
And I'll drink to that.