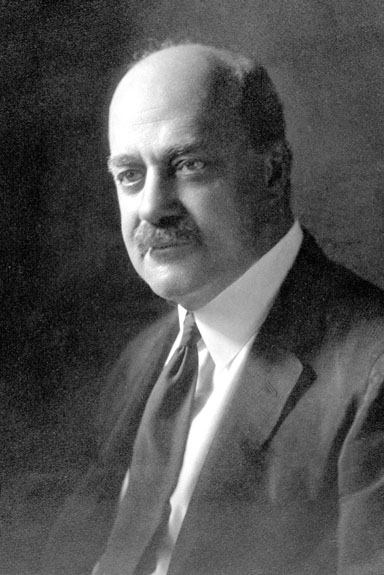 In 1897, a man named William B. Ittner became the Commissioner of School Buildings for the Board of Education in St. Louis.  It was a new position, created to oversee an ambitious plan to design and build scores of new public schools in St. Louis city. Before this, school buildings in St. Louis were vastly unappealing structures. Almost resembling prison blocks, school buildings were uniformly dark, dreary, and overcrowded. Simply put, attending public school in 19th century St. Louis was an uncomfortable and unhealthy experience.
Growing up in St. Louis, William Ittner attended city public schools. The experience of learning in a cold box-like building must have made a significant impact on him. After attending Washington University's Manual Training School, he earned a degree in architecture from Cornell University. Upon returning to St. Louis, he began a successful career working in a few private architecture firms and on his own. When he landed his new job for the Board of Education in 1897, Ittner would apply his experience and knowledge to completely revolutionize school building design.
Ittner introduced what would eventually be called the "open plan". His new school designs used natural lighting, open spaces, unique classroom designs, attractive exteriors, and improved safety features. Instead of a simple four-sided box, his schools implemented E-, U-, or H- shaped floor plans. Corridors were lined up along large windows, allowing sunlight to spill in and fill open spaces. His schools were the first in St. Louis to have indoor plumbing, heating, and adequate ventilation. Proper fire proofing became a priority for the first time.
School building exteriors became canvases for works of art. His father owned a brick factory, so he knew how to utilize different colors and textures of brick to create appealing designs. He incorporated towers, cupolas, and grand entrances that made schools look like civic monuments instead of plain brick boxes. Most importantly, his schools were designed to create a safe, healthy, and warm environment that fostered learning.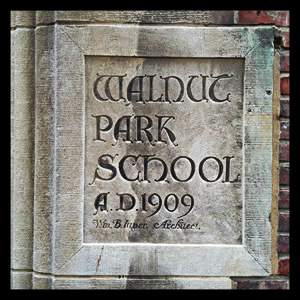 Ittner would design over fifty schools in St. Louis over the next eighteen years. At the same time, he built a national reputation. Architects, educators, and tourists from around the country traveled to St. Louis to see his designs in person. Thus, he began designing schools for other cities around the country. As a result, he is credited with the design of over 430 schools nationwide.
Today, forty-eight Ittner school buildings still stand in St. Louis city. Several more can be found in the county (including Maplewood High School and University City High School). His legacy is not limited to school buildings. He is the architect of three of the most notable buildings in St. Louis: The Continental Life Building, the Scottish Rite Cathedral, and the Missouri Athletic Club.
I decided to head out into St. Louis and find his schools. Over the course of a few days, I biked and drove all over St. Louis locating each one of them. The result was one of the most entertaining weekends I've had in some time.  It became something like a treasure hunt, sending me into neighborhoods and parts of the city I had never been.  I even met some friendly people who wondered what I was up to.  One particular gentleman walked me around and showed me some interesting features of the school he attended as a child.
I needed help, however. Since Ittner had such an influence on future school architects, many schools built after his tenure look almost identical to his.  To make sure I had the right schools, I went down to Landmarks Association of St. Louis to get some assistance.  The staff at Landmarks went above and beyond what I expected. Not only did they answer any question I threw at them, they let me review their entire survey of William B. Ittner schools. I thought forty-six schools existed, but Landmarks helped me determine two I had missed. After a quick ride to find them, I had pictures and notes for every Ittner school still standing.
Starting with his first school Eliot, and ending with his last school Mullanphy, here are the forty-eight schools still standing in St. Louis city.
Several of the buildings remain open as functioning schools today (Blow, Clark, McKinley, Farragut, Mann, Sigel, Soldan, Sumner, etc.), while others are empty and for sale (Simmons, Lafayette, Marshall, Shepard). Many have been remodeled and are now apartments or condominiums (Field, Arlington, Emerson, Franklin, Harris Teacher's College, Monroe), while others are being used for other purposes such as magnet schools or for special purposes (Shaw, Humboldt, Madison). Sadly, a few are in a severe state of disrepair (Rock Springs, Central/Yeatman High, Jackson). Carr School, located just north of downtown, is perennially on Landmarks Association's list of the most endangered buildings in St. Louis. Just a few blocks away sits Henry School, which looks like it could have opened yesterday.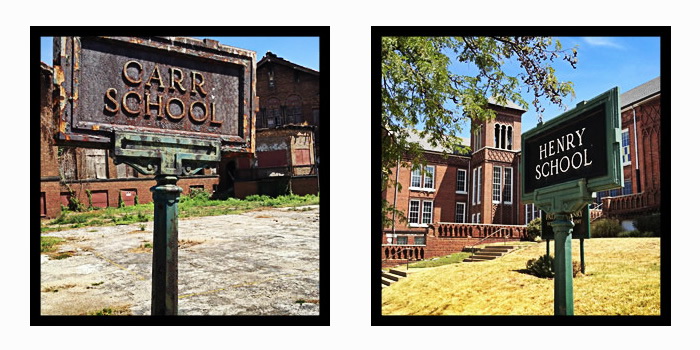 It's believed Ittner met an artist named Henry Chapman Mercer at the World's Fair in 1904. Shortly after, beautiful mosaics designed by Mercer began being incorporated into the exterior walls of new Ittner schools. The mosaics at Carr are especially noteworthy. At Farragut Elementary in north city, a gentleman from the neighborhood walked me around and showed me a lion head fountain. It worked when he attended the school as a child, but it's since been filled with cement.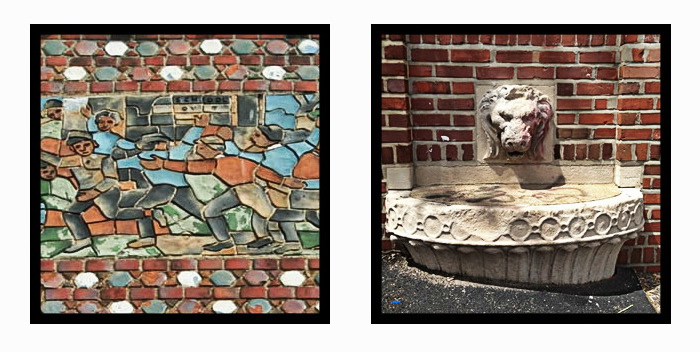 Several of the schools are on the National Register of Historic Places (Carr, Clark, Eliot, Emerson, Field, Jackson, Mann, Rock Spring, Soldan, Sumner, Wyman, etc.). However, many consider Soldan High School on Union Boulevard to be the premier Ittner design. The school features towers, intricately carved stonework, fireplaces, a grand auditorium, and a beautifully tiled cafeteria. At the time of construction, even the lavatories and locker rooms in Soldan were being compared to fine hotels of the day.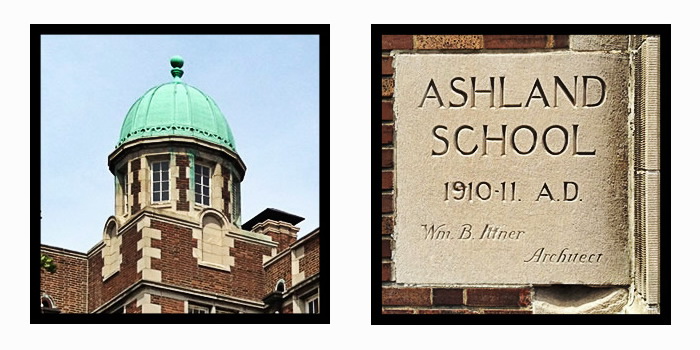 Getting out to find the Ittner schools will take you to every corner of the city of St. Louis. Most can be identified by a cornerstone chiseled with the schools name, date of construction, and his name, Wm B. Ittner. Here's a Google Earth map showing the location of each school.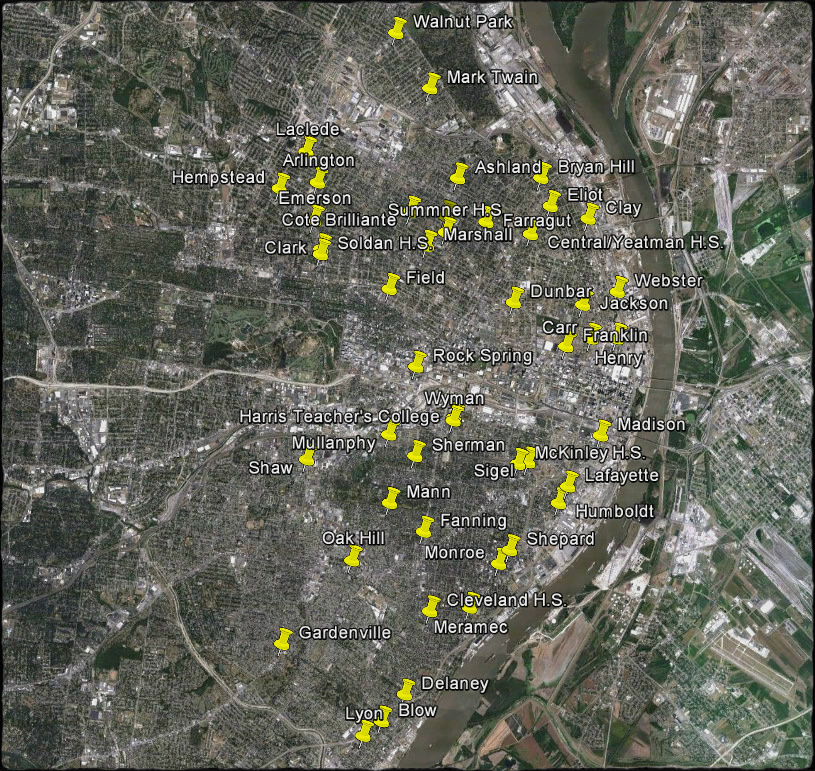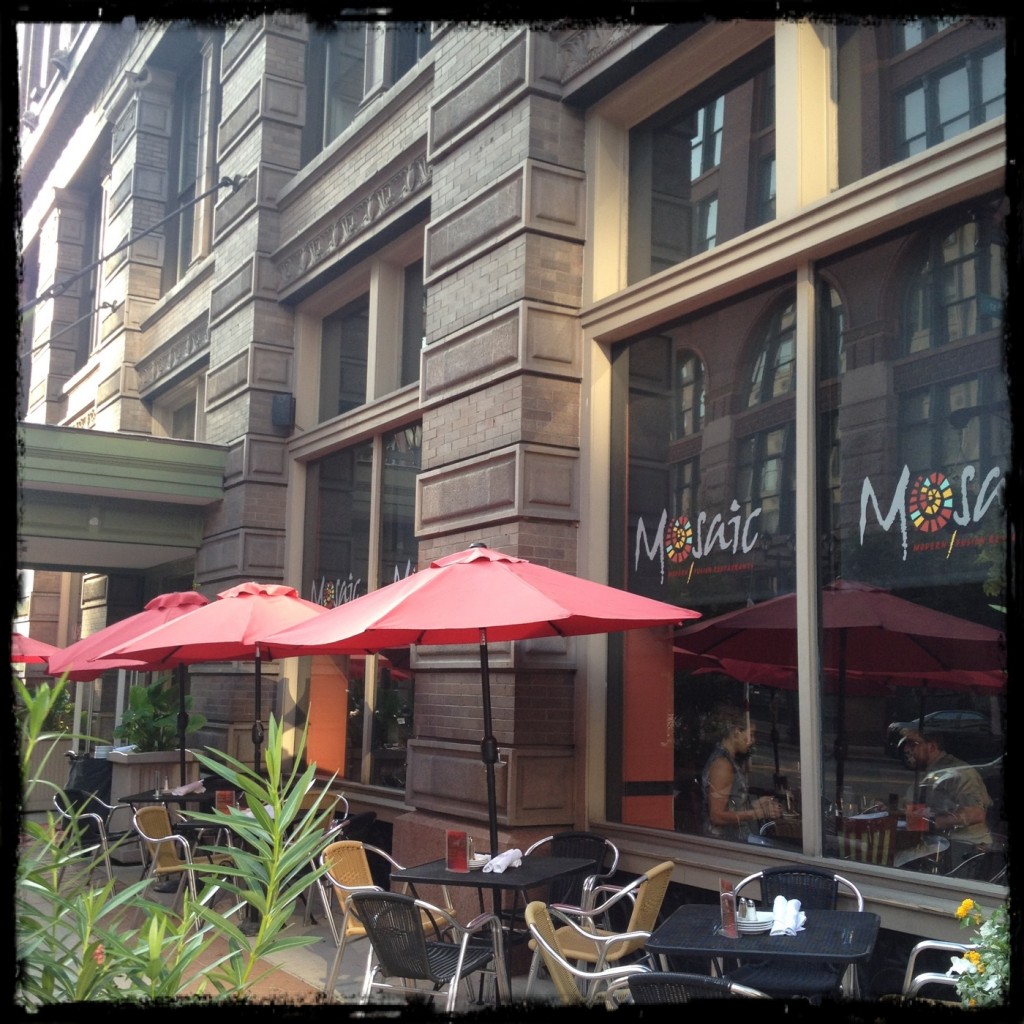 Initially, I struggled with the drink aspect of this post. At first, I figured I'd just head to a bar or lounge near one of the schools. This idea didn't seem quite right since a random bar has nothing to do with Ittner or a school it may sit near. Fortunately, the good folks at Landmarks helped me out again (albeit unknowingly).  While at their office, they informed me that the architecture firm that William B. Ittner founded after his job with the city of St. Louis still exists.  I left Landmarks and walked over to the building (it was located just a couple blocks away). To my great delight, the tapas bar Mosaic sits on the ground floor of the building that houses Ittner's firm. After work, I headed over to Mosaic to see what kind of drink I could get.
I learned a few things at Mosaic. First, I learned that Mosaic makes a pretty good Manhattan. The recipe on their classic cocktail menu calls for Buffalo Trace Bourbon and Cinzano Sweet Vermouth. I ordered it straight-up, but I made no mention of my preference for shaken or stirred. I wasn't happy with the presentation (they shook it and served it in a rocks glass), but I still liked the taste. Buffalo Trace was new to me, and I've always enjoyed Cinzano in my Manhattan.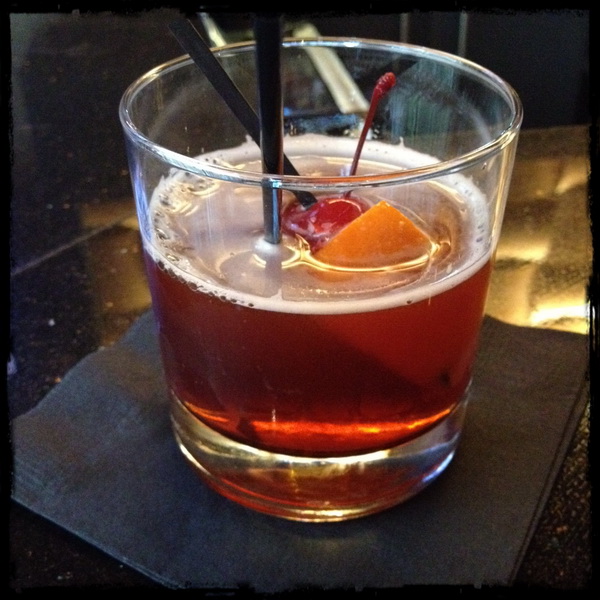 Second, I learned that I need to shut my trap about the topics I'm researching for this blog. The bartender saw me taking notes, so she asked what I was up to. I told her I was writing a post about William B. Ittner (she had never heard the name) and that I needed to find a drink that relates to him somehow.  When I explained that's how I found myself at her bar, she rolled her eyes and looked at me like I was a complete nerd. She may be right, but I had a shitload of fun nerding out for this post.
This has easily the most enjoyable topic I've tackled in the young life of this blog. I enjoy exploring the parts of St. Louis I haven't seen, and William Ittner took me to dozens of new places. A few of the areas were a bit rough around the edges (to say the least), but I love those parts of St. Louis. It's why I write this blog. There are stories all over this town.
In conclusion, a few of the Ittner schools are worthy of their own post (Soldan, Sumner, Carr). I assume I'll be retracing my steps and coming back to William B. Ittner in the future. Stay tuned.