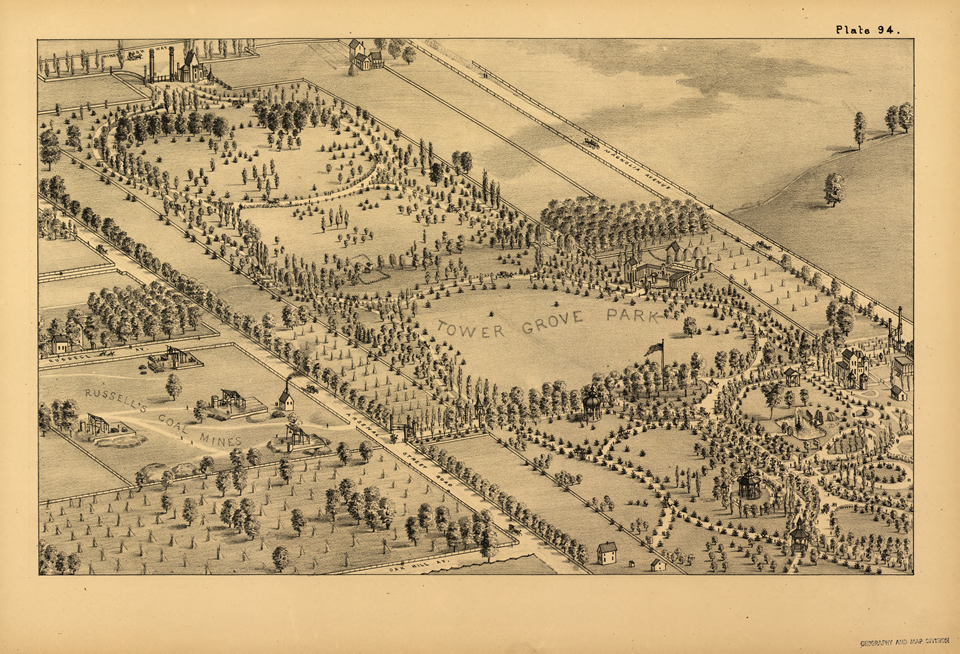 Most St. Louisans will agree that Forest Park is the flagship park of their city. Bigger than Central Park in New York City, Forest Park has museums, golf courses, restaurants, lakes, fountains, trails, and countless other amenities. It's a magnificent park.  The site of the 1904 World's Fair, I'd go as far as saying it's the most cherished acreage in the entire metropolitan area.
But go to Forest Park on a weekend and it's like walking into Woodstock during the Summer of Love. It's bedlam. People are everywhere.  Cars are everywhere. It has a zoo, so wild animals are everywhere. The paths are filled with bratty rollerbladers and cranky runners . Worst of all,  Lance Armstrong wannabes zip around at twenty miles per hour on the most congested bike path in the city.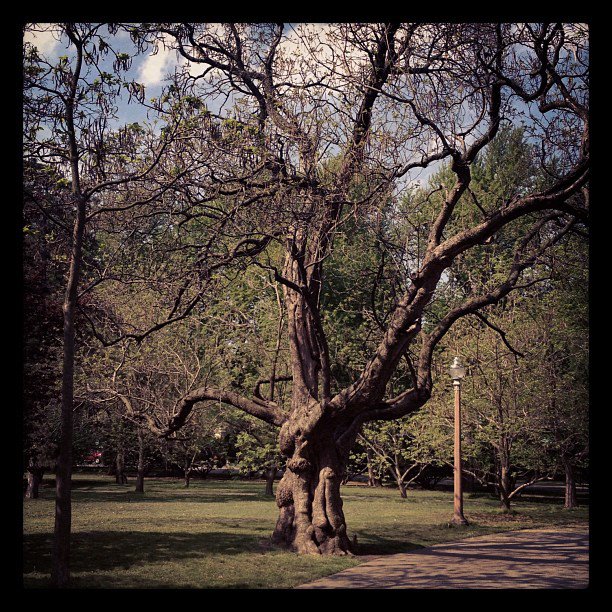 Tower Grove Park,  on the other hand, is a bit more subdued. It's much smaller than Forest Park, but at almost 300 acres, it's still the second largest park in St. Louis by more than 100 acres. It's more laid-back, quieter, and it's rarely crowded. The paths are wider and the roads aren't congested. Tower Grove recreation leagues like softball (where I play) aren't ultra-competitive (and unlike Forest Park, you can bring your own beer). It's location reflects the diversity of the neighborhood it sits in. Tower Grove is where you can find the Festival of Nations, the Pagan Picnic, and PrideFest. It also has a great Farmer's Market that many of my foodie friends make a habit of visiting each Saturday.
This may ruffle some feathers, but in my opinion, Tower Grove Park is also prettier. Tower Grove sits on the southern edge of the Missouri Botanical Garden. The two go hand in hand since Henry Shaw, the founder of the Garden,  was the original owner of Tower Grove. In 1868, Shaw deeded the land to the city of St. Louis for the purpose of creating an urban park for St. Louisans to enjoy. At the time, the largest park in St. Louis was Lafayette Park, at just over 30 acres. Shaw's plan called for park that spread over 276 acres. The only conditions Shaw imposed on his gift were 1) that it "shall be used as a park forever," and 2) that an "annual appropriation" be made by the city "for its maintenance". Today, Tower Grove Park is run by a Board of Commissioners selected by the Missouri Supreme Court. That board makes an annual report to the St. Louis Board of Aldermen, but it is not under the direction of the city of St. Louis.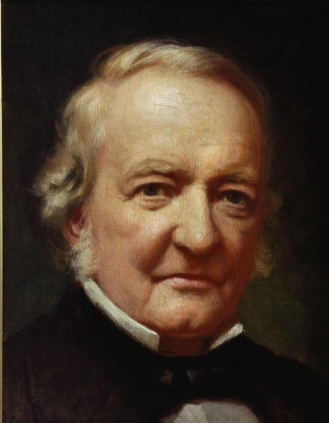 Shaw himself was instrumental in the planning, design, and creation of the park. He oversaw the planting of thousands of trees, plants, and shrubs. Some of the trees Shaw planted are still standing today.  The care Shaw took in designing this open space is still apparent to visitors today. In fact, Tower Grove Park has a greater variety of shrubs and trees than any other urban park in the country. Today, Tower Grove Park holds over 7,500 trees, representing over 325 varieties. Many of the trees standing in Tower Grove are some of the finest specimens native to the state of Missouri.
Tower Grove is also home to a diverse population of wildlife. The park's bird life list is now well over 200 species, making it a popular place for birders to visit. A couple of years ago, a coyote famously made her home in Tower Grove for a few weeks. Named "Gal" by the local press, someone even created a Facebook page for her. After picking up a few thousand "likes", Gal moved on to greener pastures.
I bike through Tower Grove Park on my commute to work each day. As I have already mentioned in a previous post, I recently decided to see how many days in row I could bike to work (currently at 113). I love riding to work, but it sometimes gets a bit repetitive. It also takes longer to bike to work, so sometimes my mind wanders. I needed to do something to break up the monotony. As a result, I've turned Tower Grove into my own special canvas. A friend of mine dubbed them "Bike-a-Sketches".
For years, I have used a hand-held GPS to track my ride. A friend gave me an idea that I could actually draw things with these routes, and I saw someone on the Internet do something similar on foot. So, I set out and made my first "Bike-a-Sketch" to celebrate my 100th day of riding to work. I had fun doing it, so I've kept it going. Here are all the Bike-a-Sketches I've done so far.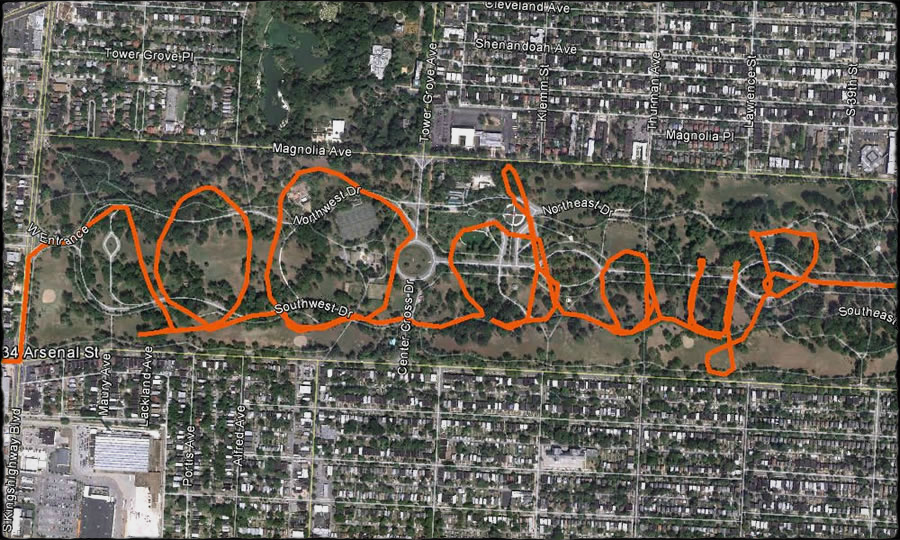 Pencil Bike-a-Sketch: This is the most recent Bike-a-Sketch. I actually do quite a bit of plotting and mapping before I go on the ride. I have also started using markers for certain points. My planning wasn't so good for this one. I had to get around the Piper House, which makes it look like someone took a bite out of my pencil.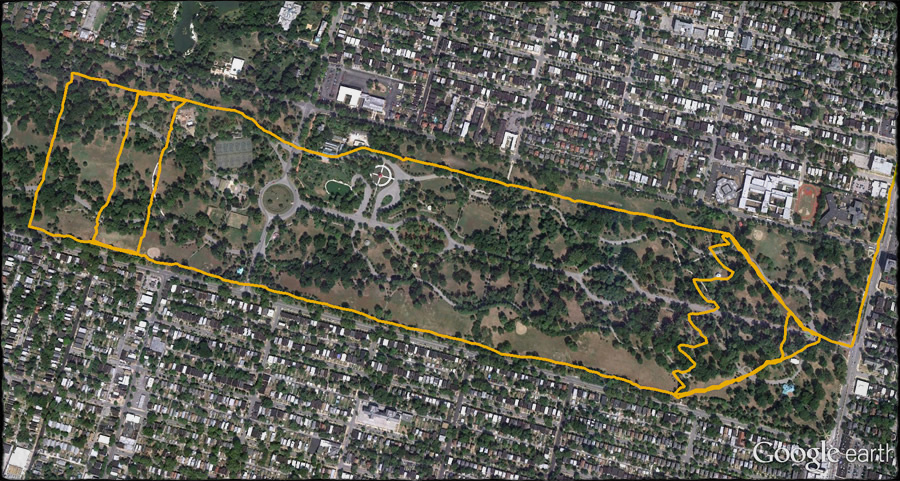 Zipper Bike-a-Sketch: This was easily the most difficult. I had to go very slow and it wasn't really very fun to do. No more zippers.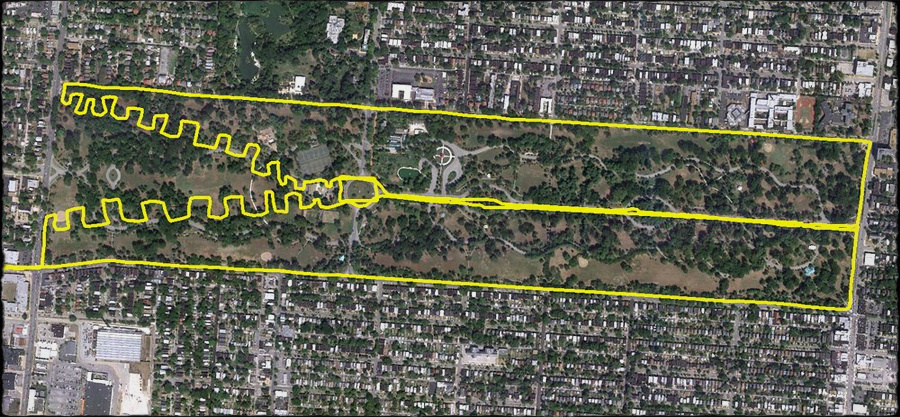 Manhattan Bike-a-Sketch: I can't get my head around people drinking a Manhattan on the rocks. I know it happens, I know people like it, I just don't understand it.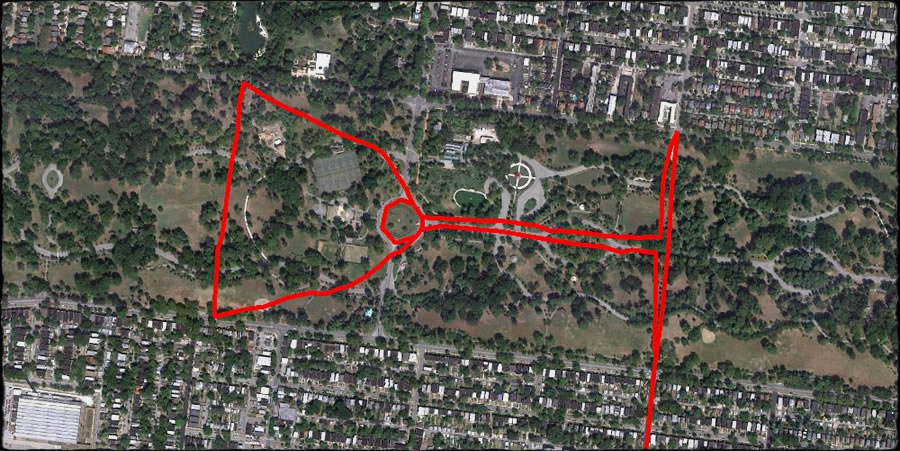 Fishing Bike-a-Sketch: This one seems to be the most popular among my friends. Unfortunately, some people have claimed I simply Photoshop these and I'm not really riding them on a bike. I have proof, however: GPS track records and eyewitnesses. You doubters can sod off.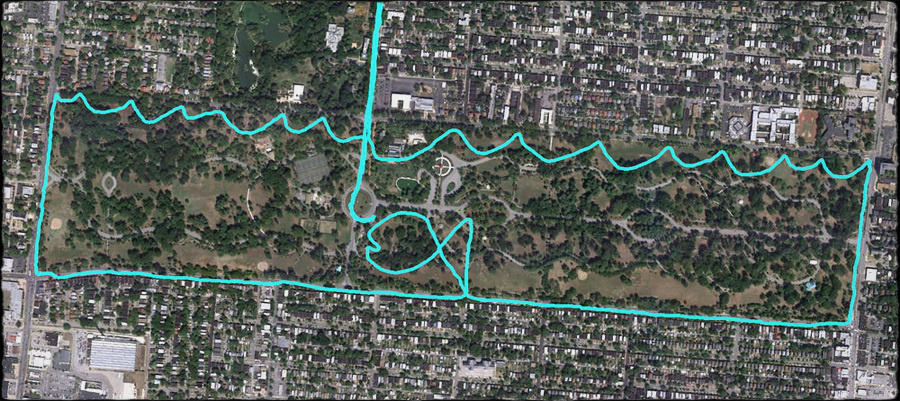 Finally, here's one of my favorite photographs taken at Tower Grove Park back early in the 1900's. The man driving the car is Gus Meyer, a man who worked as a servant at the Campbell House for thirty-seven years. There are a couple good stories about Gus. If any readers are interested in hearing them, head over to the Campbell House in downtown St. Louis for a fun and informative tour.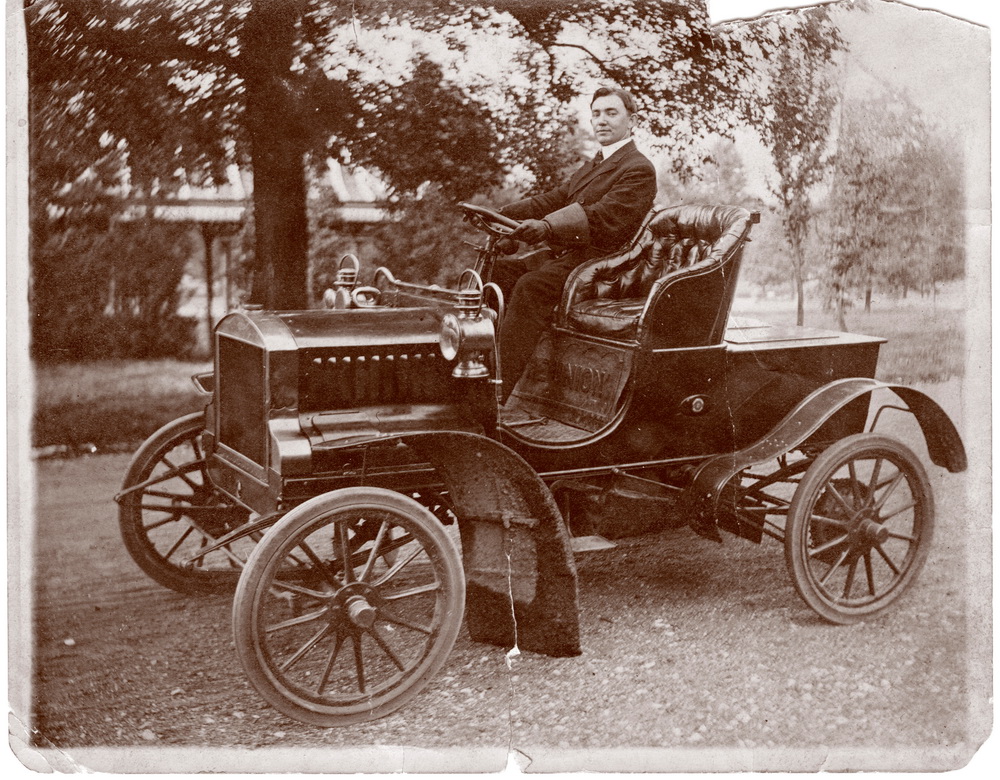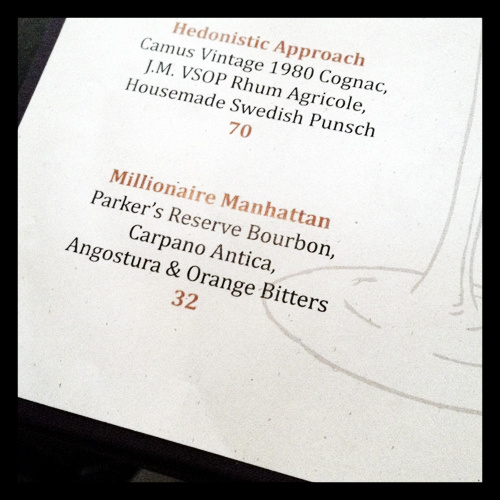 It's tough to tie a drink to the history of a park. For this post, I simply went and found the drink I wanted.  After a busy day giving tours at the Campbell House Museum, I wanted a good Manhattan. No need for the "what will I get" game on this day. Recently, a few people (including a reader of this blog) told me that a great Manhattan can be found at Sanctuaria, a tapas restaurant in the Forest Park Southeast neighborhood. Many St. Louisans may know this area by its new trendy name "The Grove".
For the record, "The Grove" is the name of the business district Sanctuaria sits in. It's a catchy name that a few of the businesses came up with a few years ago. I think that's fine, since it's an area that has been getting better and better in the last few years.  There are some great bars and restaurants to go to in the Grove. However, the name of the neighborhood is "Forest Park Southeast".  Since I'm kind of snobby about these things, I will henceforth be telling people to drink cocktails at Sanctuaria in Forest Park Southeast. Whatever neighborhood you want to call it, know that you are going to get a damn good cocktail at Sanctuaria.
I knew this the minute I walked in. Sometimes you can just tell you are going to get a well-made drink. I saw fresh fruit behind the bar, a diverse liquor selection, and more varieties of bitters than I've ever seen in one place.
I sat down and asked for a menu so I could see what sort of special cocktails Sanctuaria offered. Right away, the "Millionaire Manhattan" caught my eye. With high-end ingredients such as Parker's Heritage Bourbon and Carpano Antica Sweet Vermouth, It had a thirty-two dollar price tag. Since I essentially write a blog about the drink, I don't think there's any question here. Game on.
Since ordering this drink, a few people have called me crazy for spending $32 on one drink. I think that is absurd. Ingredients matter. Go to baseball game and you'll spend ten bucks on warm shitty beer. Go to a movie theater and you'll spend six bucks on corn syrup and carbonated water. You know what's crazy? My thirteen year-old niece owns a pair of $200 Air Jordans. Do they even still make those? I'm pretty sure she's never dribbled a basketball in her life.
For a mere thirty-two bucks, I had one of the greatest Manhattans I've ever imbibed. The flavor was fantastic. It had a heavy taste to it, with an array of spices and flavors that you don't notice in a "regular" drink. The bartender (mixologist, really) who made my drink took the time to talk to me about the drink and the ingredients. He knew his stuff backwards and forwards. He let me sample the Carpano Antica on its own (unbelievably delicious). He mixed it impeccably. I savored the damn thing and I look forward to the next special occasion when I get another.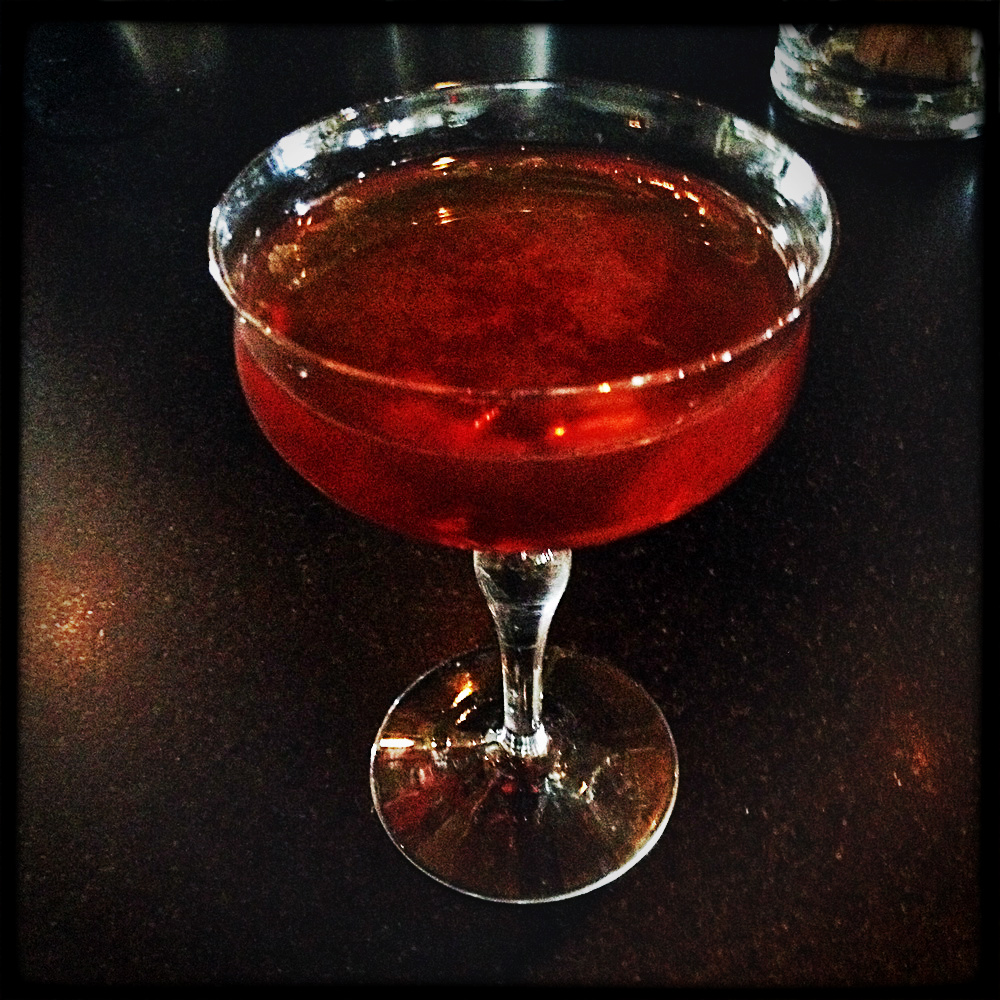 To top off my great experience at Sanctuaria, I eavesdropped on a group of people discussing drinks to my left. I chimed in and we had it out over the Manhattan rocks vs. straight-up preference. In the end, the guy bought me another Manhattan. Can't beat that.
There's far more than just a good Manhattan at Sanctuaria. While there, I joined Sanctuaria's Cocktail Club that offers 150 recipes of vintage and original cocktails. I'm looking forward to many trips back. I simply can't recommend this place highly enough for people who enjoy well-made cocktails.
Note: Most of the information about this post was gathered directly from Tower Grove Park's website. Not much research went into this post since much of it is common knowledge to many St. Louisans. I just wanted to show a bit of appreciation for one of my favorite places in St. Louis.