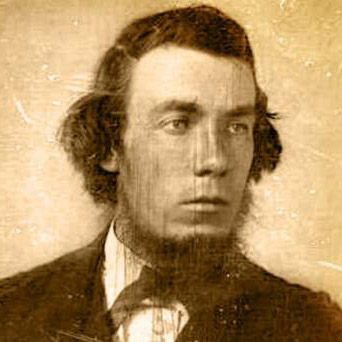 Last week, a new BBC documentary film titled Robert Campbell, Mountain Man made its North American debut in the Public Media Commons outside Channel 9 on Olive Street.
Channel 9 is going to air it on television next week, and I am urging my Distilled History friends to see it. As many readers know, I've been a volunteer at the Campbell House Museum for several years, and the experience has enriched my life. I hope that after seeing the film, the few people I haven't bludgeoned into getting a tour will come down and see an amazing slice of St. Louis history in person.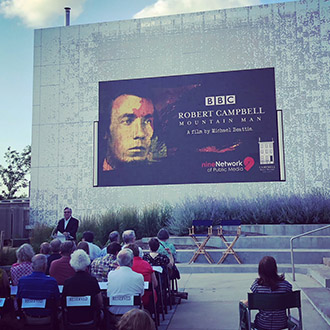 I give the film a big two thumbs up (of course I do), and I even learned a thing or two. It's rare when Rob's time as a mountain man gets much discussion on his house tours, and it was great to see it covered in detail. Those ten remarkable years are an aspect of the Campbell saga I've always wanted to write about in this blog, but it is such an overwhelming amount of information to present. I've heard the filmmakers say the same thing, a bunch of amazing people I was fortunate to meet. When the crew was in St. Louis last year to begin filming, I was invited to a barbecue to meet everyone involved. Out of the blue, the film's director Michael Beattie walked up to me (with a beer) and asked me to tell him about this blog he had heard about. A lowly St. Louis blogger having a beer with an award-winning BBC director? That's a moment I'll always remember.
The film is presented by Alan McFarland, Robert's great-great-great-great nephew. It came to be through his efforts, and he plays a starring role alongside his notable ancestor. Much of the film follows McFarland as he travels to the Rocky Mountains visiting many of the locations where Robert trapped, traded, fought, and nearly died more than 190 years ago. Along the way, the viewer learns more about a story that's almost hard to believe. Here's a boy, born penniless on a farm in Northern Ireland in 1804. Twenty years later, he's in St. Louis of all places, a small fur trading outpost on the edge of America. And then he sets off into the Rocky Mountains to become on of the most important figures in the American fur trade. How does that happen?
Tune into Channel 9 (KETC) on July 2, 2018 at 8:00 p.m. and see for yourself.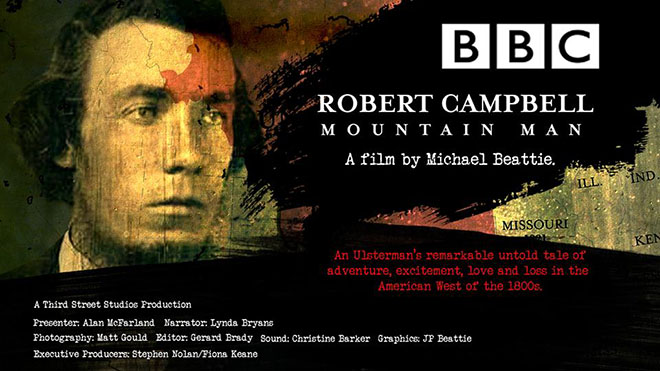 As for me, I celebrated this special event by bringing a cooler of my own Campbell-themed home brew to the show. I've shared these beers individually on social media, but never together in a Distilled History post. These are the same beers I pass out at the end of my Campbell House tours (if I haven't run out), and I think they add a unique conclusion to a fascinating walk through history. I came up with the idea to brew Campbell beer a few years ago when planning the annual #DrinkupTweetup garden happy hour at the Campbell House Museum. And with the 2018 event in early planning stages (think early fall), that also means I need to get the next Campbell-themed beer in the fermenter.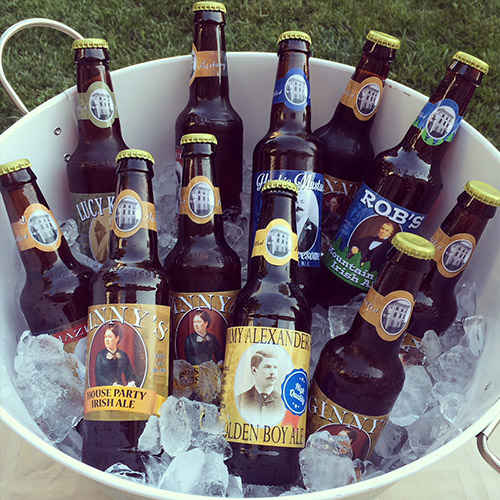 Anyway, what also made the night even more fun was walking up to Alan McFarland and Michael Beattie and handing them each a cold Rob's Mountain Man Irish Ale after the film ended. They seemed to get a kick out that, and now I have to figure out how to get more of it to them in Northern Ireland.
Now that your plans are set for the evening of Monday, July 2, I present all of the Campbell beers together (so far) and the inspiration behind each one.
---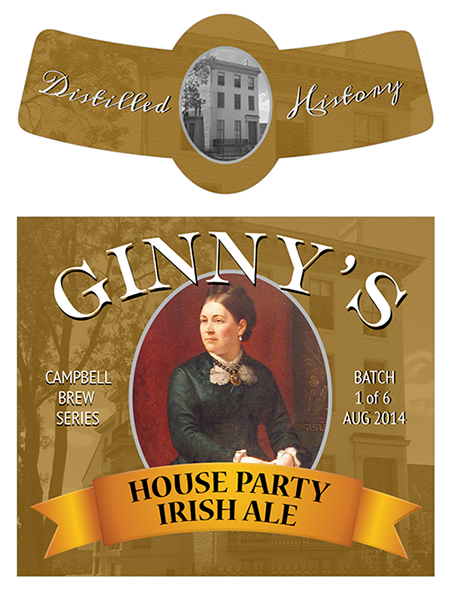 Virginia Jane Kyle Campbell
(1822-1882
Born in North Carolina, Virginia Kyle met Robert Campbell in 1835 when she was only thirteen years old. She married him six years later, and together the couple enjoyed nearly four decades of marriage. As a socialite in the Victorian era, Virginia remodeled, furnished, and decorated her home to be an active place of dining and entertainment for family and friends. Challenging the traditional role of wives in the 19th century, Virginia was a strong woman who played an active role in her husband's numerous social and business ventures.
---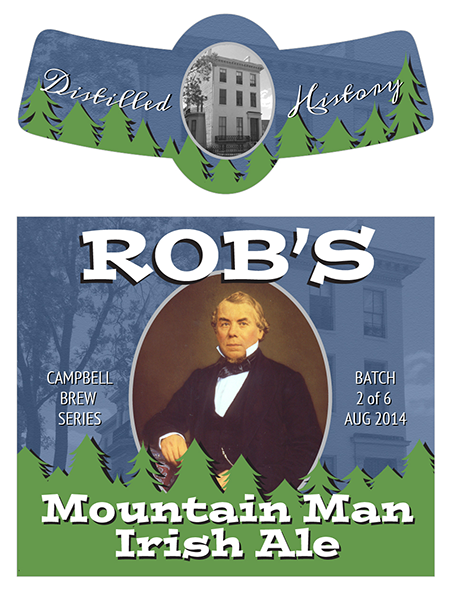 Robert Campbell
(1804-1879)
Born in Aughalane, Ireland in 1804, Robert came to America in 1822. After arriving in St. Louis in 1823, Robert accepted a job as a clerk in a fur trading company. He spent ten years in the Rocky Mountains, trading with Indians and frontiersmen along the Missouri River. After returning to St. Louis, Robert's strong business acumen made him very successful in several financial endeavors. By the time he moved his family into their new stately home on Lucas Place, Robert Campbell was among the wealthiest men in Missouri.
---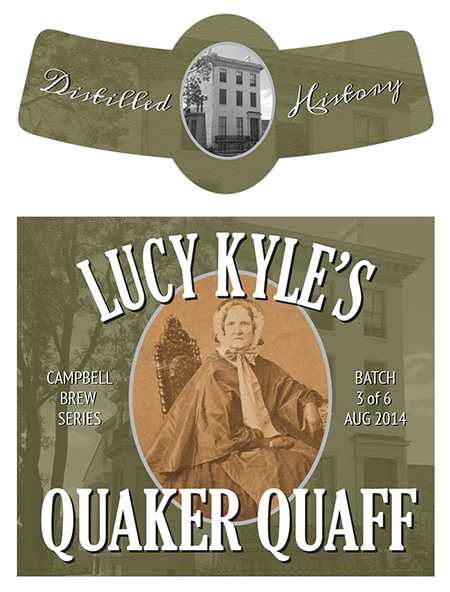 Lucy Ann Winston Kyle
(1801-1883)
The mother of Virginia Campbell, Lucy Ann Kyle moved from North Carolina to the live with her daughter's family around 1856. Just two years older than Robert, she refused to allow her daughter Virginia to marry Robert Campbell until she was 18. Lucy was very close with her two daughters, and she deeply disliked her other son-in-law, William Otey, a slave trader and alcoholic. After Virginia died in 1882, Lucy Kyle lived in the Campbell House with her three grandsons until she died the following year.
---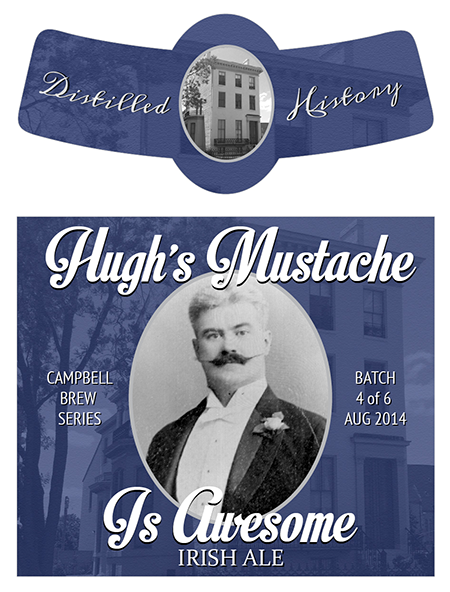 Hugh Campbell
(1847-1931)
Hugh Campbell was the oldest of Rob & Ginny's surviving children.  Like his mother, Hugh was often the life of the party. He had an exceptional singing voice and he often entertained guests during laving Campbell parties by playing the Shomacker piano in the parlor. A warm and generous man, Hugh spent much of his later years managing the family's estate and caring for his younger brother Hazlett. Hugh Campbell died in 1931.
---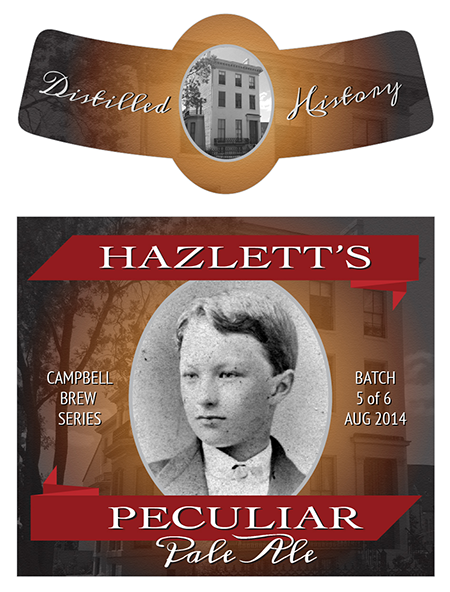 Hazlett Kyle Campbell
(1858-1938)
The "Last Campbell", Hazlett spent his early years as an active young boy riding horses and playing baseball.  However, Hazlett began showing signs of severe mental disease when he was a young adult. Although his family went to great lengths to heal and comfort him, Hazlett's condition never improved. After suffering a paralytic stroke in 1924, Hazlett was confined to bed for the final 14 years of his life. When Hugh died in 1931, Hazlett became the last of the fifteen immediate Campbell family members to live in the Campbell House.
---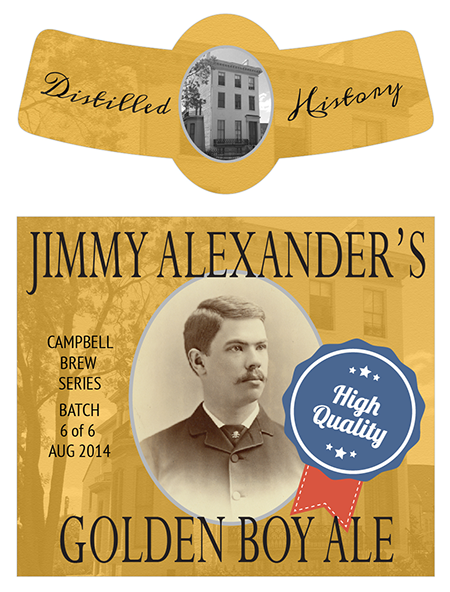 James Alexander Campbell
(1860-1890)
The youngest of the three Campbell sons to survive childhood, it's fair to consider James Campbell the "golden boy" of the family. Tall, handsome, and intelligent, James seemed to be his parents' and brothers' favorite. Educated at Yale and Harvard, James was certain to follow in his father's footsteps. However, while living in Paris in 1890, James caught the flu. He died a few months later at the age of 30.  James's death had a significant impact on his older brother Hazlett, whose health diminished significantly in the wake of his closest brother's death.
---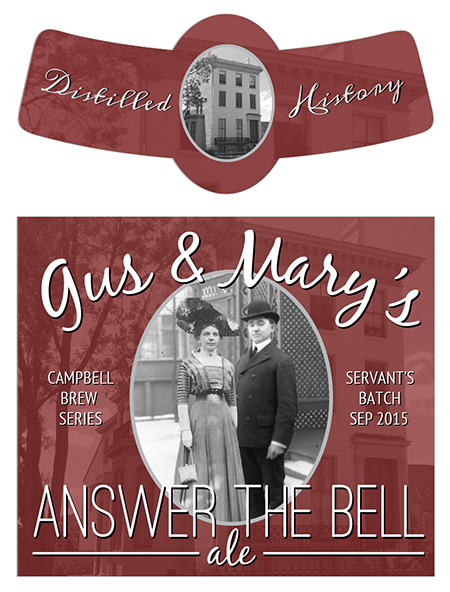 August Meyer (1878-1967) & Mary Boerste (1883-1936)
With over thirty years of service each, Gus Meyer and Mary Boerste represent the scores of men and women who lived and worked in the Campbell House as domestic servants. While the Campbells were fair and generous employers, a servant's life was arduous and labor-intensive. Responsible for all matters of domestic life inside the home, the servants cooked, cleaned, washed, nursed, sewed, polished, drove, and kept the Campbell House running smoothly for eighty-four years. The contributions of people like Gus and Mary are an integral part of the Campbell story.
---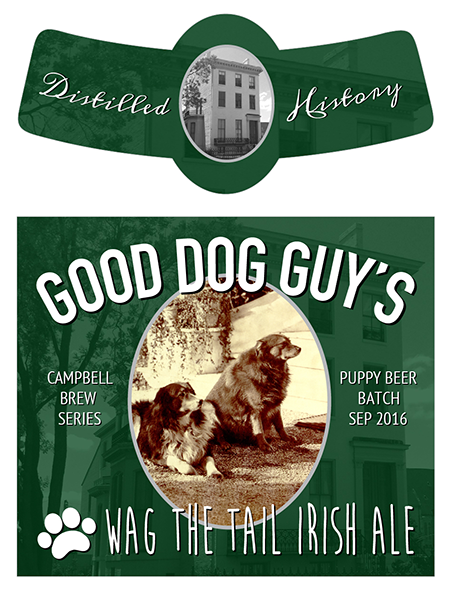 The Campbell Pet Dogs
(circa 1885-1895)
The Campbell family included more than just people. Along with Rob, Ginny, Lucy, and the boys, two pet dogs are known to have called the Campbell House home during the family's time on Lucas Place. Guy and his fellow pup (whose name has been lost to history), were beloved companions, and they lived the canine high life in the late 19th Century. Not only did the dogs travel with the family to far-off places like Egypt and the Middle East, but many believe they are even buried in the family's plot in Bellefontaine Cemetery. In the museum archives today, more photographs of the Campbell dogs exist than of every other family member combined.
---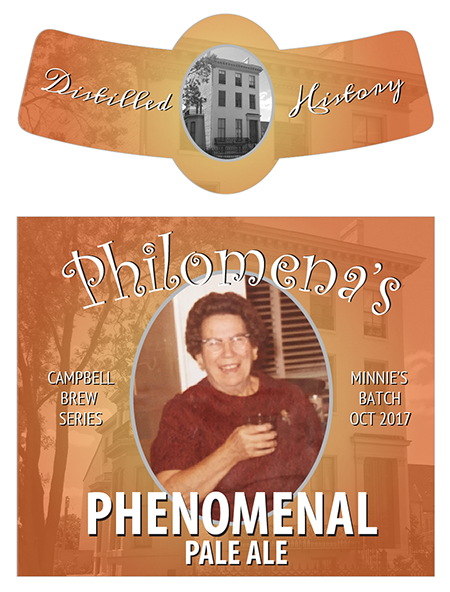 Philomeena Ann Kleeman
(1902-1983)
The subject of her own Distilled History post, Philomeena "Minnie" Kleeman worked as a servant in the Campbell House from 1932-1936. Born in Tell City, Indiana in 1904, Minnie came to St. Louis to work at the Campbell House through her Aunt Mary (the same Mary in "Answer the Bell Ale"). Working as a cook, Minnie was one of the last servants to work in the house when the last Campbell (Hazlett) was still alive. But even after returning to Tell City in 1936, Minnie's Campbell story wasn't quite finished. Through a random social media discovery, Minnie's family reunited with the Campbell House in 2015.
---
Finally, after a year of talking about Lost Treasures of St. Louis, I have a new book coming out. St. Louis Brews: A History of Brewing in the Gateway City, 3rd Edition will be published on July 31, 2018. Head over to the Distilled History Bookstore for more information. For a limited time, pre-order a signed copy using coupon STLBEER20 to get 20% off your order.