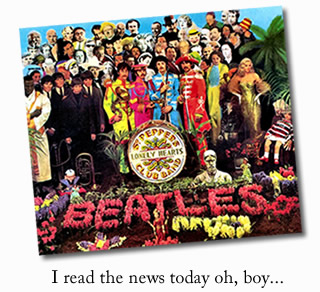 Here's a useless fact to kick off this edition of Distilled History. If I had to play one of those "deserted island" games and choose only one song that I could listen to for the rest of my life, it wouldn't be difficult. "A Day in the Life", that magnificent opus that closes out side two of Sergeant Pepper is the greatest rock 'n roll song ever made. I have no doubt about it.
That song has absolutely nothing to do with St. Louis history or drinking, but it sure put a smile on my face a couple of weeks ago. I played it (loudly) on purpose, and I made sure to share my Beatle appreciation with Tower Grove South on the morning of August 10, 2013. I did that because I knew that I was at the start of a very good "Day in the Life" of St. Louis. It's a day when everything I love to do in this city came together in one very neat package.
It all started at a church south of downtown. I met a few friends, unloaded a bicycle, and spent the morning peddling through a historic tour of two unique St. Louis neighborhoods. After that, I spent the afternoon with another group of friends talking about things that happened 150 years ago. At the same time, I marched people through my favorite 10,000 square feet of St. Louis history. When that was over, I met up with a yet another group of friends and proceeded to get myself quite drunk on well-made cocktails.
That is how a great day in my life goes down.
I thought it would be interesting to recount that excellent day in this blog. It wasn't a day focused on just one history topic or drink. It was a day filled with random facts, bits of St. Louis history, and plenty of sips.
Follow along as I describe a "Day in the Life" of Distilled History.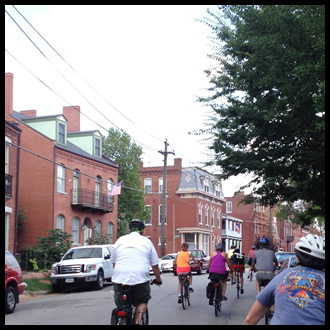 Each year, the local bicycle advocacy organization Trailnet offers an extensive calendar of fantastic bicycle rides, tours, and events around the St. Louis area. My favorites are their Community Rides, which are centered on simply having fun and developing an appreciation for St. Louis. I've written about a couple of them in my posts about the Jacob Stein House and T.S. Eliot.
Many of these rides are history tours, led by a St. Louis authority/genius/superhuman named Harold Karabell. An avid bicyclist himself, Harold also shares my opinion that seeing St. Louis from a bicycle offers a unique perspective from which to see our city.
On this day, Harold debuted a new tour that I was really excited about. It was a rambling ride through a section of St. Louis formerly known as "Old Frenchtown". Once a seamless group of neighborhoods in south St. Louis that blended together, "Old Frenchtown" was carved apart in the years following World War II.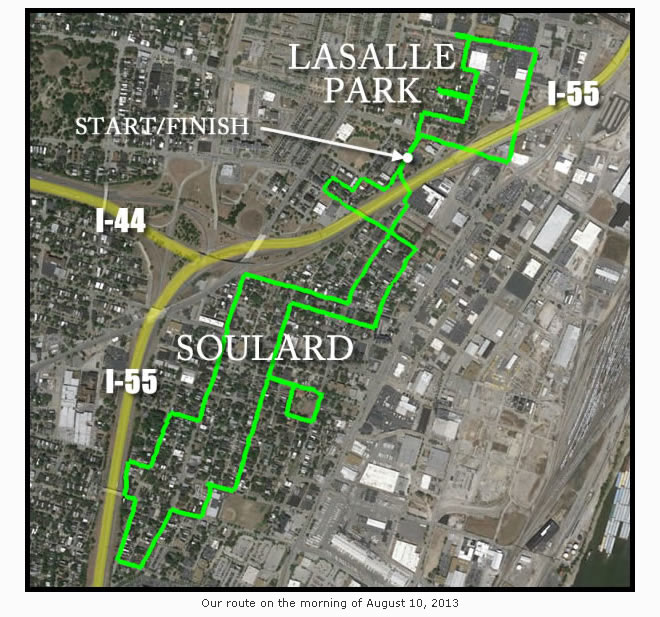 That's when I-44 and I-55 were built through south St. Louis. Suddenly, the borders dividing the neighborhoods of Soulard, LaSalle Park, and Lafayette Square became defined by asphalt and semi-trucks. Use of the term "Old Frenchtown", already in decline due to shifting neighborhood dynamics, faded further into memory.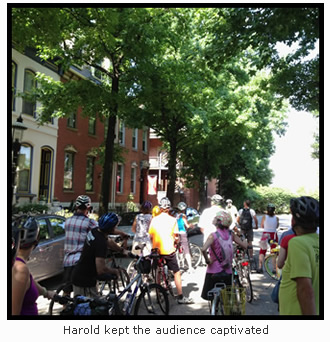 The field of architecture is Harold's wheelhouse, but St. Louis history gets equal attention on his tours. While touring historical and unique neighborhoods like LaSalle Park and Soulard, the amount of information presented in both topics can even be overwhelming. I've tried taking notes in order to keep up with him on previous tours, but I always end up with nothing but pages of hurried scribbling.
Old Frenchtown is a remarkably historic section of St. Louis. Originally settled by Germans, French Creoles, and Irish, it later became home to concentrations of Syrians, Lebanese, Czechs, and other groups. It was where in 1896, the third-deadliest tornado in American history uprooted homes and buildings. Fifty years later, Old Frenchtown nearly suffered the same fate at the hands of man. A city plan developed in 1947 proclaimed the vast majority of Old Frenchtown to be "blighted". Furthermore, the plan proposed razing the majority of structures in the area and rebuilding it with modern homes and cul-de-sacs.
As we rolled along, St. Louis history was on display in all forms.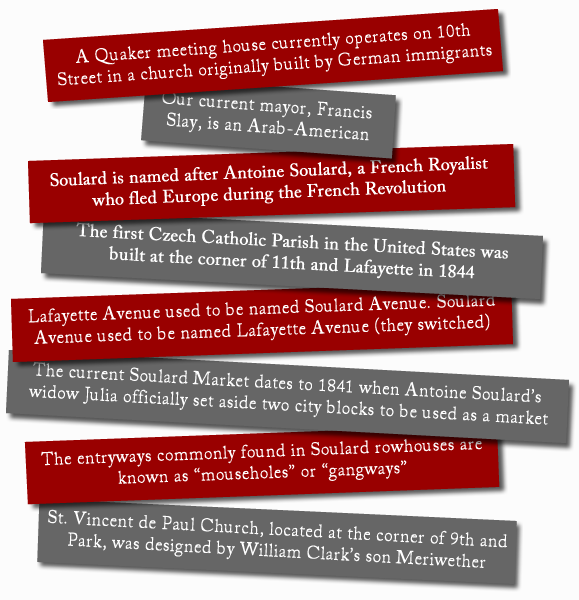 At the end of the tour, Harold couldn't resist throwing out one final fact that I particularly enjoyed. When a fellow rider asked for his surname, he responded that it's "Karabell", short for the Yiddish term "Karabellnik".
"Karabellnik" means "country peddler". And with that final fact, Harold closed out an excellent morning.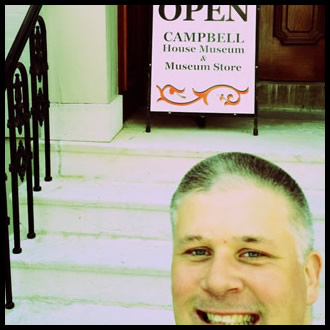 After throwing my bike in the back of the car, I sped off to the next stop. After changing into proper attire and drying the sweat off underneath an air conditioning vent in the gift shop, I was set to throw down some epic tours at my beloved Campbell House Museum. At this place, I actually get to spout history off to folks who are willing to pay for it. Even better, I get a group of people like the one I had on August 10th. The tour on that day was rowdy, long (over two hours), and fun.
Rowdy tours are the best tours. When I say "rowdy" I don't mean people get unruly and start tossing around furniture. Instead, folks get laughing, hundreds of questions are asked, and visitors offer up their own glimpses of history. It's tours like this where an amusing back and forth dialog exists. It's also obvious to me that a mutual appreciation for the home exists.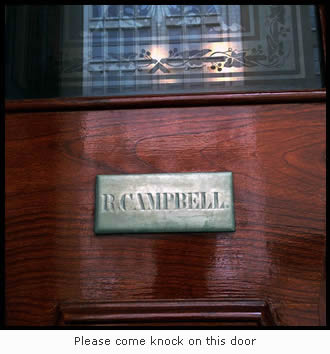 The big rowdy tour that I led that afternoon turned out to be only one I gave that day. The most colorful visitor was an English World War II veteran who now lives in Canada. While his wife constantly tried to quiet him, this guy kept us laughing by cracking bad jokes along the way. In the same group, another visitor boasted that this tour was his fourth trip through the Campbell House.
He reinforced a point that I make to every guest: Every tour is different.
It's not simply because of the overwhelming number of facts, stories, and tales there are to tell, but the difference really comes in the delivery. While I tend to focus on the history of the family (my main area of interest), another docent may focus on the architecture of the house. Yet another may focus on the lives of servants, or the furniture, or even restoration efforts.
There's even one guy named Tom who could talk to you for three or four days about Lucas Place, the neighborhood the house used to be a part of.
I'll even admit that I have a mild man-crush on Tom. I aspire to be the best docent ever, and that won't happen as long as Tom lurks the halls of Campbell House. The guy is a research machine. If a Campbell House docent battle was ever held, Tom would make quick work of me.
Well, if I can't beat him, I might as well learn from him.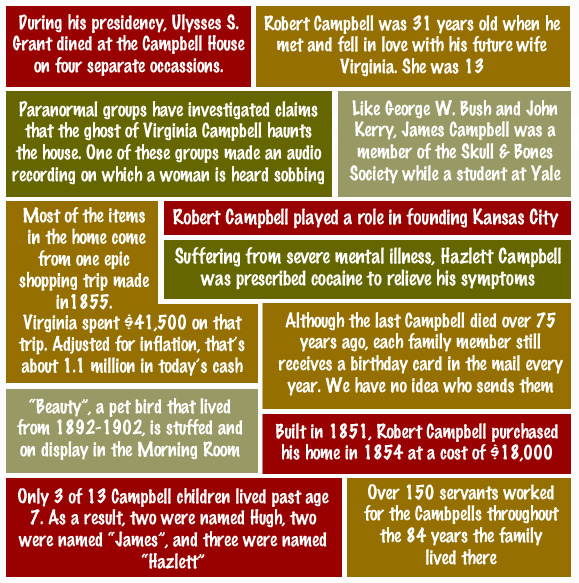 I love giving tours, but simply being inside the Campbell House makes for a good day. If we don't have visitors, I can head upstairs to do research, sift through the archives, or read through the thousands of Campbell family letters.  More than likely, I'll just kick back in the break room and hash out Campbell history with other museum folks.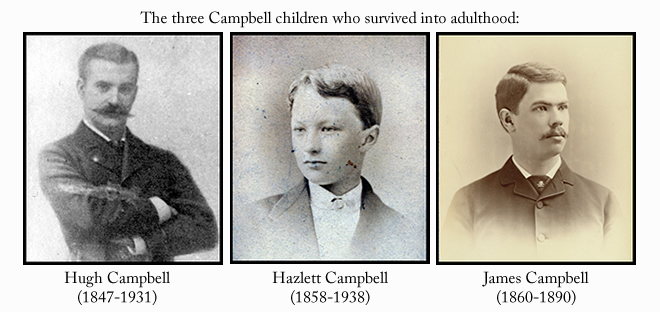 Before I head off to the final phase of my day, I'd like to point out some of the excellent press Campbell House Museum has been getting lately. People work hard at that place, and I'm proud to be apart of it.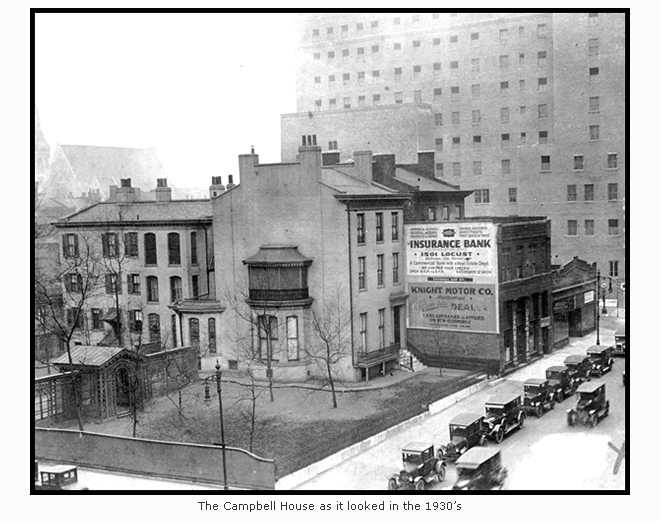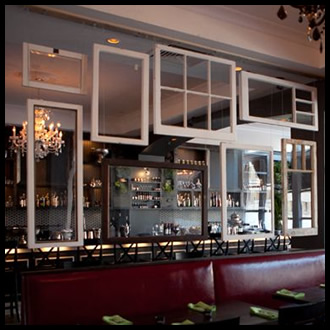 Another benefit of being a Campbell House docent is what sits directly across the street. Blood & Sand, located on the ground floor of the Terra Cotta Loft Building on Locust Street, is one of my favorite places in St. Louis to get a cocktail.
Blood & Sand is a unique establishment. It's a membership bar and restaurant, which means patrons pay a small monthly fee in order to visit. In return, members receive a level of personal attention not found elsewhere.
I won't go into detail about how Blood & Sand works. Instead, I'll simply say that the level of service I've received there makes it worth the price of membership for me. On just my second visit, I had a new cocktail set in front of me that was tailored to my own personal tastes. The owners and bartenders enjoy talking about cocktails, and they all know their craft. Each time I go to Blood & Sand, I seem to learn a bit more about the necessary ingredients and practices I should be incorporating into my own drinks at home.
To add to the allure, Blood & Sand also sits on a St. Louis corner that has some very interesting history.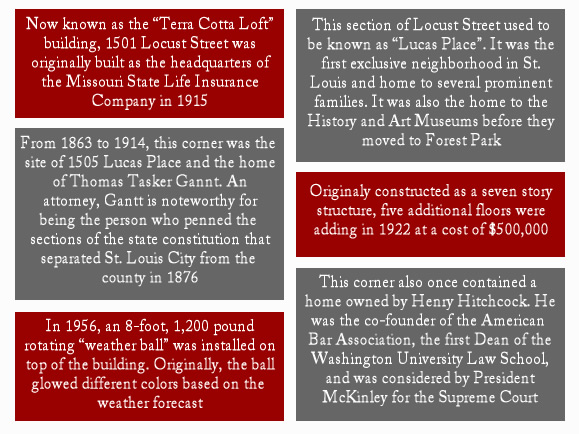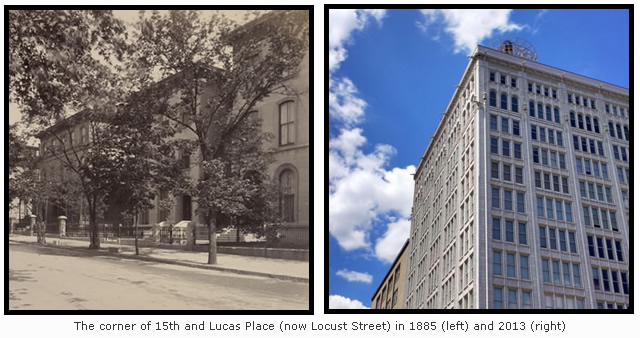 Blood & Sand makes a variation of the Manhattan that is one of my favorite cocktails in St. Louis. Blood & Sand's classic "Grounds for Divorce" adds Campari and Amaro to the standard mixture of bourbon, sweet vermouth, and bitters. I'm not certain, but my guess is the vermouth used is Carpano's Punt e Mes. The result is spicy, bitter, and exceptionally delicious.
The drink is stirred in ice, strained into a coupe glass, and adorned with a "real" maraschino cherry.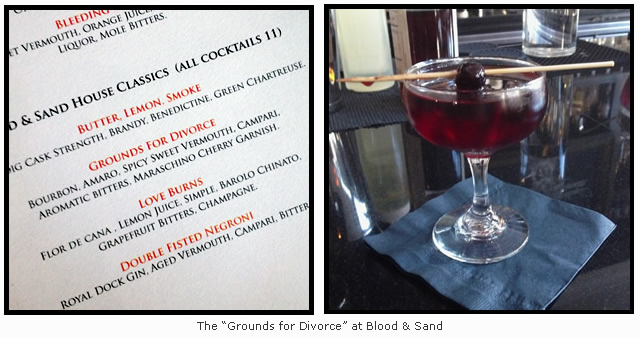 We spent a couple of hours at Blood & Sand sampling cocktails and closing out the day. My friends had to listen to me throw out more useless trivia while we did it, but they are used to that.
Although I thoroughly enjoyed my "Day in the Life" of St. Louis, I was exhausted at the end of it. Bicycling, cocktails, and those rowdy Campbell House tours (especially those rowdy tours), combined to put me in bed early that night. I think I'll have to wait a few weeks before I cram biking, history, and drinking all into one day again.
On second thought, maybe I'll do it tomorrow.