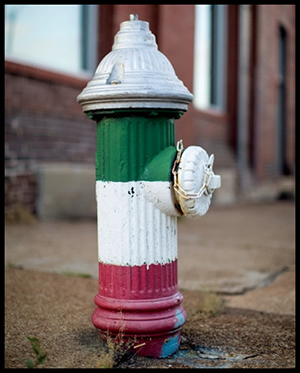 One of the things I like most about living in St. Louis is the diversity. For good reasons or bad, St. Louis looks and feels very different depending on where you stand. If you are in Soulard, you know you aren't in the Loop. If you are on Cherokee Street, you know you aren't in Old North. To me, that's a great thing about living here.
While I believe the existence of diverse neighborhoods like South Grand and The Grove make St. Louis a better place, I lament the neighborhoods that are gone. Today, there is little evidence of neighborhoods like Frenchtown, Kerry Patch, and Vandeventer Place. And while The Hill remains famously Italian, other neighborhoods like Bevo and Dutchtown have struggled to retain their ethnic identity. Even Soulard, an area many St. Louisans think was originally French, actually started as a German neighborhood.
Another neighborhood that was recently wiped off the map is one many younger St. Louisans aren't aware of. In the middle of the downtown business district, St. Louis had its own "Chinatown" that was home to hundreds of Chinese St. Louisans. It wasn't on the scale of coastal cities like San Francisco or New York City, but it was here. It existed for nearly 100 years, enduring from the 1870's until 1966.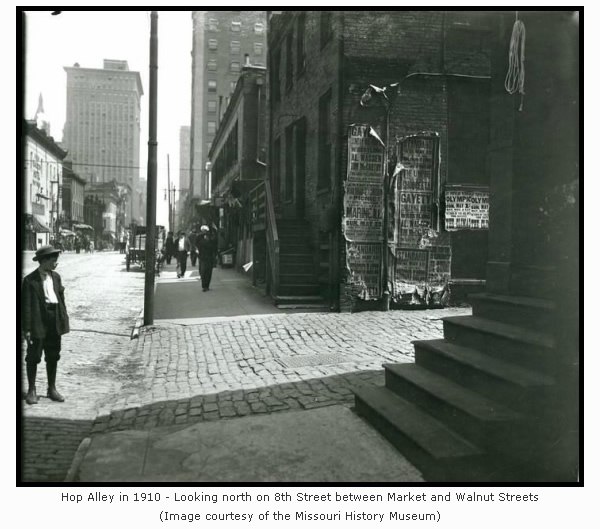 The history of the Chinese presence in St. Louis is actually quite fascinating. We even know the name of the first Chinese person to settle here. His name was Alla Lee, and he came to St. Louis from San Francisco in 1857. He owned a tea shop on North Tenth Street that provided a modest income. He even married a "buxom Irish lass" named Sarah Graham. Together, the couple produced several children.
We also know what Alla Lee said on the first day he walked into the city that would become his home:

Well, maybe that's not true, but he had to at least been thinking it. Even after eighteen years here, St. Louis summers make me curse like a sailor.
Information about the St. Louis Chinatown is scarce, but I found two books by a professor at Truman State University that were very helpful. Huping Ling's Chinese St. Louis and Images of America: Chinese in St. Louis both provided a fascinating perspective of the Chinese experience in this city. I also planned to attend a lecture about the topic by Professor Ling a couple of months ago, but a freak snowstorm forced it to be cancelled.
Have I mentioned that I struggle with the weather in this town?
Anyway, after settling in St. Louis, Alla Lee could claim to be the only Chinese person living in St. Louis for nearly a dozen years. Then in 1869, about three hundred Chinese people arrived from San Francisco looking for work in local factories and mines. Shortly after, a second group arrived from New York City for the same reason. As Professor Ling details in her book Chinese St. Louis, this represents a perfect example of "re-migration". In the years following 1869, Chinese people came to St. Louis when the opportunities in cities they first settled in (like San Francisco or New York) fizzled out.

As the Chinese population in St. Louis started to grow, a distinct neighborhood was established where they lived and worked. Located between Market, Walnut, Eighth and Seventh Streets, this small section of downtown became known as "Chinatown". However, by the mid 1890's, the neighborhood was being commonly referred to as "Hop Alley". This was likely a derogatory term, meant to represent the stereotype of Chinese immigrants frequently being "hopped up" on opium.
By the turn of the 20th Century, Hop Alley was home to more than 200 Chinese people. Most of them lived in small rooms above or behind the numerous Chinese businesses that lined the streets. These businesses included hand laundries, tea shops, groceries, dry goods stores, and restaurants.It looked much like the Chinatowns we know today, with lanterns, banners, and signs with Chinese characters hanging from building exteriors. Mandarin and Cantonese were the common languages spoken and heard in Hop Alley. It was a bustling part of town, with Chinese residents and workers going about their daily lives. With shops, vendors, and businesses selling unfamiliar foods and goods, Hop Alley was an exotic part of St. Louis.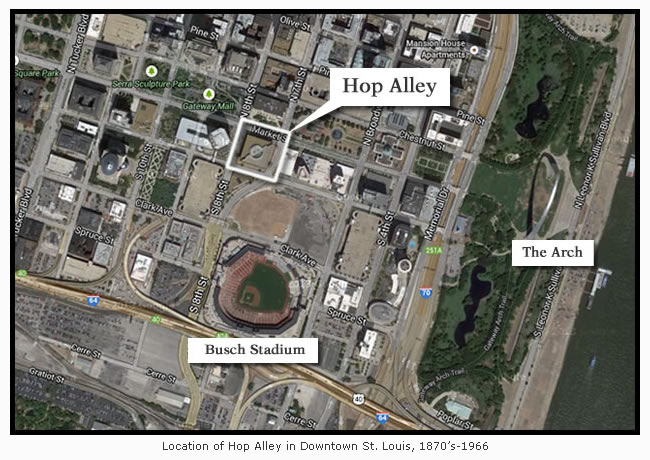 Unfortunately, much of the city surrounding Hop Alley did not embrace the neighborhood nor its residents. Many St. Louisans viewed the Chinese as unusual, lazy, and deviant. Newspaper accounts branded the neighborhood as brimming with opium addicts, criminals, and gamblers.
In researching this post, I scoured several newspaper articles from that time pertaining to Hop Alley. Very few focused on the lives or merits of the Chinese residents, instead focusing on awful stereotypes and prejudices.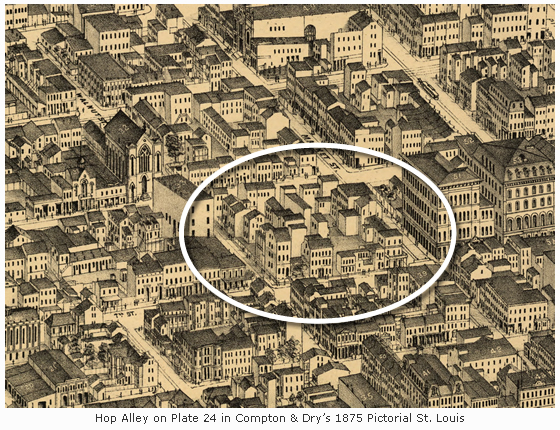 In many of these articles, Chinese people are referred to as "Chinks", "Mongolians", and even "Heathen Chinee". Reporters repeatedly mocked their spoken English, aping them with quotes like"You likee chop stick?", "tankee tankee", and "Ho Ho! Wat you want?".
I did stumble upon one article that attempted to understand the daily life of a Chinese person living in Hop Alley. Unfortunately, reading it made me cringe (and honestly, it got me rather pissed off). "The Chinese in St. Louis", published in the St. Louis Republic on January 14, 1894, spewed ignorance and racism on an epic scale.
The article gives an account of two men visiting a Chinese restaurant in Hop Alley. Although the men were "much surprised to find it palatable", the contempt for Chinese people eating nearby is appalling.

A derisive cartoonwas included in the article to reinforce the author's point. In the drawing, a man is portrayed squatting on his chair, using chopsticks with two hands, and eating a meal of stewed rat.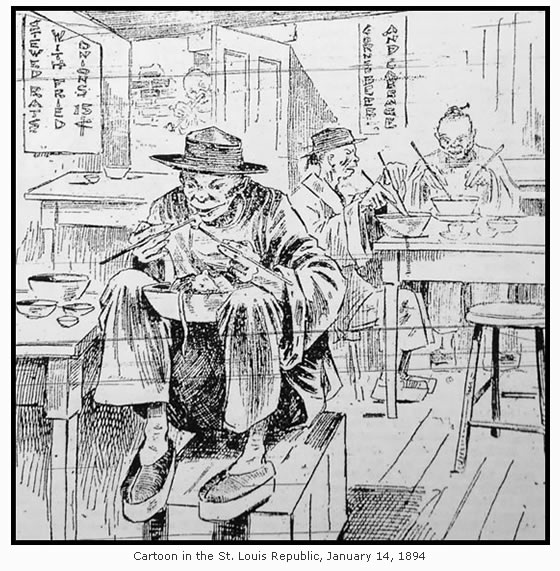 The article then proceeds to detail how the men attempted to "shove a quarter" to the restaurateur, unaware tipping is not a custom in Chinese culture. This provokes the writer to report:

While it's certain that newspapers exaggerated the negative aspects of Hop Alley, the neighborhood was far from perfect. Opium dens and gambling rings did produce repeated problems for St. Louis law enforcement. One crime in particular made national headlines in 1893. In that year, a man named Lou Johnson came into conflict with a Chinese gambling ring. Things didn't get sorted out, because Lou's headless body was found dumped in an alley. His head was later found buried in a basket of rice. Although several men were accused, a lack of evidence prevented any kind of conviction.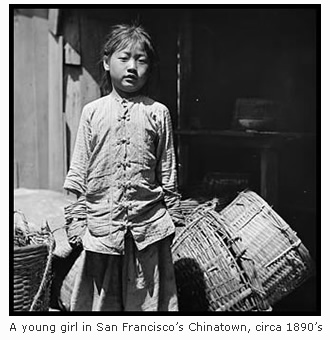 Despite Hop Alley's poor reputation around St.Louis, it was home to a community of people. Professor Ling makes the point that it's important to remember that Hop Alley was where Chinese people in St. Louis felt at home. It's where they lived, worked, and relaxed. In a city where Chinese people frequently felt unwelcome, Hop Alley was where they could find peace and comfort around a common people. It was also a destination for Chinese people living outside of the neighborhood. They visited the neighborhood to see family, shop, and dine with friends. During Chinese New Year, Hop Alley was also a central gathering place for a very important holiday in that culture.
Although Hop Alley existed well into the 20th Century, the neighborhood followed a familiar pattern in St. Louis after 1920. The Great Depression brought about economic strife, causing many Chinese businesses to close or relocate. The flight to the suburbs following World War II prompted many Chinese families to move beyond city limits. By the 1960's, Hop Alley was a shadow of its former self. It then disappeared completely in 1966, the year Busch Stadium was constructed. Baseball fans needed a place to park, and the buildings in Hop Alley became expendable.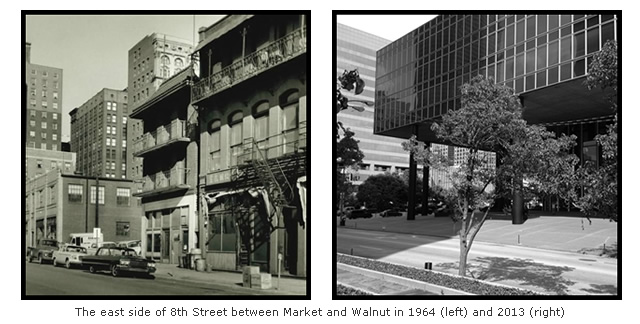 Following the demise of Hop Alley, many Chinese people congregated in a comparable community around a stretch of Olive Boulevard just went of city limits. I'm glad it's there, and I'm glad St. Louis still has a visible Chinese community (for reasons you will soon read about). However, I can't help but wish that Hop Alley had lived on in downtown St. Louis. I think the city would have been even better if it had.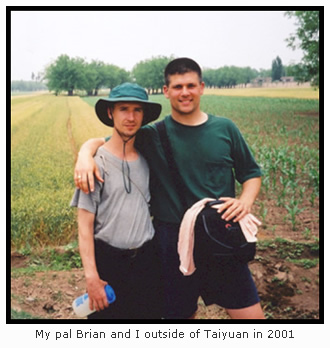 Researching Hop Alley has been one of my most enjoyable posts, and that's because of the drink that I knew would follow it. Baijiu, an extremely popular liquor in China, is a drink that is also very dear to me. I've been fortunate to drink quite a bit of it during two separate trips to China.

These trips were made possible by the fact that my good friend Brian Flaherty was living there. Fluent in Mandarin, Brian knows where to go and how things work in China. As a result, my fellow travelers and I interacted with people who had never seen a western face, we rode hard sleeper trains through the countryside, and we even camped overnight in a Great Wall guard tower. We were able to experience China in a way that very few foreigners have been able to.
Brian is also a big fan of drinking, and this fact made both trips even more special. Drinking is an important part of Chinese culture, and we made sure that we took full advantage of it.
On our first visit to China in 1998, Brian introduced us to baijiu. We were in a tiny Beijing restaurant with a very large bottle prominently displayed on the front counter. It was filled with a clear liquid, but floating inside were reptile skins, unrecognizable round things (eggs, maybe?), and various leaves. I think I also saw a seahorse, but I'm not sure. Brian informed us it was baijiu, and it was custom in China to celebrate important events (like our visit) by drinking it.
Well, it's not like I really needed a reason.
The baijiu that first night was a special "homemade" brand. The first sip sent us reeling. I can't really describe the taste, but we soon settled down and toasted a few cups. Then, we toasted a few more. With chasers of warm beer between drinks, we started to acclimate to the flammable potion swirling in our bellies. I ended up sleeping very well that night.
In other words, we were roaring drunk. I've been a baijiu fan ever since.
Baijiu is distilled liquor made from fermented sorghum. It's been a staple in Chinese drinking circles for thousands of years. Translated, it means "white liquor" or "white wine". Brian provided an even better translation: "white lightning". I'm not kidding when I say you had better be careful with baijiu. It packs a wallop. Because of "white lightning", I have a few adventures from those China trips that certainly wouldn't make Mom proud. Maybe I shouldn't blame baijiu, but I can also claim to be one of the few Americans that has streaked the Great Wall of China.
An easy (and incorrect) comparison is to say baijiu is like Japanese sake. Although baijiu is sometimes served warm like sake, baijiu is generally much higher in alcohol content (usually 40%-60% APV). It is usually packaged in ceramic bottles, often decorated with colorful labels, ribbons, and small Chinese ornaments. Several types of unflavored and flavored baijiu varieties exist, but because of its distinct (and pungent) aroma, most connoisseurs actually categorize baijiu by fragrance.
As I previously mentioned, the first sip (or even whiff) of baijiu is startling. I force it upon my friends as a novelty often, and it rarely elicits a pleasant response. If baijiu is categorized by fragrance, I even have one friend who insists it belongs in the "feet" category. He'll come around someday, because I'm going to continue making him drink it. Personally, the taste has grown on me. I like to drink baijiu, and the taste brings back great memories of my trips.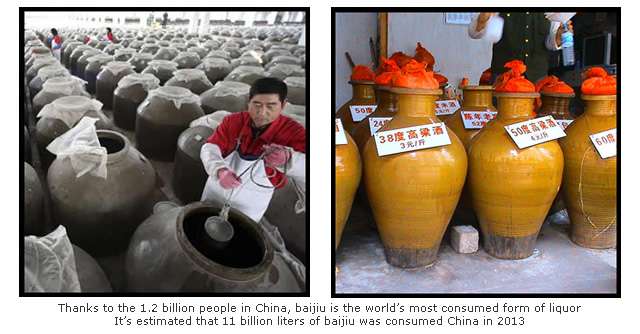 Chinese drinking customs can definitely add to the impact one may experience with baijiu. Toasting is the rule, and it is custom to invite someone nearby to drink with you. Put yourself at a table in Beijing with several Chinese baijiu drinkers, and you'll quickly realize that you are in deep shit. They love to toast (especially with foreigners visiting their country), so plan on raising your glass often. The kicker to this is the term "ganbei", which is often called out during these frequent toasts. "Ganbei" literally means "empty glass" or "drink it all". It's not just with baijiu, either. The Chinese also love beer, so get ready to ganbei Chinese lagers like Yanjing or Tsingtao if its nearby.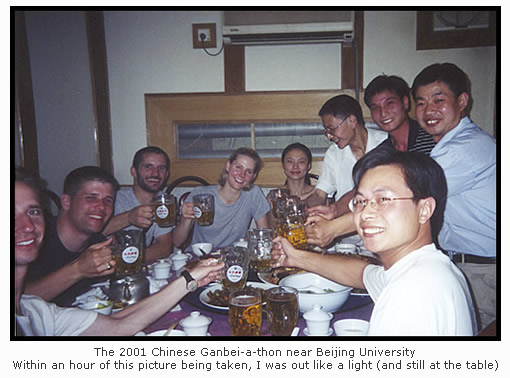 Finding and buying baijiu is almost as fun as drinking it. When I eat at local Chinese restaurants, I often ask if baijiu is available to order. I've never seen it on a menu, but I know that some places keep a stash in the back. If I strike gold, I'll usually get a little smirk from the server, and a delicious cup of white lightning. A few days ago, I also bought a bottle for my liquor cabinet at one of the markets on Olive Boulevard. I selected a high-end variety described to me as "unflavored and dry". When I checked out, the cashier chuckled when she asked for my ID.
And then she whispered to me under her breath "this is a good one".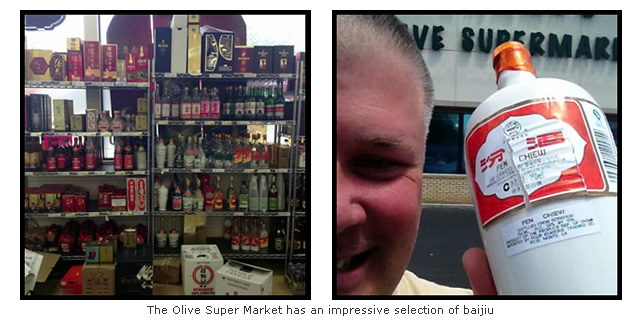 For the first time, I'm not going to drink the drink I write about in a Distilled History post. Baijiu is meant to be a celebratory liquor to drink with friends. Because of that, I'm going to wait for my pal Brian to come to St. Louis for a visit. When he does, we'll take that bottle of baijiu to the corner of Walnut and Eighth Streets and toast a couple to Alla Lee, Hop Alley, and the hundreds of Chinese St. Louisans that once called it home.