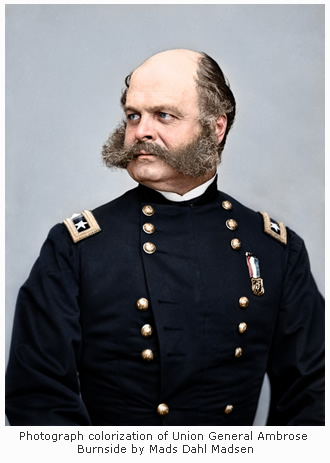 In recent months, I've noticed a trend in the world of digital photography that I think is pretty neat. In various blogs, social media feeds, and Internet articles, folks have been posting colorized versions of historic black and white photographs. Try googling something like "Civil War in color", and you'll find scores of Rebs in butternut, Yanks in blue, and battlefields scattered with dead versions of each. All of them are decked out in a full spectrum of color.
I know some people are opposed to the practice, but I'm a fan. Detractors suggest colorizing black and white photography destroys the artist's original vision, and there is merit to that argument. Tell me a colorized version of Identical Twins by Diane Arbus is better than the original, and we'll go a few rounds. But on the other hand, I think Civil War photographers like Matthew Brady and Alexander Gardner would have used color photography if it was available during their time. Either way, the original will always be there to look at (and prefer) if one chooses to do so.
Actually, I think the entire argument is a waste of time. Most of the colorized historic photographs I've seen online don't look sufficiently realistic to begin with (the image of Burnside by Mads Madsen being a notable exception). Few get the flesh tones right, vegetation is often overwhelmingly monotone, and finer details get largely ignored. It still doesn't bother me in the least, because I think it's all just good fun. For me, it's simply entertaining to look at a color version of a moment in time that I've never seen in color before.
Imagination is fun, and that's as far as it goes in my book.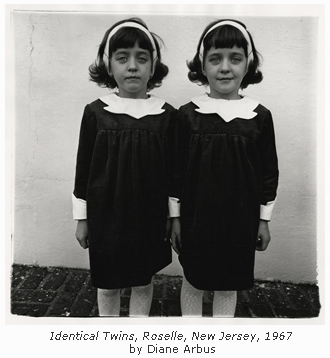 When I was a photography student in college, one of my favorite classes was a techniques class in which colorizing our own black and white photography was at the heart of several assignments. This was back in 1992 (yikes), and Photoshop was a long way off. Instead, we colorized by hand using Marshall Photo Oils, tinting agents, and a variety of chemicals. Of the several photographs I colored, maybe one or two at were good enough to put on a wall. Maybe the others weren't, but I still had fun seeing what I could do.
Anyway, in continuing my streak of unfortunate months of January, I recently emerged from a three-week trip to the gates of Hell. Others may know this experience as having a bad case of the flu. Unfortunately, this was no minor case of sniffles and mild coughing. I thought I was a tough guy and didn't need a flu shot this year. Instead, I missed two weeks of work, lost ten pounds, and nearly landed in the hospital. I even vomited on my cat.
Kitty survived the ordeal, but I spent weeks without an ounce of the energy needed to come near this blog. Even the thought of drinking one of my beloved Manhattans made my stomach turn (which is also the reason a drink doesn't accompany this post). In order to preserve my sanity while I waited for various drugs to kick in, I surprisingly found working with Photoshop to be a good way to pass the time. Turns out pushing pixels around a computer screen is the perfect low-impact flu activity. It also didn't require any deep thought, providing a welcome respite for my perpetually aching head.
With that in hand, I went about trying to figure out how to add a bit of color to St. Louis' past.
Before I display my initial attempts at this new hobby, I can't resist taking the opportunity to show off one of the more… amusing reasons I first chose to dabble in Photoshop many years ago. My good pal Hopkins knows this all too well. The experience certainly helped me in this new endeavor.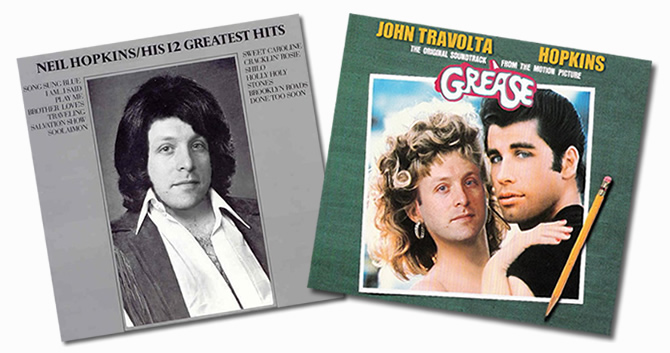 When I got down to it, I found that colorizing photographs is not difficult, but it's extremely time-consuming. This post probably required more hours of work than any other in the life of this blog, and looking at the result, I'm not sure it was worth it. I also think that if I didn't have a 102 temperature, coloring leaves for eight hours straight would have sent me off completely off the edge. But in the end, I think I produced a few examples worthy enough to display here. Most importantly, I had fun. And now that I'm nearly healed up, I promise to put this new hobby aside and get back to a the historic, long-winded, and drunken Distilled History posts that many of you are used to.
While I took a stab at this with a few images from previous Distilled History posts, I also found a few new images that helped me figure this out the necessary techniques (in other words, portraits with sharp focus are ideal). Notably, I was delighted to find numerous photographs by the legendary Lewis Wickes Hine in the photo archives of the Library of Congress. Hines became famous for using photography as a tool to promote social reform, most notably as a means to get child labor regulations implemented. In the early 20th century, he photographed many truant children on the streets of St. Louis working long hours at various street jobs.
This photograph shows three young "newsies" on Jefferson Avenue. It was taken on May 9th, 1910.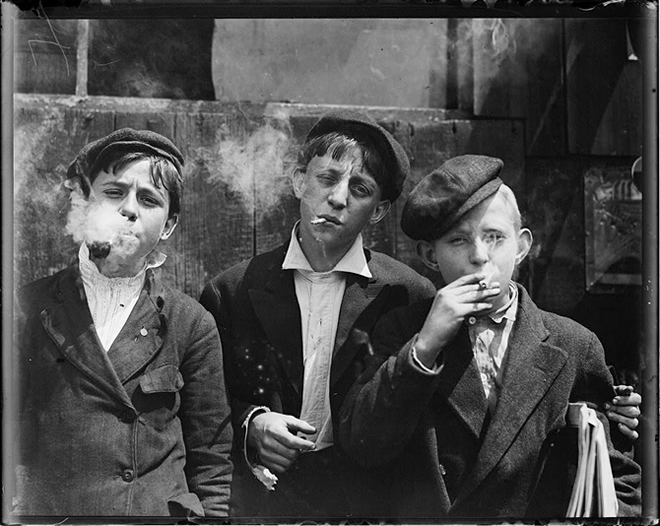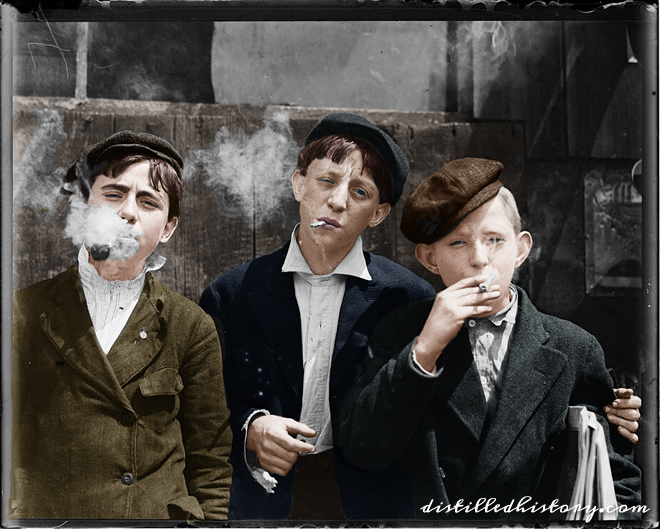 I tried colorizing an image from the 1904 World's Fair, but I was quickly overwhelmed. However, many images from the 1904 Olympics are perfect for colorizing. This photograph shows American Fred Winters competing in the weightlifting competition. He went on to win the silver medal.
Read more about the 1904 Olympics in this post and this post, both published in the summer of 2012.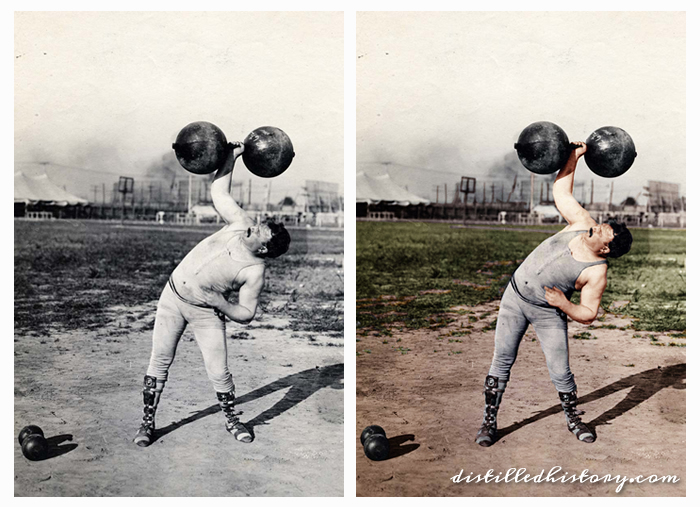 Historic photographs of daily life are by far my favorite. I often wish I could just leap into an image such as the one below and ask the subjects what their lives are like. In this case, I want to ask these two kids why they didn't choose a spot away from the public toilet to play a game of marbles.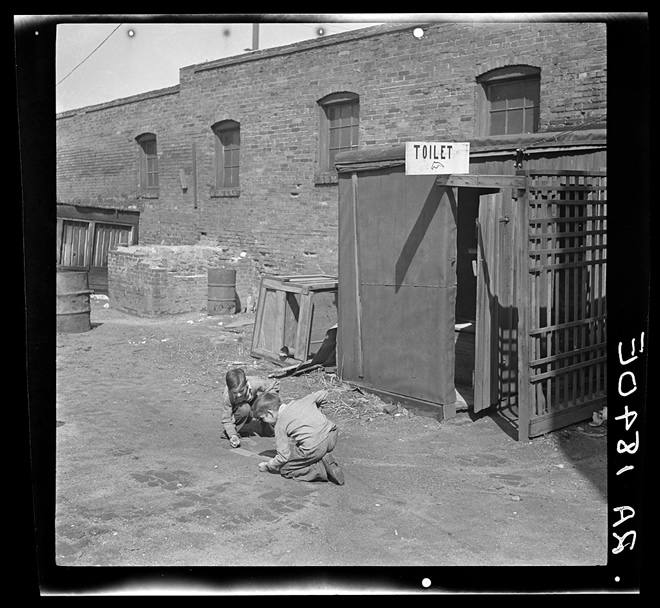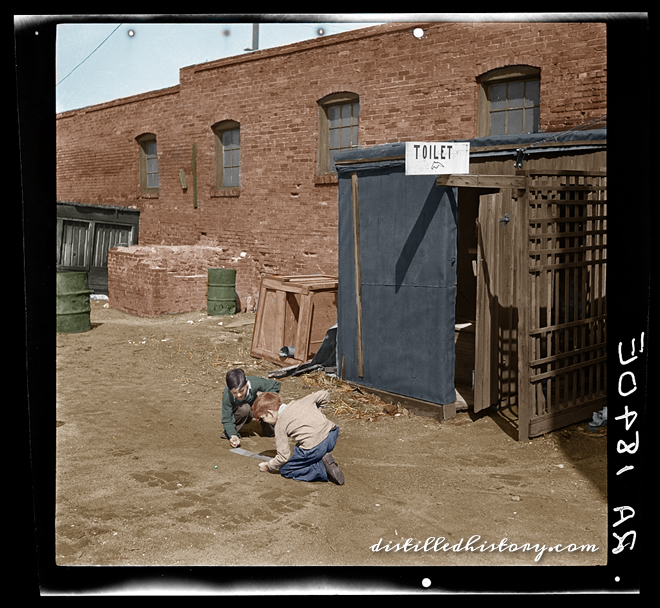 In May 1896, one of the deadliest and costliest tornados in American history ripped through the heart of south St. Louis. The aftermath was photographed extensively, and several remarkable images are available online. While the tornado made short work of a bandstand in Lafayette Square Park, the statue of Thomas Hart Benton (that still stands today) survived unharmed.
Read more about the 1896 Cyclone in this Distilled History post published in November 2012.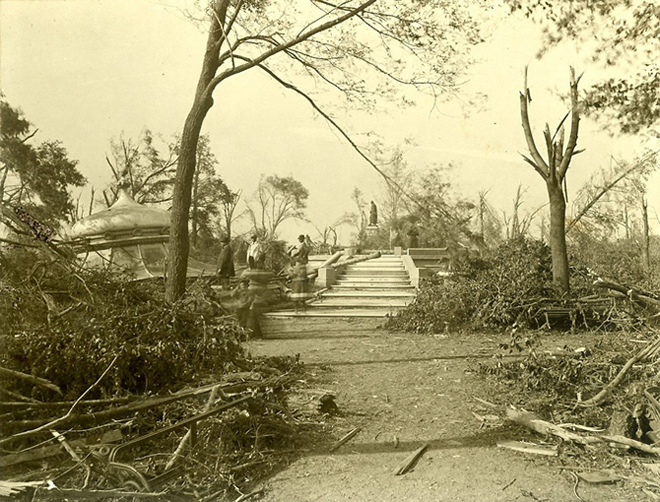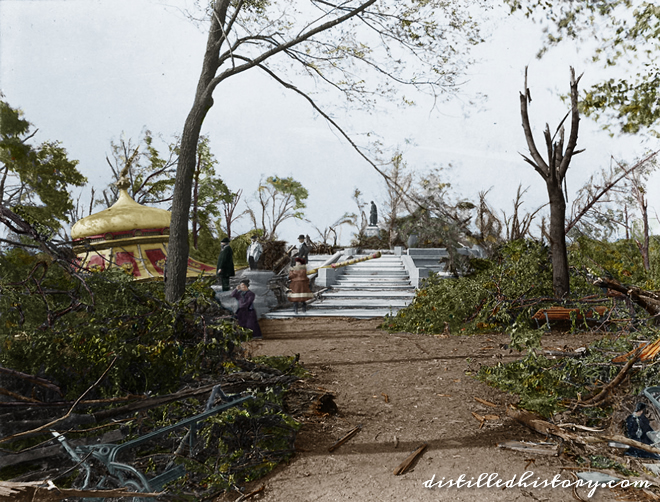 James "Cool Papa" Bell led the Negro League St. Louis Stars to two World Championships in 1928 and 1930. One of the greatest ballplayers to ever call St. Louis home, many believe the speedy center fielder was one of the fastest men to ever play the game.
Read more about St. Louis baseball history in this Distilled History post published in April 2013.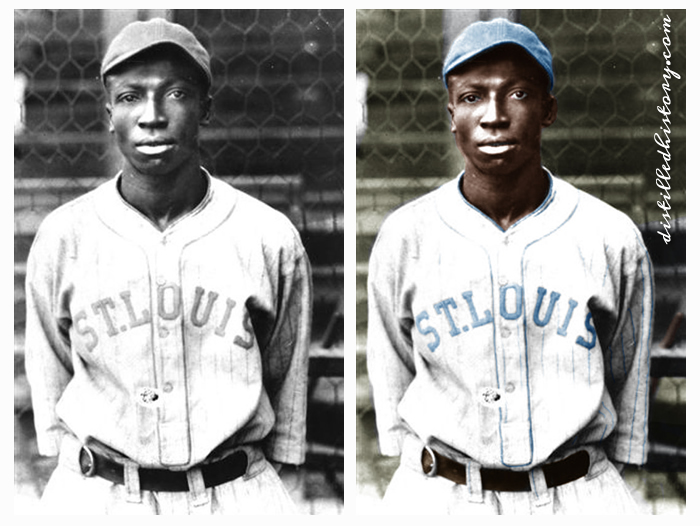 On May 5, 1910, Lewis Hine photographed a boy named "Gurley" selling newspapers at the corner of Washington and 18th in downtown St. Louis.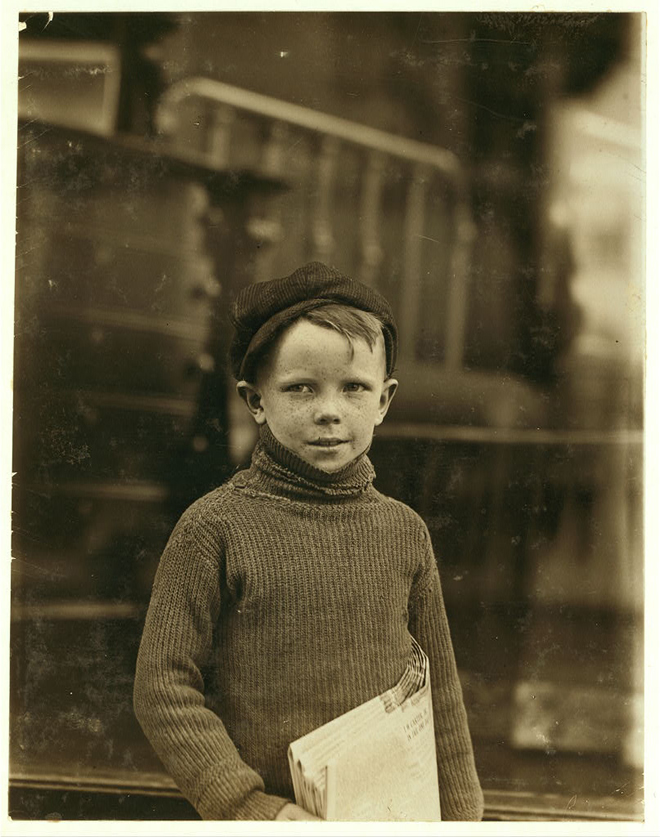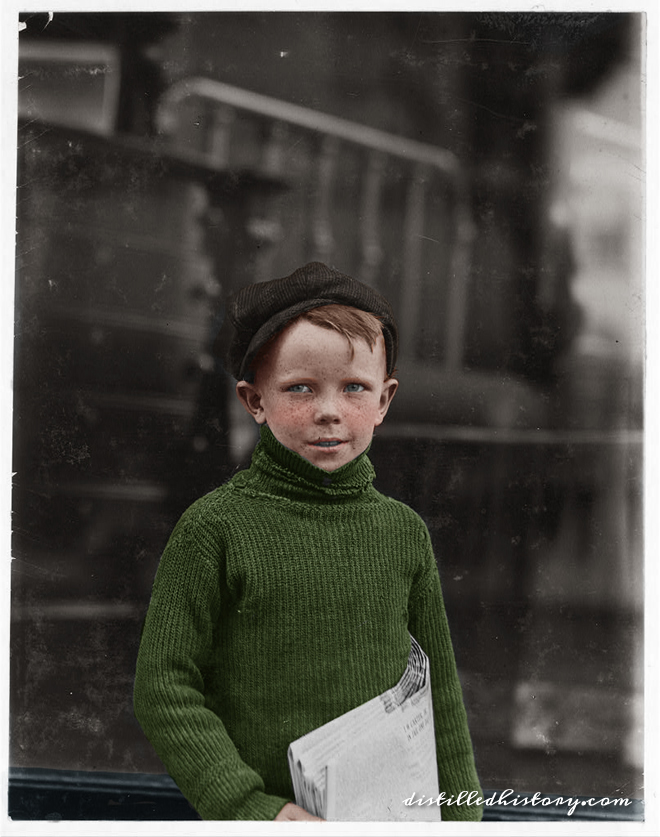 Water sports at the 1904 Olympics were contested in a man-made lake located at the present-day corner of Skinker and Wydown. Unfortunately, livestock from nearby World's Fair agricultural exhibits used the same lake to bathe and defecate in. As a result, many competitors became severely ill. Four water polo players died of typhus within a year.
Read more about the 1904 Olympics in this post and this post, both published in the summer of 2012.
When I first thought of this project, I knew colorizing one or more of the St. Louis Motordrome images taken by J.R.Eike in the early 20th Century was a must. Men like the two guys below risked death by racing motorcycles at speeds over 100mph on steep track embankments. The St. Louis Motordrome that once stood at Grand and Meramec in south city had a 62 degree embankment, which was one of the steepest tracks ever built.
Use of J.R. Eike's photographs are courtesy of Thomas Kempland. Read more about the St. Louis Motordrome in this Distilled History post published in September 2012.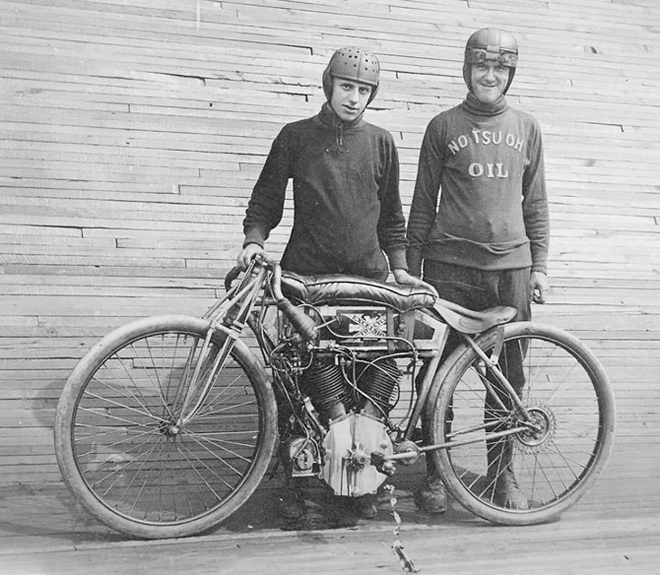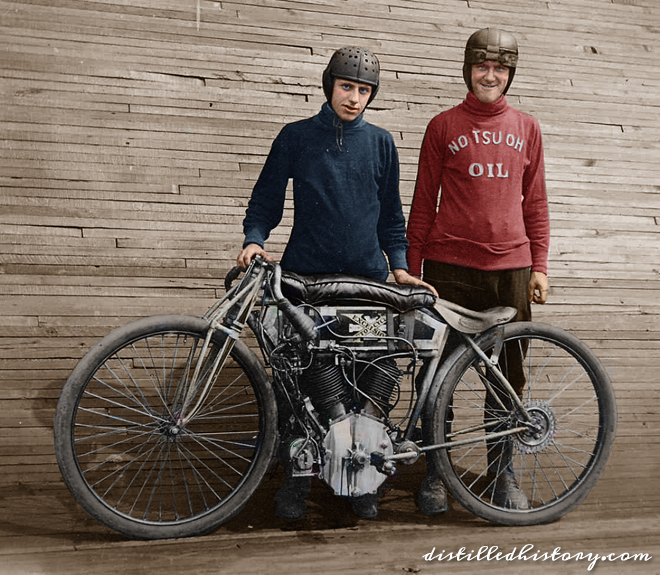 This photograph shows the main entrance to Schnaider's Beer Garden, which thrived at the intersection of Mississippi and Chouteau in the late 19th century. Located across the street from his brewery, up to 10,000 people at a time could pack Schnaider's and fill their bellies with beer. Another fun fact about Schnaider's is the band that played nightly at Schnaider's would eventually evolve into the St. Louis Symphony Orchestra.
Read more about Schnaider's Beer Garden in this Distilled History post published in October 2012.