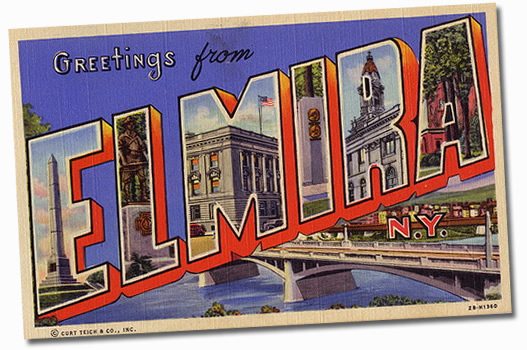 I had a one hell of a day last week. While driving from my native upstate New York to my current home in St. Louis, my car hit an ice patch on I-86. I lost control, spun, and was flung off the highway. I was flipped perfectly onto the roof of the car, which is where I stayed as I bobsleighed one-hundred feet down a hill.
It was quite a ride. Lots of snow, glass, and colorful language was bouncing around inside the car as I went. Remarkably, I hit something that caused the car to slowly roll me back upright. I came to a stop, turned off the engine, and realized I was completely uninjured. I was able to walk away like nothing happened. Other than a slight headache from a book (I think it was a book) that hit me in the head during the roll, I was as good as new.
What does this mishap have to do with history and booze? Well, after being collected and driven back to my hometown of Elmira, I had some time on my hands. Instead of sitting around and feeling sorry for myself, I decided to dig up some history in the town where I spent the first eighteen years of my life.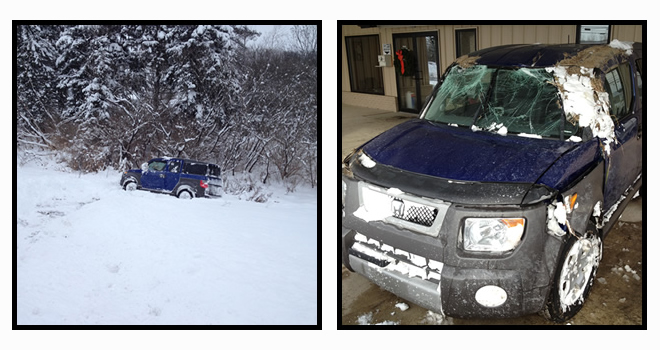 For a small city, Elmira has some good stories to tell. With that in mind, please pardon this brief sojourn away from St. Louis. I'll return to the hidden tales of The Gateway City soon enough.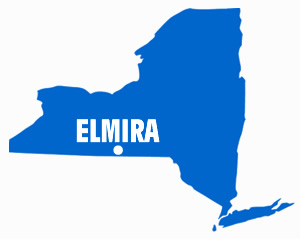 Elmira, New York is a small city of about 29,000 people in the Southern Tier of New York State. Just south of the Finger Lakes, it sits in a truly beautiful part of the state. Unlike St. Louis, it has rolling hills, voluminous lakes, and cooler summers.  Although I now prefer to live in St. Louis, I'll never waver from the opinion that it was a great place to grow up.
In fact, I believe Elmira shares many qualities with St. Louis, but on a far smaller scale. Both cities are the population centers of their respective areas. Both cities serve as the regional hub for financial, cultural, and educational institutions. Both cities have a rich and deep history that often gets overlooked by the people who live there.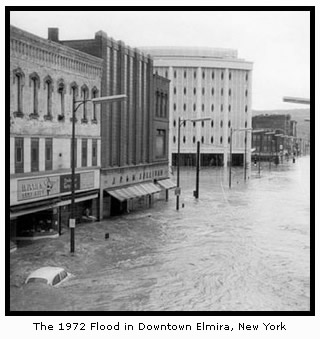 On the flip side, both cities have watched their populations plummet in the years following World War II. Both cities are trying to bring people, companies, and jobs back within city limits. Both cities are desperate to revitalize their downtown cores (and both cities have mistakenly believed that building sports arenas is one way to do it).
Both cities have also been severely impacted by flooding. While St. Louis's history with flooding is well-known, Elmira's history with rising waters is just as troubled. Many point to the damage caused by Hurricane Agnes in 1972 as the point from which downtown Elmira has never recovered.
And finally, both cities are filled with historic homes, buildings, and structures that are in desperate need of preservation.
Since starting this blog, I've become far more aware of the need for historical preservation. This was especially true when Landmarks Association helped me research the blog post about the William B. Ittner schools. I was stunned to see how much work and research they had completed in order to campaign for the survival of those historic buildings.
I can now say for certain that I wish my hometown had its own version of Landmarks seventy-five years ago. That's because in 1939, the wrecking ball took apart this historically significant house that once sat at the corner of Church and Main streets in downtown Elmira.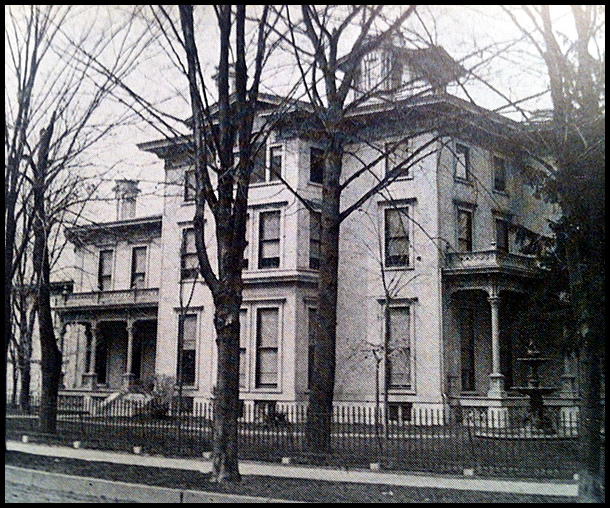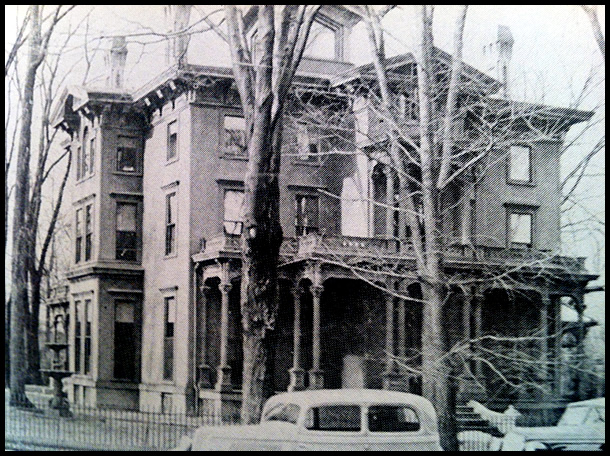 This large Victorian home was the home of a wealthy coal merchant named Jervis Langdon. He was an ardent abolitionist, and he served as a "conductor" on the Underground Railroad along with his close friend Thomas K. Beecher. The brother of Harriet Beecher Stowe, Thomas Beecher was the pastor of Park Church located across the street from Langdon's home. Both men counted Frederick Douglass as a close friend. The famed abolitionist even once visited Langdon at his home in Elmira.
It was Langdon's daughter, however, that would make the most significant impact upon the Langdon legacy in Elmira.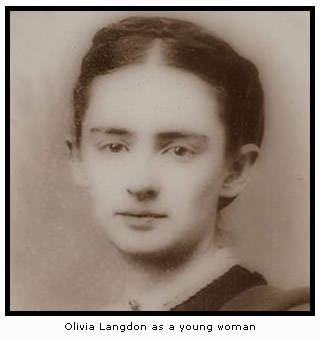 In 1867, Olivia's brother Charles traveled to the Mediterranean aboard a boat named Quaker City. On the trip, he befriended a reporter writing a story for a California newspaper. That reporter was Samuel Langhorne Clemens, soon to become known as the famous author Mark Twain. One night, Charles showed Clemens a small daguerreotype of his sister Olivia. Upon looking at the portrait of the delicate woman, Clemens admitted to falling in "love at first sight". Throughout the rest of the trip, he asked Charles to bring out the photograph and allow him to gaze upon it again. When the trip concluded, Twain made a point to visit Langdon and his sister during a trip to New York City. During that visit, Clemens was invited to visit the Langdon home in Elmira. It wasn't long before Twain found himself knocking on the large door of the Langdon home on the corner Church and Main.
For the next two years, Clemens courted Olivia and visited Elmira often. After an initial rejection, the two became engaged in late 1869. On February 2, 1870, Mark Twain and Olivia Langdon were married by Thomas K. Beecher in the library of the Langdon home.
Over the next twenty years, the Clemens family would make Elmira their summer home. While there, they lived at Quarry Farm, a Langdon vacation home located on a large hill outside of town. In the octagonal study built there for him, Mark Twain found what he called "the quietest of all quiet places."  Here, he would write the majority of his most famous works, including Adventures of Tom Sawyer, The Adventures of Huckleberry Finn, The Prince and the Pauper, and A Connecticut Yankee in King Arthur's Court.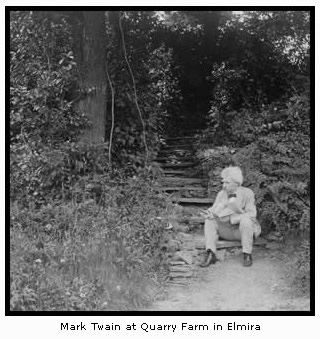 While in Elmira, the Clemens family would spend a large amount of time at the large house in town. Three of the four Clemens children were born in the house. The house was a convenient place for Clemens to entertain visitors or to do business. The house is where Ulysses S. Grant once visited Twain to discuss his memoirs, a work that Twain helped get published. Clemens even stated that since the house was so large, one could "always escape your enemies in Langdon house".
The Langdon home is also where on a warm day in 1889, a young reporter from British India traveled to Elmira in search of his idol. Detailing the experience in his later work Letters of Travel, Rudyard Kipling recounts his arrival in Elmira:
"I slid on the West Shore line, I slid until midnight, and they dumped me down at the door of a frozy hotel in Elmira. Yes, they knew all about "that man Clemens," but reckoned he was not in town; had gone East somewhere."
Kipling then took a carriage to Quarry Farm, but was told Clemens was in town. He traveled back down the hill and found himself at the Langdon house. Kipling continues with his description of the meeting:
"Then things happened somewhat in this order. A big, darkened drawing room; a huge chair; a man with eyes, a mane of grizzled hair, a brown mustache covering a mouth as delicate as a woman's, a strong square hand shaking mine, and the slowest, calmest, levellest voice in all the world saying: – "Well, you think you owe me something, and you've come to tell me so. That's what I call squaring a debt handsomely."
"Piff!" from a cob-pipe (I always said that a Missouri meerschaum was the best smoking in the world), and behold! Mark Twain had curled himself up in the big armchair, and I was smoking reverently, as befits one in the presence of his superior."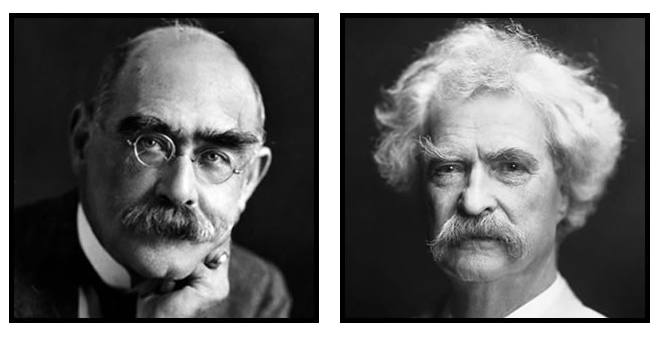 Kipling was just starting his career and was still unknown. It would be a few years before he'd achieve fame as the author of stories such as "Rikki-Tikki-Tavi" and "The Man Who Would Be King". But a year after their meeting, Twain recognized a sketch of Kipling in a copy of the London World. The article also mentioned that Kipling had traveled to the United States. Twain took interest in Kipling's work and began to admire his burgeoning career. In 1895, Twain wrote a letter to Kipling:
"It is reported that you are about to visit India. This has moved me to journey to that far country in order that I may unload from my conscience a debt long due to you. Years ago, you came from India to Elmira to visit me. It has always been my purpose to return that visit and that great compliment some day. I shall arrive next January, and you must be ready. I shall come riding my ayah with his tusks adorned with silver bells and ribbons, and escorted by a troop of native howdahs richly clad and mounted upon a herd of wild bungalows; and you must be on hand with a few bottles of glee, for I shall be thirsty."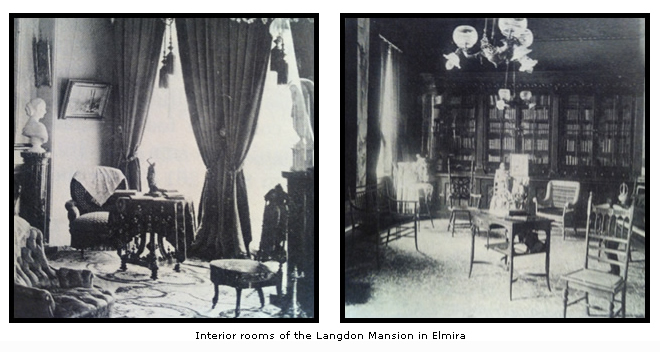 Olivia Langdon Clemens died in Italy in 1904. Although buried in Elmira, Clemens returned just once to Elmira after her passing. His last visit was in 1907 for the dedication of a new organ at Park Church. On that visit, he declined an offer to visit Quarry Farm because it would "awaken sorrowful thoughts". Samuel Clemens died in 1910 and is buried in Woodlawn Cemetery in Elmira along with Olivia and their four children.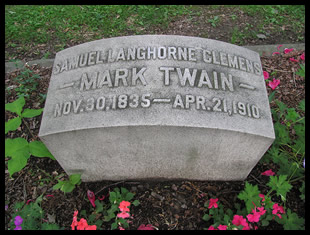 Imagine if the stately Langdon home still stood in Elmira. Located at the busiest downtown intersection, it could have become the symbol of the city. Flanked by the historically significant Park Church, the elegant Trinity Church, and Wisner Park, the entire neighborhood would have become one of the most historic corners in the Southern Tier. Perhaps the house could have been used as the focal point in presenting the legacy of Mark Twain in Elmira. Unlike other cities that claim a legacy to Twain (Hannibal, Hartford), Elmira has no central building from which to tell his story. The octagonal study that was relocated to the campus of Elmira College is too small. His grave in Woodlawn Cemetery is well, perhaps too morbid. Quarry Farm still stands, but it's far outside of town and isn't open to the public. It's even likely that most Elmirans couldn't find it if they tried.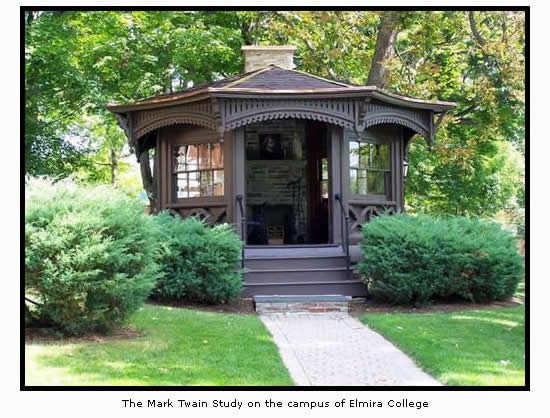 The ultimate fate of the Langdon home is nothing short of maddening. In the 1930's, the Langdon family offered to sell the house to the city of Elmira at its assessed value. It was offered as such for the purpose of creating a museum or a place of historical significance. For a price of just under $50,000, the city could have preserved a rare historical jewel that would have been a beacon for the city. City leaders debated, voted, and ultimately concluded that such a large home would be too expensive to maintain. The city declined the offer, so the home was sold home to a private developer. Within months, the home was razed and a shopping center was built. Named "Langdon Plaza", the shopping center provides visitors to Elmira a place to purchase meatball sandwiches and hair gel.
All that is left of the Langdon home is the fence that surrounded it. Like the octagonal study, it was relocated to the Elmira College campus.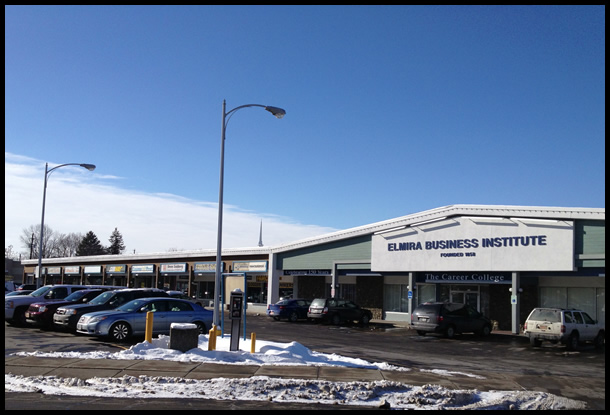 After flipping a car, it's so surprise that I needed a drink. Maybe five. And although completely uninjured, I still had the mind to milk it. To that end, Mom filled me with good bourbon, gin, and plenty of home cooked food over the next few days.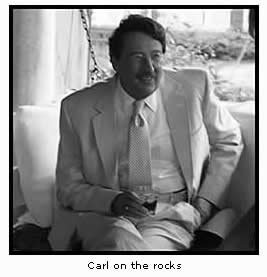 The extended trip also allowed me to spend New Years Eve with my Mother and her close friends. The party was held at the home of two very close friends in Elmira, Carl and Bunny Vallely. This presented a great opportunity because Carl Vallely is also a huge fan of the Manhattan cocktail.
There's a great story that goes along with Carl and his love of the Manhattan. Years ago, when he first courted Bunny, he showed up at her door to take her on their first date. Tucked under his arm was a thermos. When Bunny answered the door and inquired "What's in the thermos?", to which Carl replied "Manhattans, of course!". I can't help but admire the guy for that. Taking a thermos of Manhattans on a first date is nothing short of fantastic.
And going forward in my search Manhattan cocktail varieties, I can now the recipe for "The Vallely Manhattan":
1 Part Canadian Club Whisky
1 Part Sweet Vermouth
Stirred and served on the rocks
I asked Carl what the ratio of the ingredients should be, and he simply said "until you get the right color". I guess I'll have to work on that. He also omits the cherry, since it "takes up room in the glass needed for more Manhattan". I certainly can't argue with that logic. The "on the rocks" aspect of the Vallely is tough for me to get by, but it's his drink. I was in his house and I was happy to drink them with a fellow fan of my favorite cocktail.
Carl served me a few of his Manhattans that night, but I also took the time to visit Horigan's in Elmira. Owned by my old high school pal Katie Boland, I am a frequent visitor here when I'm in Elmira. My father used to spend so much time at the bar reading books that they'd actually keep the book there for him. Katie also happens to be Carl's step-daughter, so when I asked for Carl's version of the Manhattan, she was happy to oblige.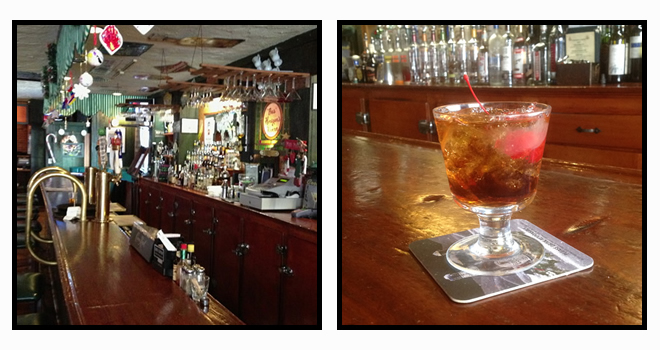 As for my opinion of the drink, I'll say that it's very pleasant. Due to the ice and the use of Canadian whisky, it's a lighter and smoother version what I'm used to. It doesn't have that bite on the first sip (which I adore). It made me think I could be tricked into drinking more in one sitting than I'm used to. After rolling a car, that's not the worst idea.