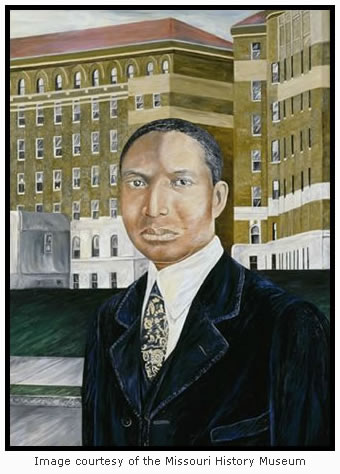 One of my favorite moments that I've experienced during the time I've spent writing this blog happened just last week. With a new topic in mind, I visited the Central Library in downtown St. Louis. Heading up to the (magnificent) "St. Louis Room", I asked a librarian to help me locate a file that contained an article about Homer G. Phillips Hospital. She seemed amused by the question, and asked me in response "Okay, well… there's more than just one. Would you like to see all of them?" Naively, I responded "Sure, why not?"
A few minutes later, I found myself sitting at a table overflowing with dozens of large manila envelopes stuffed with newspaper clippings, articles, photographs, and book excerpts. It became almost comical as she kept piling more stuff in front of me. To add the chaos of the moment, I opened the first envelope and promptly dumped the entire contents on the floor. Sigh.
It was overwhelming at first, but I quickly realized that I had an opportunity to study history in a unique way. Instead of focusing on books, research papers, and journals, I could learn about a topic through hundreds of small, faded, and brittle newspaper reports in their original form. That was a first for me.
Additionally, I knew very little about Homer G. Phillips before that day in the library. A friend suggested the topic, but I confessed that I didn't know anything other than where the building stood. After I stuffed everything back into place, I let it all sink in for a few minutes. I felt as if I had just read about the rise and fall of a national figure. It was somewhat of a profound feeling. I found myself frustrated by how little I knew about it before that day.

In 1920, St. Louis had a black population of about 70,000 people. A segregated city, access to medical and hospital care for the city's black population was severely limited. Only one medical center, with 177 beds and located far from black population centers, was available to provide medical services. An attorney named Homer G. Phillips made it his dream to correct that problem. Already well-known for his community leadership and opposition to segregation, Phillips led the effort to get a new hospital built to serve St. Louis's black population.
His efforts centered on an eighty-three million dollar bond issue introduced in 1923. Along with providing funds for a municipal opera house and soldier's memorial, the bond designated one million dollars for the purpose of building a state-of-the art hospital for blacks.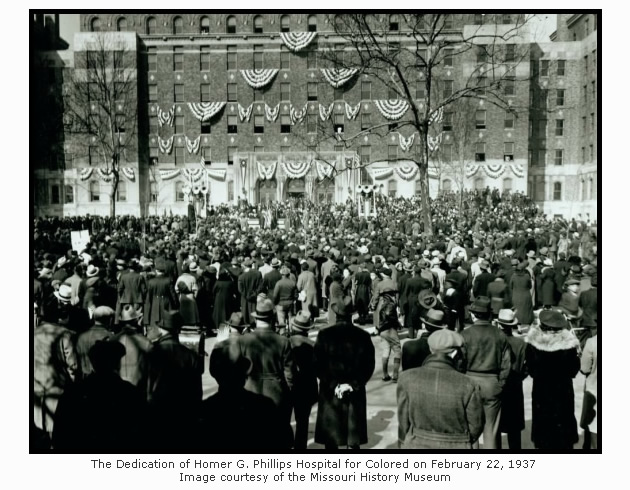 The bond faced intense opposition, but it passed due to the efforts of Homer Phillips and several other community leaders. However, the debate would continue for years. Attempts to begin construction halted when opponents argued the bond didn't actually specify a separate structure. In response, a "colored annex" connected to the existing City Hospital #1 located in south city was considered. Opponents also continued to argue the additional $60,000 a year needed to operate a separate medical facility was too much of a burden for St. Louis taxpayers.

Finally, nearly ten years after the bond originally passed, the city's Board of Aldermen green lit construction of a state-of-the-art hospital for blacks. The decision also dictated the hospital be built on a six-acre site in The Ville, a predominately black neighborhood in North St. Louis. On September 15, 1932, ground was finally broken. The facility came to be as the "Homer G. Phillips Hospital for Colored", named in honor of the man who tirelessly fought for its creation.
Tragically, Homer Phillips wouldn't live to see his dream come true. On June 18, 1931, two men approached him at the corner of Delmar Boulevard and Aubert Avenue as Phillips was waiting for a trolley. One of the men suddenly struck Phillips, pulled out a gun, and fired several times. Homer Phillips died instantly from gunshot wounds to the head and back. He was fifty-one years old. Newspaper reports immediately speculated the killers were hired assassins. Despite eyewitness testimony, the two men accused of the murder were acquitted. To this day, the murder of Homer Phillips is unsolved and considered an open case.
Homer Phillips undoubtedly had no shortage of enemies during a time when many believed segregation to be just and necessary. He first made a name for himself in 1916, when he led opposition to a proposed law that made the segregation of St. Louis neighborhoods mandatory. He also co-founded the Citizen's Liberty League, a group that worked to oppose Jim Crow laws, the Ku Klux Klan, and mob violence in the form of lynching. The League worked to remove job restrictions for blacks, improve the quality of life, and improve access to medical care.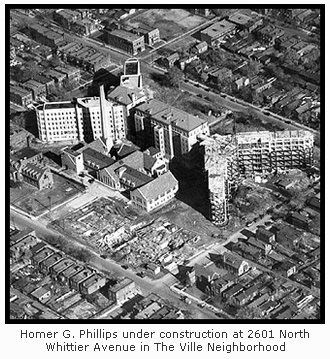 Ultimately, those efforts led to the special day of February 22, 1937 when Homer G. Phillips Hospital was dedicated. Parades, speeches, and a crowd of over 4,000 people gathered to celebrate the grand opening. The mayor of St. Louis at the time, Bernard Dickmann (a strong supporter of Phillips) called the event "one of the happiest moments in my administration".
Designed by architect Albert A. Osburg, Homer G. Phillips hospital was built at a final cost of 3.16 million dollars. It consisted of a main central administration building with four radiant wings. It contained 685 patient beds and required 800 employees to keep it running. Along with an additional service building, a separate nurse's home was constructed to provide dormitories for 147 nurses and 24 interns. Homer G. Phillips would instantly become the largest, best equipped, and most technically advanced hospital in the world committed solely to the medical care of a city's black population.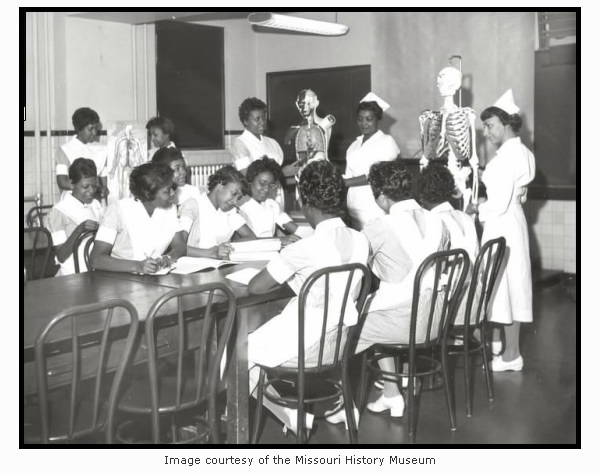 By 1941, it became the philosophy of the hospital to become a premier training ground for black medical professionals. Just seven years after it opened, the hospital was training one-third of the graduates from the two black medical schools in the country. Within twenty years, the hospital could claim the distinction of having trained the largest number of black doctors and nurses in the world. In addition to providing a fully accredited training program for black interns, residents, and nurses, Phillips had established schools for x-ray technicians, laboratory technicians, and medical record librarians. Douglas Connor, in his book A Black Physician's Story, describes a remarkable scene during his time spent as an intern at Homer Phillips.
By 1945, Phillips ranked in the top five largest general hospitals in the country, but it faced problems known to every medical institution. Especially in the early years, the hospital suffered from a reputation of being consistently underfunded and understaffed. Employees often complained of low pay and long hours. However, the hospital always remained an enormous source of pride for the community.
The year 1955 brought a major change to St. Louis and the hospital. By order of the mayor, the practice of segregation came to end at city hospitals. Homer Phillips Hospital suddenly became a place that treated patients based on where they lived and not by the color of their skin. Sadly, this step forward for humanity may have likely initiated the hospital's eventual closing. With a falling city population and eroding tax base, the debate started all over again. Many began to question the need to publicly fund two separate medical facilities. Soon after, reports surfaced of plans to consolidate medical services in St. Louis. In the late 1960's, the first steps towards consolidation happened when the psychiatric and neurological departments at Phillips moved south to City Hospital #1.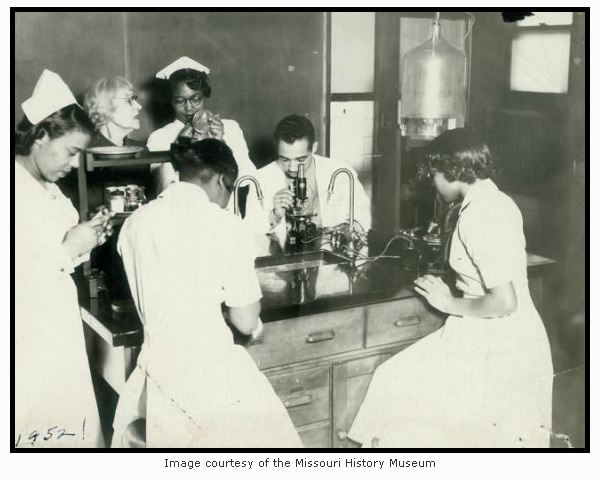 For the next fifteen years, supporters of the two city hospitals debated which one should remain open. Despite two independent audits recommending City Hospital #1 should close, few outside of the black community supported that plan. Support eroded further when Washington University and St. Louis University ceased making staff available to Phillips. The two major medical schools in St. Louis claimed City Hospital #1 was more convenient and offered salaries that were more competitive.
Despite vocal objections and dozens of large-scale public protests, the end for Homer Phillips Hospital sadly became a reality. On August 17, 1979, the city ordered all patients and departments transferred to City Hospital #1. Until the facility closed entirely in 1985, Phillips operated only as an outpatient and emergency care facility.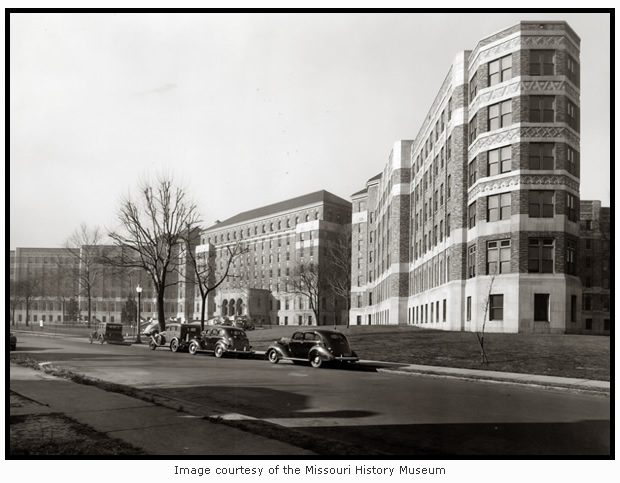 Despite its closing, the memory of Homer G. Phillips and its significance remains an important chapter in St. Louis history. I'm glad to learn I'm not the only one that thinks so. In 1980, the St. Louis Board of Aldermen designated the building a city landmark. In 1982, the Department of the Interior added it to the National Register of Historic Places. While the building's purpose has since changed, it still stands impressively in The Ville. Following a multi-million dollar renovation completed in 2003, Homer G. Phillips Hospital now thrives as a senior living facility.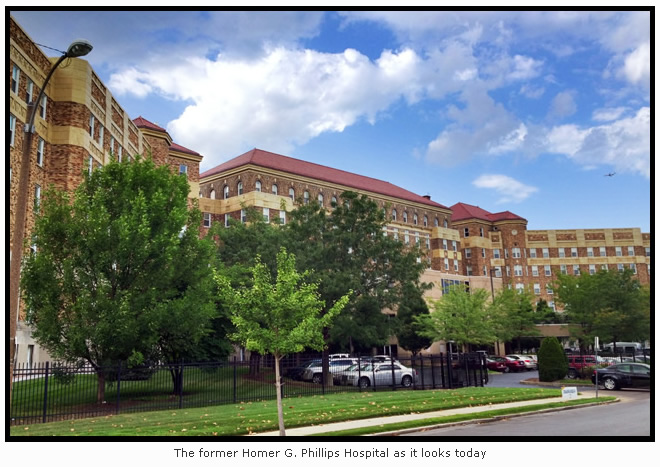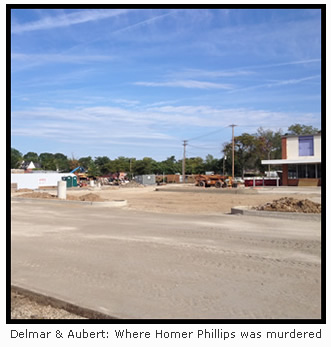 In the past, I've claimed to be able to associate a drink to any history topic. But I have to admit, this one was tough. I had no idea how to tie a drink to a hospital. First of all, there aren't many cocktails named after a hospital setting. I briefly considered a Bloody Mary, but that seemed tacky and well, somewhat disgusting. Through Google, I found a drink named the "See You at the Hospital", which must be named for where it would put me if I had more than one. I then tried physical locations. I found the empty lot where Homer Phillips lived on Aubert Avenue. A few blocks away, I found the corner where he was shot and killed. Both locations offered nothing. I drove around the hospital a few times for a bar, but I nothing looked promising. Lastly, I found no record of what Homer Phillips himself drank. I had no idea if he drank beer, wine, or maybe he didn't drink at all. I simply couldn't determine where to get a drink.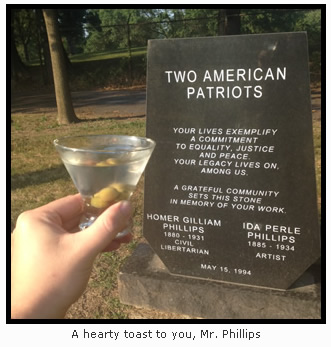 Then it hit me. If I can't find a drink associated to Homer, I'll bring my own drink to Homer. After his murder, Homer G. Phillips was laid to rest in St. Peters Cemetery in Normandy. So, I decided to mix up a thermos of martini and hop in the car. Most of my Distilled History topics don't focus on a single individual. With this idea, not only would I be able to pay my respects to a great man, I could even toast him while I did so.
St. Peters is a beautiful cemetery located just west of the city. While I visited, I stopped to visit the grave of the legendary James "Cool Papa" Bell, who is also buried there. I drove around and took it all in until I found Mr. Phillips' grave. As I studied his marker, I learned his wife Ida was an artist and followed him to the grave just three years after his death. It was nice to see them both with honored with an impressive tombstone.
Then I sat down, poured myself a drink, and thought again about that day in the library when I learned all about the man.
Finally, I lifted my glass and toasted Homer Phillips and the important place he helped build.