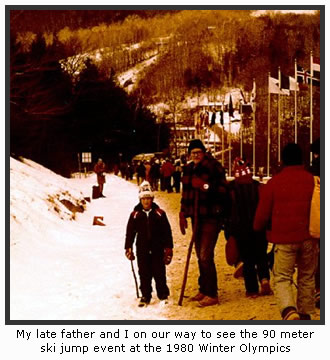 Well, the Rio games are finally over.
And I can say that it went well. Meaning, my absurd Olympic appetite was fully sated in the last two weeks.  I watched hours upon hours of every badminton match, fencing duel, and steeplechase that I could.
During my sixteen-day obsession, I took the opportunity to post daily Olympic history tidbits over on the Distilled History Facebook page.  Many who follow Distilled History on social media may have seen a few of them, but I'm not so sure. I still can't figure out how Facebook handles "pages". Unlike personal pages, Facebook seems to think Distilled History is a business (despite being classified as a "personal blog") and keeps insisting that I pay to "boost" my posts to more readers. It's a bit frustrating because I'm really not trying to make money off the page (or the blog). I just want to use it as a place to post fun St. Louis history finds and additional content that was edited out of larger blog posts.
Anyway, since I didn't "boost" any of my Olympic history facts, I think Facebook made sure fewer people saw them. So, I decided to combine them all into a single post here. So, this isn't a "new" post, but I have four or five in the works that should be coming along soon.
Finally, a few of these facts are related to my post about Olympian George Eyser that was published when the Rio games got underway. Click here to get caught up on that great story.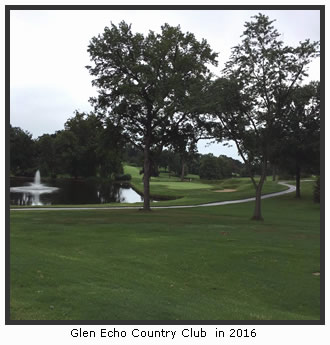 112 Years Later, Golf is Back
In the Rio games, the first Olympic gold medal in golf was awarded (to Justin Rose of Great Britain) since Canadian George Lyon won the event at the 1904 Olympics in St. Louis. A Canadian who didn't pick up a club until the age of 38, Lyon amused spectators during his final round in 1904 by cracking jokes and doing hand stands while waiting for his turn to hit. The event was contested at the Glen Echo Country Club, a course that still exists in the suburb of Normandy, just west of St. Louis. Glen Echo was not only the first 18-hole golf course in St. Louis, but the first 18-hole course west of the Mississippi River. But wait, there's more. The 1904 American golf team also included a man named Albert Lambert. Lambert's father was Jordan Lambert, the founder of a pharmaceutical company that is known for creating Listerine. Lambert was also an aviation nut, and not only was he one of the primary financial backers of Charles Lindbergh's solo flight across the Atlantic, he is the "Lambert" in our "Lambert-St. Louis International Airport".

They Ran on a Trapezoid
Like many events at the 1904 Olympics such as cycling, lacrosse, roque, archery, and weightlifting, George Eyser's gymnastics events were held in the infield of the Olympic Stadium (now known as Washington University's Francis Field). Built in 1902, the stadium could hold 19,000 spectators and featured a track that looks much different from what we saw in Rio. Unlike the 400 meter track (1/4 mile) that is standard in track & field today, the 1904 games featured a 536.44 meter track (1/3 mile). The track featured one very long straightaway, four turns, and three shorter straights. In 1984, the facility underwent a major renovation which included a new 400m synthetic track and the spectator capacity was reduced to 4,000. In the attached photograph, the octagonal "Women's Magazine Building" (now University City's City Hall) can be seen in the background.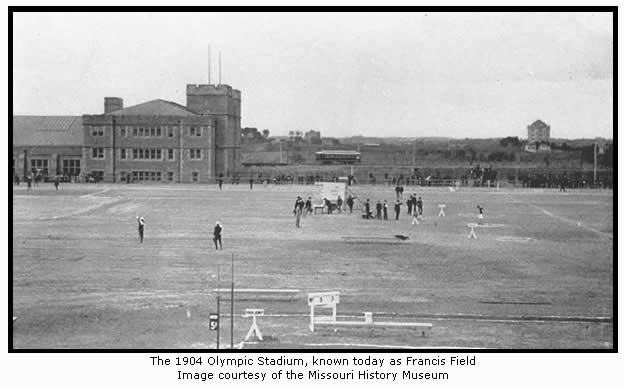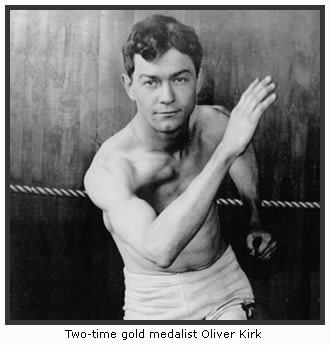 Bantams and Feathers
Along with events such as freestyle wrestling and the decathlon, the sport of boxing made its Olympic debut at the 1904 Summer Olympics in St. Louis. Held in the Physical Culture Gymnasium (next to the Olympic Stadium) on September 21st and 22nd 1904, the boxing competition had only seventeen boxers compete in seven weight classes. And since the event lacked world-class competition (only Americans participated), the boxing competition is not regarded as one of the highlights of the games. However, it did produce a bit of good Olympic history. Oliver Kirk, a fighter from the Business Men's Club in St. Louis, won the gold medal in the men's bantamweight division. But when only two boxers entered the featherweight class, Kirk fought the winner and was awarded a second gold medal. To this day, Kirk is the only man in Olympic history to win two gold medals in two separate weight divisions at the same Olympics.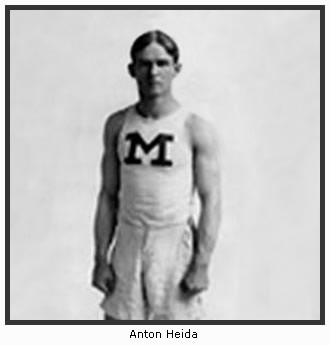 Austrian or American? Both.
Anton Heida, George Eyser's primary gymnastics foe at the 1904 St. Louis Olympics, has a good story to tell himself. Heida had one of the greatest Olympics of all time in 1904 when he won five gold medals and one silver medal in a single day. Heida is also the only athlete to have competed in the Summer Olympics for two different countries in the same games. An Austrian by birth, Heida competed as an Austrian during the first gymnastics competition held in July 1904. But in October 1904, Heida became a citizen of the United States. When Heida won six medals during the second gymnastics competition held on October 29, he competed an as American.

That's a Pretty Painting! Here's a Medal.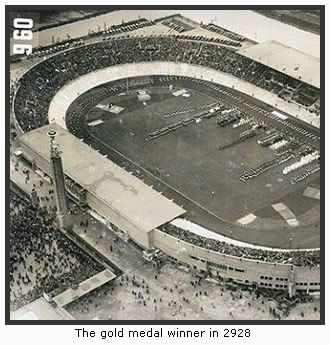 Many people aren't aware that the Olympics used to contain art competitions. From 1912 to 1948, medals were awarded for works of art, including architecture, literature, music, painting, and sculpture. These five subjects were even broken into sub-categories, with awards for subjects like "lyric literature", "graphic arts", and "municipal planning". Remarkably, the reason why the art contests were removed from the Olympic program is not because they weren't sports (although all art entries were required to be "inspired by sport"), but because the artists were considered professionals and not amateurs. At the 1928 Olympics in Amsterdam, it can even be said that the stadium itself was a gold medalist. The stadium's design was the gold medal winner for architect Jan Wils.

The Irish Whale
I was a discus thrower in high school, so as the track and field events got going in Rio, I decided to take a look at the 1904 St. Louis Olympics discus results. The winner was an Irishman named Martin Sheridan from New York. Part of a group of athletes known as the "Irish Whales", Sheridan also won three medals in the 1908 London Olympics (one being the successful defense of his 1904 discus title). When he wasn't throwing things for sport, he worked as a New York City policeman. I also found discus isn't the only thing I have in common with Sheridan. When Sheridan died in the 1918 (in the notorious flu epidemic), he was buried in Calvary Cemetery in Queens, the same cemetery my great-great grandfather is buried in. The photo below shows Sheridan competing in the 1908 games (and note the awesome garters he's sporting).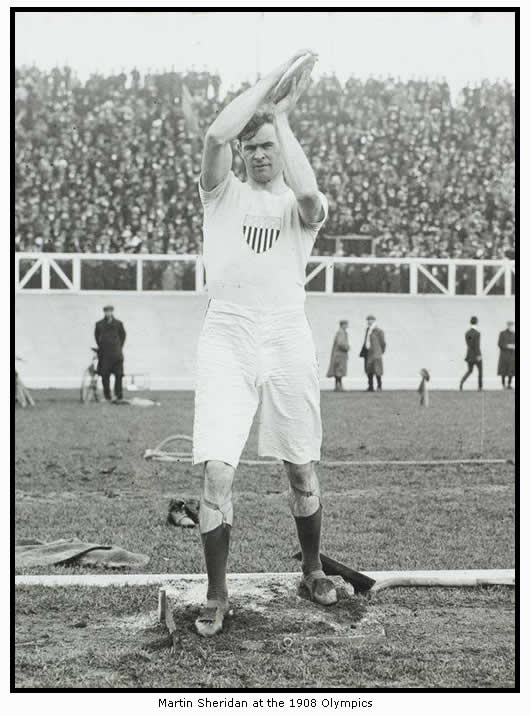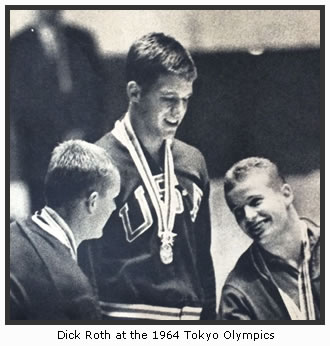 Dick Roth's Appendix

It wasn't just the St. Louis Olympics that had me saying "no way". At the 1964 Tokyo Olympics, American swimmer Dick Roth was stricken with an acute case of appendicitis just days before the swimming events started. Japanese doctors insisted on an immediate operation, but Roth adamantly refused. He also refused medication, so it was decided to simply pack him in ice and hope for the best. When he swam the 400 meter individual medley three days later, he not only won gold, he broke the world record. Interestingly, his post-swimming career has been just as interesting. In 1999, he wrote a book titled "No. It's Not Hot in Here: A Husband's Guide to Understanding Menopause".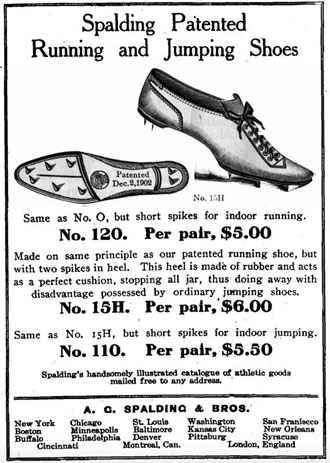 They Didn't Come in Gold Back Then
When I was a fledgling freshman shot putter and discus thrower in high school, I actually dropped something like $100 on a pair of shoes designed specifically throwing shot puts and discuses. Such shoes have no tread whatsoever, making it easier for hurlers to spin and slide inside throwing circles. But I also remember hiding them from my coach, because I knew he would scoff at my insistence that I'd throw farther as a result of wearing them. Well, I can say that I scored a grand total of TWO points that year, and I'll go to my grave believing those shoes are the reason it wasn't zero. Anyway, while flipping through old records of the 1904 Olympics, I found an A.G. Spalding advertisement for track and field gear. Back then, a pair of running shoes would cost the 1904 version of Usain Bolt a whopping five bucks.  Adjusted for inflation, that's about $130 in 2016.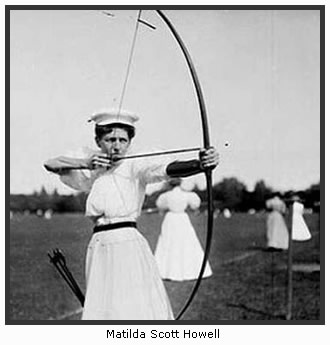 It Runs (Or Maybe Shoots?) in the Family
In the 1904 Olympics in St. Louis, the only official event in which women competed was archery. And the archery competition was dominated by one woman in particular: Matilda Scott Howell. Born in Warren, Ohio and representing the Cincinnati archers, Howell swept the field, winning gold in both individual events and the team event. Interestingly, her father also competed as an archer in the 1904 games. His name was Thomas Foster Scott, and he was 71 years old when he finished in 17th and 13th place in his two events. He may not have won a medal, but to this day, Thomas Scott still holds the record for being the oldest competitor at an Olympic games.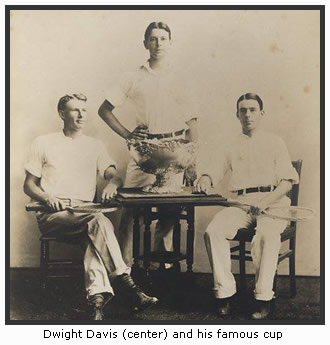 Tennis, Anyone?

In the 1904 St. Louis Olympics, the tennis competition was held from August 29 to September 5, 1904. The event was dominated by the Americans, which makes sense since only one of the competitors (a German) wasn't American. And although he didn't win a medal, the American team featured a historic figure of note. Dwight F. Davis, a prominent citizen from St. Louis finished 10th in the singles event and 5th in the doubles. Today, Dwight Davis is known for his political career (he was Coolidge's Secretary of War), and the international tennis event he helped create as a member of the Harvard Tennis Team in 1900. The tournament was originally known as the "International Lawn Tennis Challenge". Today, the tournament is known for the trophy Dwight Davis commissioned (and paid for himself) that was awarded to the winner: The Davis Cup.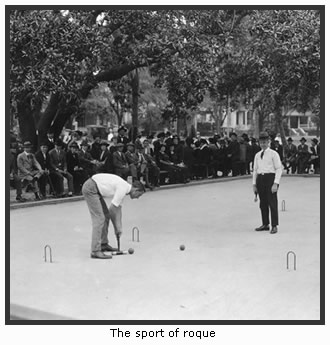 Don't Call it Croquet
The Olympics have always featured sports that many Americans aren't familiar with, and the 1904 Olympics were no exception. The only time the sport of roque was contested during the Olympics was at the 1904 St. Louis games. A variant of croquet, roque is unique in that it is played on a hard surface (such as clay or packed sand) and the court is surrounded by a short wall. The fast surface allows players to apply spin to a ball and the wall can be used to bank balls (like in billiards). Croquet and roque also feature similar playing implements including mallets and stakes, but in roque "wickets" are known as "arches". At the St. Louis games, the roque competition was held on the infield of the Olympic Stadium from August 3 until August 8, 1904. The event was won by the "Father of American Roque", a 64 year-old from Springfield, Massachusetts named Charles Jacobus.

Abandoned Venues? Not in St. Louis!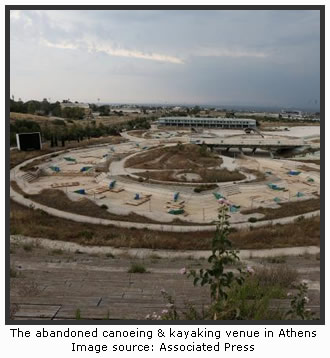 A big knock on the Olympics these days is that host cities are forced to spend millions building event venues that are quickly abandoned once the games are over. What happens in Rio remains to be seen, but recent hosts such as Athens, Beijing, and even Sochi are now faced with high maintenance costs for facilities that are no longer needed (for example, a baseball stadium in Greece) Well, at least St. Louis got that part of their Olympics right. Not only does the Olympic Stadium still stand, it is now home for Washington University athletics. Same with the gymnasium (also at Washington University) that held the 1904 boxing and fencing events. The 1904 golf course is still here (Glen Echo Country Club), and Creve Coeur Lake, which hosted the rowing events in 1904, is still where someone can watch a regatta. The only venue that no longer exists today is the "U.S. Life Saving Exhibition Lake", where the swimming and diving events were held. More information about this man-mad lake (created specifically for the 1904 World's Fair), can be found in this post I wrote back in 2012.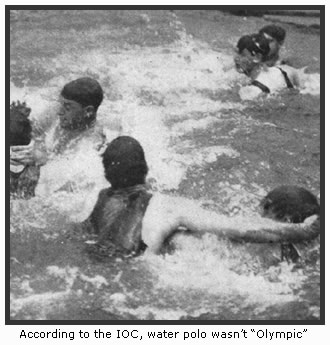 Some Were Olympic, Some Weren't
To this day, Olympic historians bicker about what was an Olympic sport in 1904 and what wasn't. Organizers filled the entire summer of 1904 with all sorts of athletic contests, including handicap events (assigning advantages through scoring), high school and college competitions, and various amateur organization championships. Today, the International Olympic Committee officially recognizes only seventeen of the sports contested, including athletics, gymnastics, golf, tennis, and others. Even tug of war, a sport contested at every Olympics from 1896 to 1920, is included in that list. However, many other sports contested that summer, including baseball, basketball, water polo, lacrosse, and even hurling, are not considered "Olympic" for one reason or another.

Other Distilled History posts about the 1904 St. Louis Olympics: